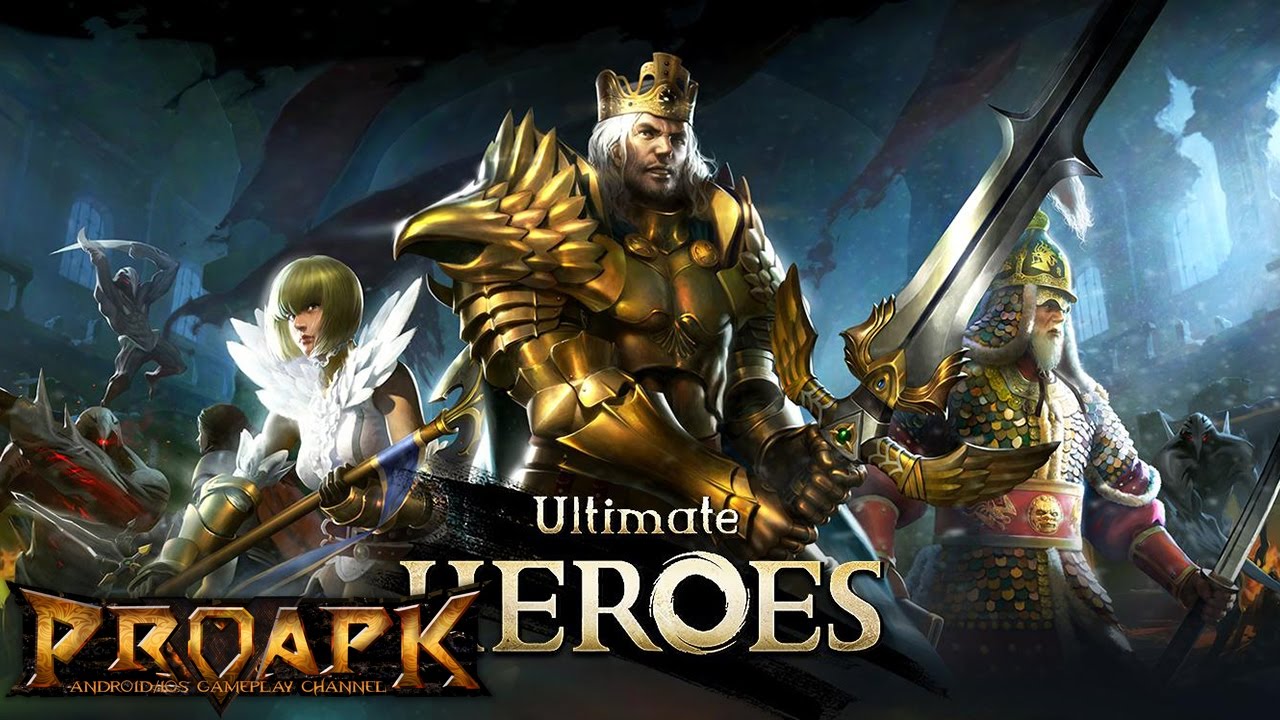 Ultimate Heroes by 4:33 (ANDROID/iOS/iphone/ipad)
►►► SUBSCRIBE PROAPK FOR MORE GAMES : http://goo.gl/dlfmS0 ◄◄◄
Unite real heroes and villains from history!
Collect and upgrade real heroes & villains of all times from all over the world and build your own deck:
King Arthur, Robin Hood, Genghis Khan, Cleopatra, Sir Lancelot, Joan of Arc, and many, many more!

Lead your team of heroes to a grand victory!
– PLAY the epic Action RPG with generations of Heroes and Villains from all over the world!
– CLEAR 300+ single play dungeons and epic bosses with your team of heroes
– UNLOCK new play modes as you level up
– EXPLORE each of the heroes and their unique tag skills
– EARN chests to unlock rewards, collect,
and add powerful new heroes to your deck, and upgrade your favorite ones
– BUILD, UPGRADE & CUSTOMIZE your deck according to heroes' attributes and tag skills
– CONSTRUCT your ultimate battle deck to dominate stages and other players
– DUEL players from around the world in real-time tag 3v3 PVP action
– JOIN a Guild to team up and conquer raid bosses,
and complete team missions to earn special bonus buffs for your own battle community
– COMPETE against your friends in time attack challenge & infinite wave defense!
DOWNLOAD
App Store: https://itunes.apple.com/ph/app/ultimate-hero/id1152285337
Play Store: https://play.google.com/store/apps/details?id=com.ftt.hod.gl.aos&hl=en
Total Size : 1.35 GB
✔ LOOKING FOR MORE RPG GAMES? ►►► https://goo.gl/wqCfuv ◄◄◄
—————————————————-
SUBSCRIBE PROAPK TO DISCOVER MORE NEW ANDROID/iOS GAMES : http://goo.gl/dlfmS0
TWITTER: http://twitter.com/Apkno1
FACEBOOK: https://www.facebook.com/proapk4u
G+ : https://plus.google.com/+proapk
IF YOU LIKE OUR WORKS, PLEASE SUPPORT AND LIKE/ SHARE/ COMMENT ON OUR VIDEOS, THANK YOU!