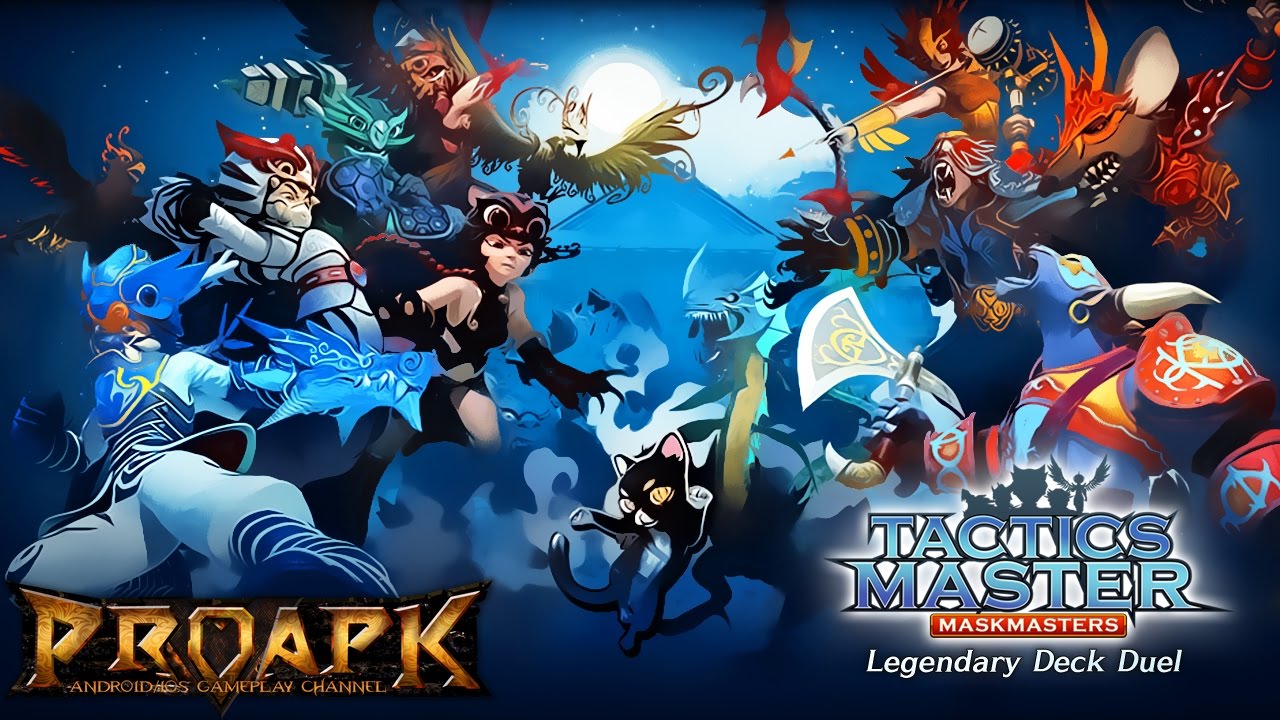 Tactics Master :Mask Master by 1905 (ANDROID/iOS/iphone/ipad)
►►► SUBSCRIBE PROAPK FOR MORE GAMES : http://goo.gl/dlfmS0 ◄◄◄
■■ Tactics Master: Final Legend Squad Deck Duels ■■
Check the turn & Final Magic Blade. RPG Strategy game 'Tactics Master'
Build the Legend Hero Magic Spell Deck!
Defeat the Final Devil & 12 Fantasy Monsters in Battle filed
Ready for the battle? Showdown in Fantasy Arena around the world in real time!

■■ Original TV Series Animation "Mask Masters" ■■
Based on ' MaskMasters ' Animation Aired All over the world.
You must use your courage and strategy to outwit your enemies on the battlefield
▶ Summon Final Finish with Legendary Magic Skill Deck!
Revolutionary new concept Strategy RPG! Guess the next 3 turns.
Summon all the hero's wisdom and senses and discover the enemy's tactics!
Armed with powerful magic spell and tempo attack skills! Destroy the wicked conspiracy of the monarch's "Muspel"!
Trap an enemy with summoning a Booby trap spell card in the deck!
Finish Blade with Legend Skill Cards! Tactics Strategy RPG!
▶Full 3D, fully reproduced Patron Saints, Heros & Summoners on TV series
4 Guardian Blue Dragon, Red Phoenix, Poseidon, and White Tiger Summon
Build your own Legend Squad.
Compete with zodiac monsters of oriental background!
Liberate the continent by sealing the demons!
▶ Over 60 special magic spells and legendary attack skills in total! And Revolution Cosplay!
Collect Skill cards and build your Legend deck with Magic Spell!
Mask Masters Heroes' colorful skills and illustrations
My avatar cosplay through various costumes such as phantoms, ghosts and fairies!
▶ Are you ready to duel? Global user real-time PvP
Unpredictable skill combination strategy to stimulate your sleeping brain!
There are no skill cards to discard!
Block your opponent's strategy and summon a legendary magic deck!
Perfect reproduction of the Final epic of the 12 kingdoms of the popular anime 'Mask Masters' and the devil 'Muspel'!
Check the terrain and Cast a magic skill deck!
▶ Infinite contents such as exploration, defense, border guard, training, battlefield, raid!
Through various modes, he is reborn as a stronger Summoner Hero!
Through the expedition, raise heroes day and night!
Infinite content always together!
▶ World Raid dueling heroes around the world
Conquer the world with honor of the throne! World wide Raid!
DOWNLOAD
App Store: Not Available Now
Play Store: https://play.google.com/store/apps/details?id=com.ilgugongo.tactics
✔ LOOKING FOR MORE RPG GAMES? ►►► https://goo.gl/wqCfuv ◄◄◄
—————————————————-
SUBSCRIBE PROAPK TO DISCOVER MORE NEW ANDROID/iOS GAMES : http://goo.gl/dlfmS0
TWITTER: http://twitter.com/Apkno1
FACEBOOK: https://www.facebook.com/proapk4u
G+ : https://plus.google.com/+proapk
IF YOU LIKE OUR WORKS, PLEASE SUPPORT AND LIKE/ SHARE/ COMMENT ON OUR VIDEOS, THANK YOU!