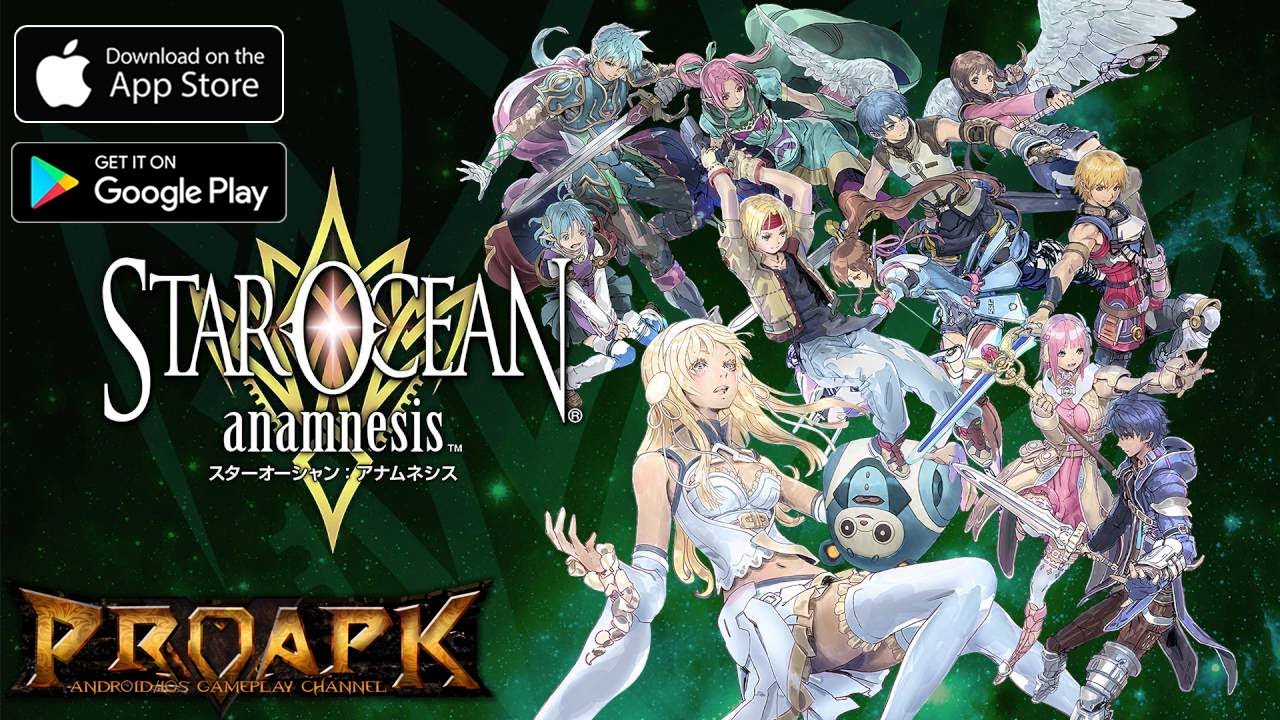 STAR OCEAN: ANAMNESIS by SQUARE ENIX Co.,Ltd. (ANDROID/iOS/iphone/ipad)
►►► SUBSCRIBE PROAPK FOR MORE GAMES : http://goo.gl/dlfmS0 ◄◄◄
STAR OCEAN: ANAMNESIS is an epic action-RPG that puts you in the captain's chair as you lead a team of heroes across the galaxy. Immerse yourself in a rich sci-fi fantasy universe and experience fast-paced combat rendered with gorgeous 3D graphics!

———————————————-
GAME INFO
———————————————-
REAL-TIME 3D COMBAT
Take command of a squad of four heroes in real-time battles! Dodge enemies, time your attacks, and manage your abilities to decimate the enemy!
GORGEOUS 3D GRAPHICS
Beautifully rendered character models and awe-inspiring special attacks bring next-gen graphics to the palm of your hand!
BUILD YOUR OWN SQUADS
Choose from attackers, sharpshooters, defenders, invokers, and healers to form specialized parties. With dozens of characters, each with their own passive and active abilities, the possibilities are endless!
THRILLING MULTIPLAYER BATTLES
With a universe full of hostiles you're going to need some backup! Jump into multiplayer co-op battles and work with your teammates to take down the toughest foes the galaxy has to offer!
———————————————-
STORY
———————————————-
You are the captain of the Pangalactic Federation starship GFSS-3214F. A surprise attack and a malfunctioning hyperspace drive sends you hurtling to the outer reaches of space. However, with the help of a mysterious woman and her ability to summon heroes from across time and space, you just might be able to fight your way back home!
DOWNLOAD
App Store: https://itunes.apple.com/us/app/star-ocean-anamnesis/id1363042639
Play Store: https://play.google.com/store/apps/details?id=com.square_enix.android_googleplay.StarOceann
Total Size : 609 MB
Online/Offline? : Online
✔ LOOKING FOR MORE RPG GAMES? ►►► https://goo.gl/wqCfuv ◄◄◄
►►► Open World MMORPG Playlist : https://goo.gl/nky4Vl ◄◄◄
►►► Offline Android / iOS Games : https://goo.gl/Q7ouAo ◄◄◄
—————————————————-
SUBSCRIBE PROAPK TO DISCOVER MORE NEW ANDROID/iOS GAMES : http://goo.gl/dlfmS0
TWITTER: http://twitter.com/Apkno1
FACEBOOK: https://www.facebook.com/proapk4u
G+ : https://plus.google.com/+proapk
IF YOU LIKE OUR WORKS, PLEASE SUPPORT AND LIKE/ SHARE/ COMMENT ON OUR VIDEOS, THANK YOU!