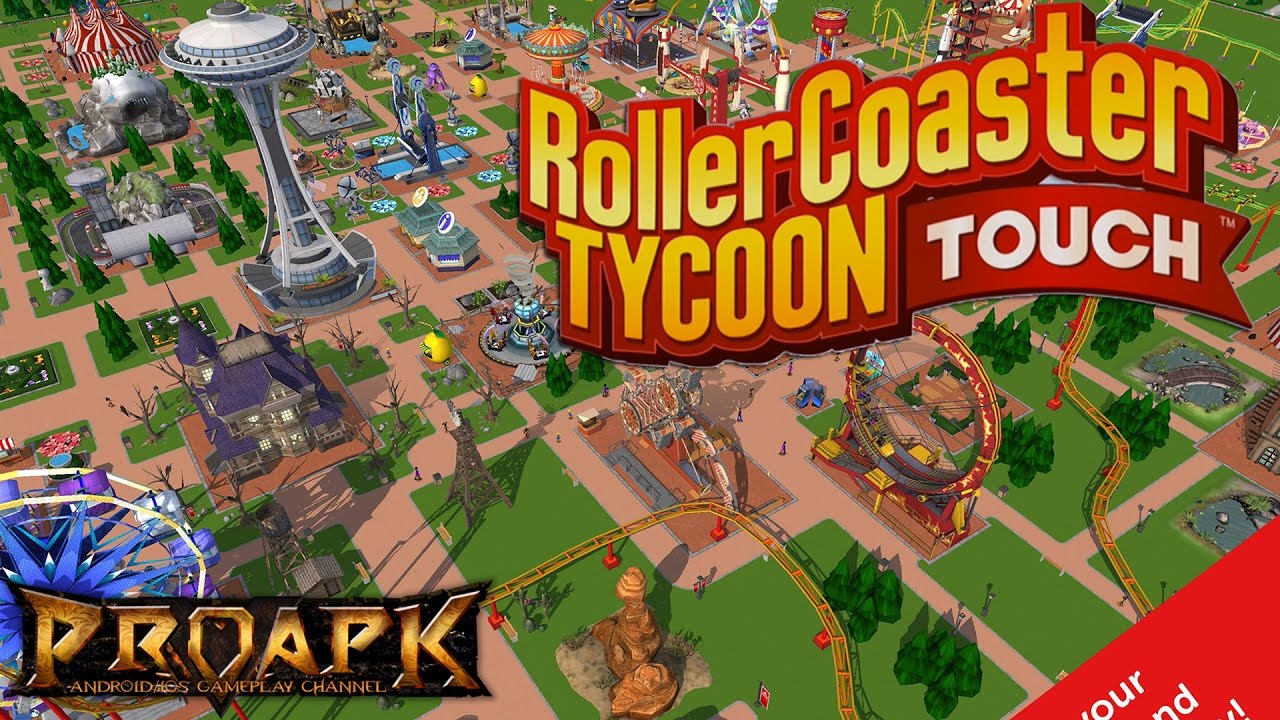 RollerCoaster Tycoon® Touch™ by Atari (ANDROID/iOS/iphone/ipad)
►►► SUBSCRIBE PROAPK FOR MORE GAMES : http://goo.gl/dlfmS0 ◄◄◄
Create, customize and rule your theme park kingdom in RollerCoaster Tycoon® Touch™, the new game from the creators of RollerCoaster Tycoon® World™.

Building, managing and sharing your coolest park creations in beautiful 3D graphics has never been this fun or easy. Open card packs full of coasters, rides, decorations and more to build out your dream park. Complete missions and acquire more cards to upgrade your buildings, keeping your peeps happy and making more money for your park! An innovative, touch-control coaster builder allows you to effortlessly draw coasters, and combined with intuitive pathing and building placement, you can quickly start expressing your Tycoon creativity. Your dream park awaits!
Key Features:
• Card Packs: Create fun, wild and imaginative parks by collecting cards packs full of exciting rides and coasters. Level-up, complete Missions, or visit the Card Shop to collect new cards to get different coasters, rides, scenery and missions for your park.
• Coaster Builder & Track Editor: Easily draw wooden, hyper, iron and steel coasters, tracks, supports and stations with the user-friendly spline-based coaster and track editor.
• Park Attractions: Customize your dream park and delight guests by choosing from over 100 different flat rides, park decorations, paths, restaurants, shops, and more. All rides are beautifully rendered and animated in 3D!
• Park Management: Create a successful park by maintaining peep satisfaction levels on activities, park value, revenue, and park decorations, and track everything with the intuitive Park Management panel.
• Social Features: Share your park with friends and play socially with others during live events and coaster contests.
Have fun!!!
DOWNLOAD
App Store: https://itunes.apple.com/nz/app/rollercoaster-tycoon-touch/id1164507836?mt=8
Play Store: Not Available Now
✔ LOOKING FOR MORE RPG GAMES? ►►► https://goo.gl/wqCfuv ◄◄◄
—————————————————-
SUBSCRIBE PROAPK TO DISCOVER MORE NEW ANDROID/iOS GAMES : http://goo.gl/dlfmS0
TWITTER: http://twitter.com/Apkno1
FACEBOOK: https://www.facebook.com/proapk4u
G+ : https://plus.google.com/+proapk
PLEASE SUPPORT PROAPK BY LIKE/ SHARE/ COMMENT , THANK YOU!