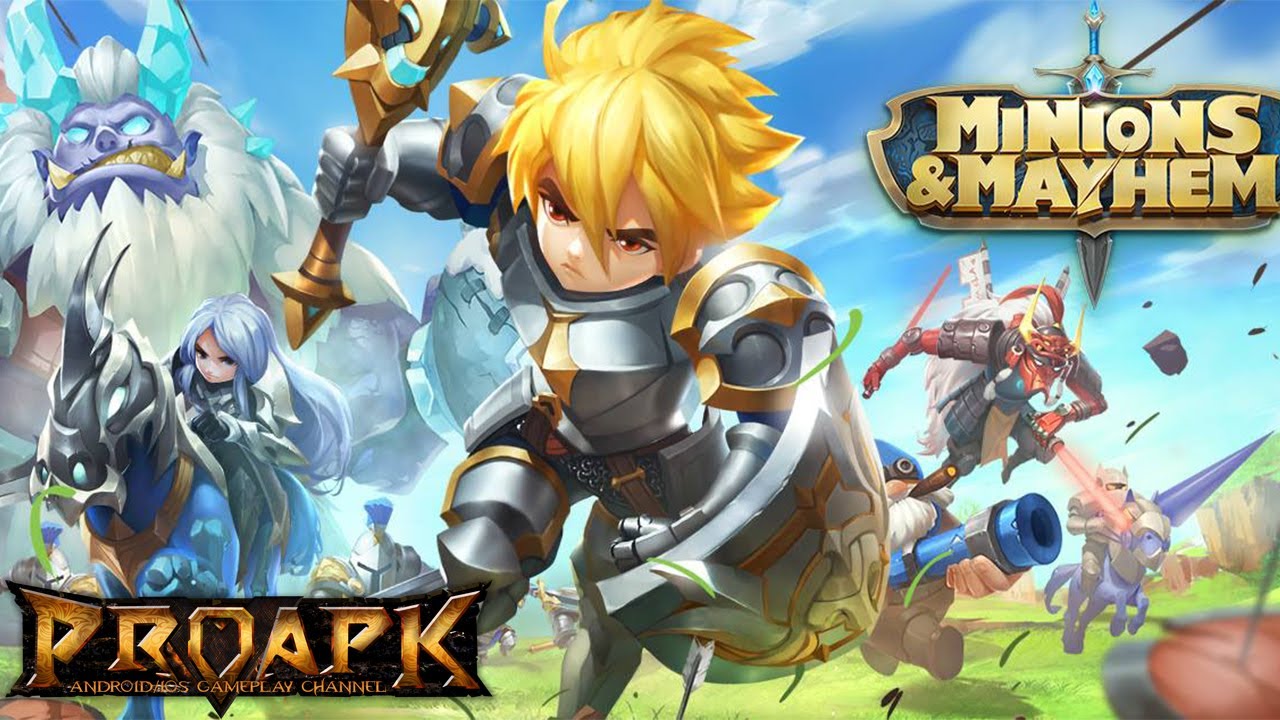 Minions & Mayhem – Realtime Strategy & Action by Avid.ly (ANDROID/iOS/iphone/ipad)
►►► SUBSCRIBE PROAPK FOR MORE GAMES : http://goo.gl/dlfmS0 ◄◄◄
Join the competitive battle of strategy and action in Minions & Mayhem! Summon heroes in the real-time arena to defeat all your enemies on the battlefield! Dozens of legends are at your call: Luna, Monkey King, Athena, Saladin, Dracula, Dragon Knight, Titan & many more.
Experience a thrilling battle and defeat your rivals using your best deck and managing your resources wisely. The famous world-class pro players as Moon, TeD and Fly100% have already shown their expertise in Minions & Mayhem. Let's join the fight!

BATTLE ARENA
Duel players from around the world in real-time. Destroy the opponent's troops and castle in the 1v1 mode arenas, or stand in the 2v2 arena side by side with a teammate to confront the enemies.
TEAM OF HEROES
Collect, level up, and manage your team of legendary heroes, as well as soldiers and mechs. Build your deck wisely to open up tactical depth. A better understanding of unit abilities, lineup and timing will lead you to victory.
GUILD AND FRIENDS
Form a guild to get access to special perks and training camps, along with the chance to knock down the mighty Guild Boss. Get more friends in game and strengthen your guild. Your prestige community will make a name in the magic world.
WATCH LIVE IN GAME
Watch live battles of the best players right in game. Learn the tactics while enjoy the show!
DOWNLOAD
App Store: https://itunes.apple.com/gb/app/minions-mayhem/id1228469919?mt=8
Play Store: https://play.google.com/store/apps/details?id=com.minionsmayhem.game
Total Size :
✔ LOOKING FOR MORE RPG GAMES? ►►► https://goo.gl/wqCfuv ◄◄◄
►►► MMORPG Playlist : https://goo.gl/nky4Vl ◄◄◄
—————————————————-
SUBSCRIBE PROAPK TO DISCOVER MORE NEW ANDROID/iOS GAMES : http://goo.gl/dlfmS0
TWITTER: http://twitter.com/Apkno1
FACEBOOK: https://www.facebook.com/proapk4u
G+ : https://plus.google.com/+proapk
IF YOU LIKE OUR WORKS, PLEASE SUPPORT AND LIKE/ SHARE/ COMMENT ON OUR VIDEOS, THANK YOU!