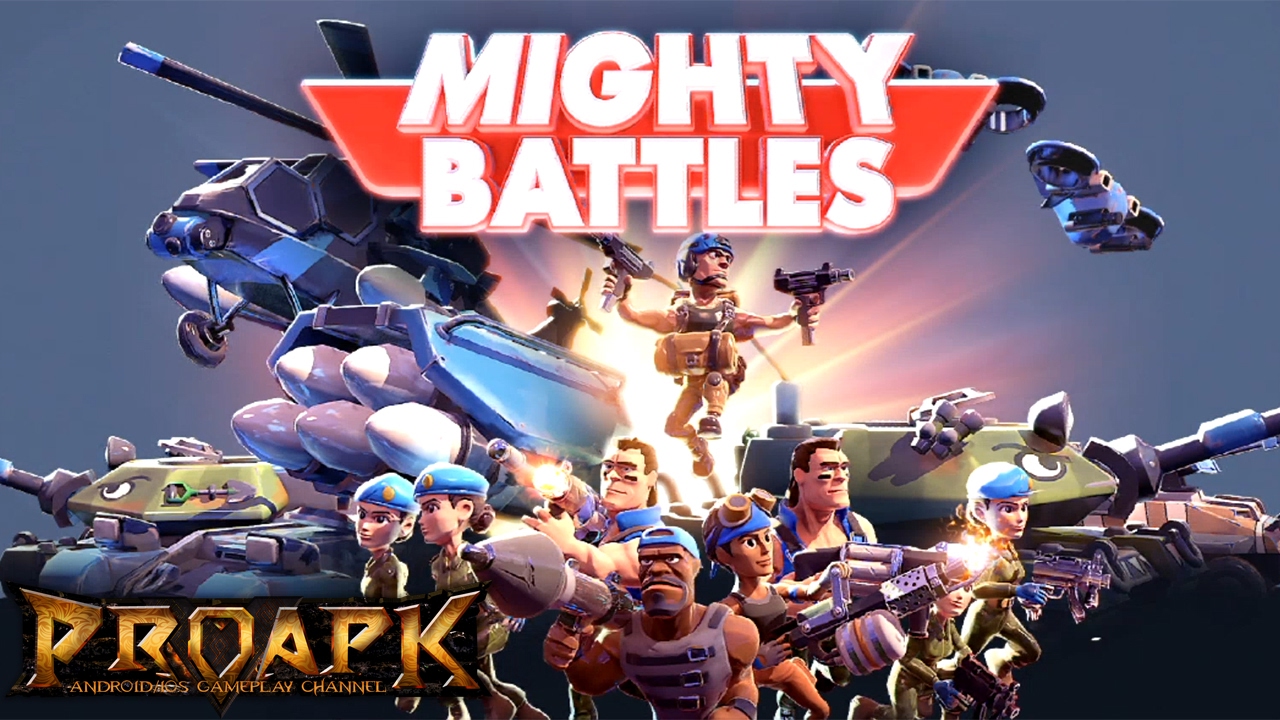 Mighty Battles by Hothead Games Inc (ANDROID/iOS/iphone/ipad)
►►► SUBSCRIBE PROAPK FOR MORE GAMES : http://goo.gl/dlfmS0 ◄◄◄
Time to Get Mighty! Play the #1 Battle Game on Mobile!
Play Real-time Online Multiplayer 1v1 Battles!

YOUR MISSION
As always, Commander, your mission will be to DESTROY ENEMY BASES! You'll need to SHOOT down advancing attacks, DEPLOY waves of special, battle-ready Units, and use all your skill and strategy to DESTROY the opposing Base!
CREATE YOUR SQUAD
Build a SQUAD of awesome UNITS to lead into battle! Collect 40 different SOLDIERS, VEHICLES, WEAPONS and BASE DEFENSES!
ATTACK THE ENEMY
Shoot enemy Grunts with your Base's Machine Gun to collect DEPLOYMENT POINTS!
Spend those Points to deploy your Soldiers and Vehicles into battle!
Call powerful Tanks, Helicopters, and other Vehicles into the fray! Deploy Rocket Troopers, Grenadiers, Flamethrower Troopers, and all sorts of different Soldiers with different weapons and abilities!
Play different combinations of Units to make a winning push on the enemy Base!
DEFEND YOUR BASE
Destroy enemy Units with Gatling Guns, Rocket Launchers, Bombing Runs and auto-controlled Turrets!
Deploy the right Soldiers and Vehicles into battle to help you fight off attacks, and turn defense into offense!
COMPETE WORLDWIDE
Challenge other players around the world in LIVE 1v1 MULTIPLAYER BATTLES! Earn MEDALS for each victory, and climb through the DIVISIONS and LEADERBOARDS into the highest tiers of competition.
Hone your shooting skills and tactical mind to become the BEST IN THE WORLD!
EARN REWARDS AND UPGRADE YOUR SQUAD
Earn Victory Crates by defeating your opponents in battle and unlock them all to collect more Units, Bucks, and Gold. Use these valuable resources to upgrade your Units and make your Squad even stronger than ever!
OTHER FEATURES
• CLANS: Join a team of other Commanders and work together to become the Top Clan worldwide! Donate Units to one another, practice with clanmates in friendly Clan Battles, and compete against other Clans in weekend Clan Events. (Coming Soon!)
• EVENTS: Looking for a new way to compete in Mighty Battles? Every weekend, a new EVENT will test your skills with a unique and challenging set of rules. Compete against other players and Clans all weekend, and win sweet rewards for placing on the Event Leaderboard! (Coming Soon!)
• TRAINING MODES: Practice with new Squad combinations and new Units in a CUSTOMIZABLE TRAINER MODE that you can tailor to your preferences. Challenge live players in a fun UNRANKED MODE where Battles can be played without risking your Medal Count.
DOWNLOAD
App Store: https://itunes.apple.com/se/app/mighty-battles/id1102812738
Play Store: Not Available Now
✔ LOOKING FOR MORE RPG GAMES? ►►► https://goo.gl/wqCfuv ◄◄◄
—————————————————-
SUBSCRIBE PROAPK TO DISCOVER MORE NEW ANDROID/iOS GAMES : http://goo.gl/dlfmS0
TWITTER: http://twitter.com/Apkno1
FACEBOOK: https://www.facebook.com/proapk4u
G+ : https://plus.google.com/+proapk
IF YOU LIKE OUR WORKS, PLEASE SUPPORT AND LIKE/ SHARE/ COMMENT ON OUR VIDEOS, THANK YOU!