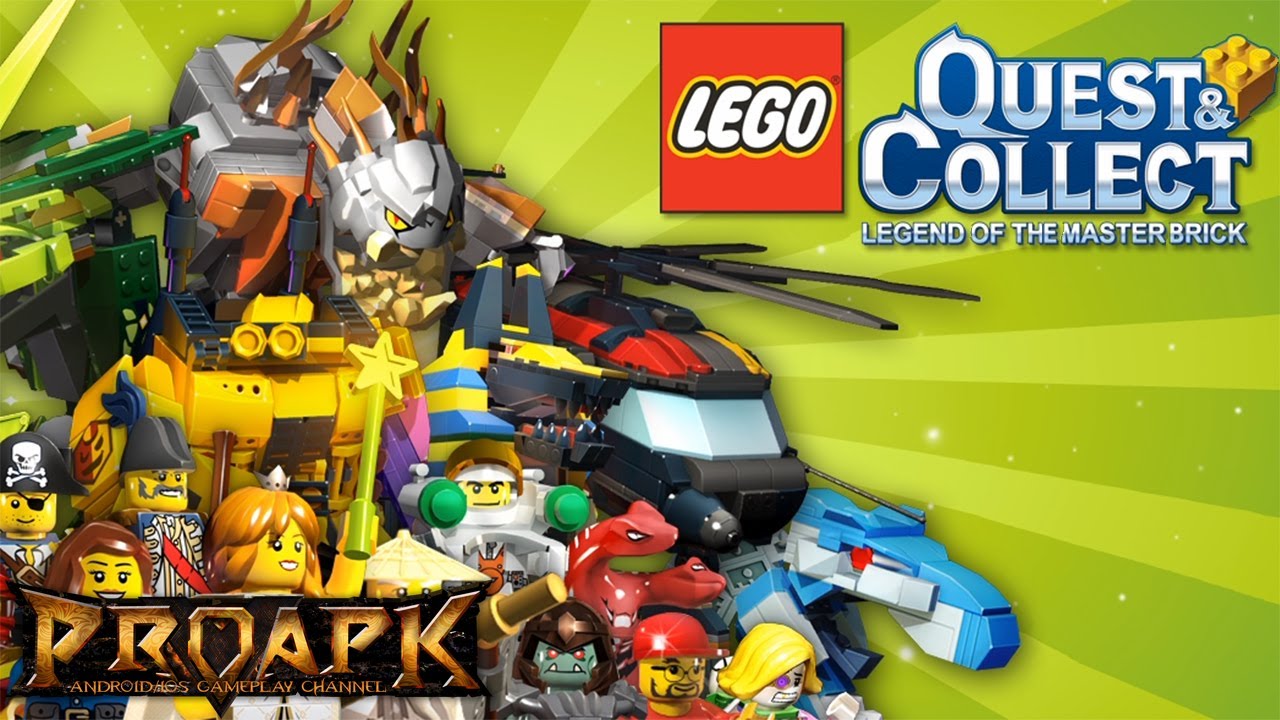 LEGO® Quest & Collect by NEXON Company (ANDROID/iOS/iphone/ipad)
LEGO QUEST & COLLECT Walkthrough Playlist : https://goo.gl/RTLCbx
►►► SUBSCRIBE PROAPK FOR MORE GAMES : http://goo.gl/dlfmS0 ◄◄◄
Experience an epic new LEGO® adventure and join the Quest to save Brick World

ABOUT THE GAME:
▒ For the first time on smartphones and tablets, players can build their own collection of LEGO® Minifigures and playsets from multiple LEGO® product lines, including: LEGO® CITY, LEGO® MINIFIGURES™, LEGO® NINJAGO™, LEGO® CASTLE, LEGO® PIRATES and more.
* Collect famous LEGO® characters throughout Brick World, including characters exclusive to the game.
* Collect Soul Bricks to unlock characters and release them from the Mad Creator's control
▒ Compete in strategic squad-based combat as you make your way through 100+ unique stages.
* Combine your skills to defeat massive Boss creatures controlled by The Mad Creator.
* Customize your Heroes using Enhance Bricks to boost their skills and abilities
▒ Build and display LEGO® models in your very own LEGO® collection.
* Build your collection of models to receive new rewards!
* Improving your Diorama level also gives you stat bonuses!
▒ Discover additional games modes (PVP, Daily Dungeons, etc.) including:
* Compete against other players in 3vs3 battles outside the NINJAGO™ Temple of Airjitzu.
* Navigate your way through Treasure Island, fending off thieving pirates while finding valuable loot for your collection
* Challenge the Mad Creator's Tower and see how high you can climb with your collection of Heroes
DOWNLOAD
App Store : https://itunes.apple.com/ph/app/lego-quest-collect/id1164753678?mt=8
Play Store: https://play.google.com/store/apps/details?id=com.nexon.legoquestandcollect
Total Size : 500 Mb
✔ LOOKING FOR MORE RPG GAMES? ►►► https://goo.gl/wqCfuv ◄◄◄
►►► MMORPG Playlist : https://goo.gl/nky4Vl ◄◄◄
—————————————————-
SUBSCRIBE PROAPK TO DISCOVER MORE NEW ANDROID/iOS GAMES : http://goo.gl/dlfmS0
TWITTER: http://twitter.com/Apkno1
FACEBOOK: https://www.facebook.com/proapk4u
G+ : https://plus.google.com/+proapk
IF YOU LIKE OUR WORKS, PLEASE SUPPORT AND LIKE/ SHARE/ COMMENT ON OUR VIDEOS, THANK YOU!