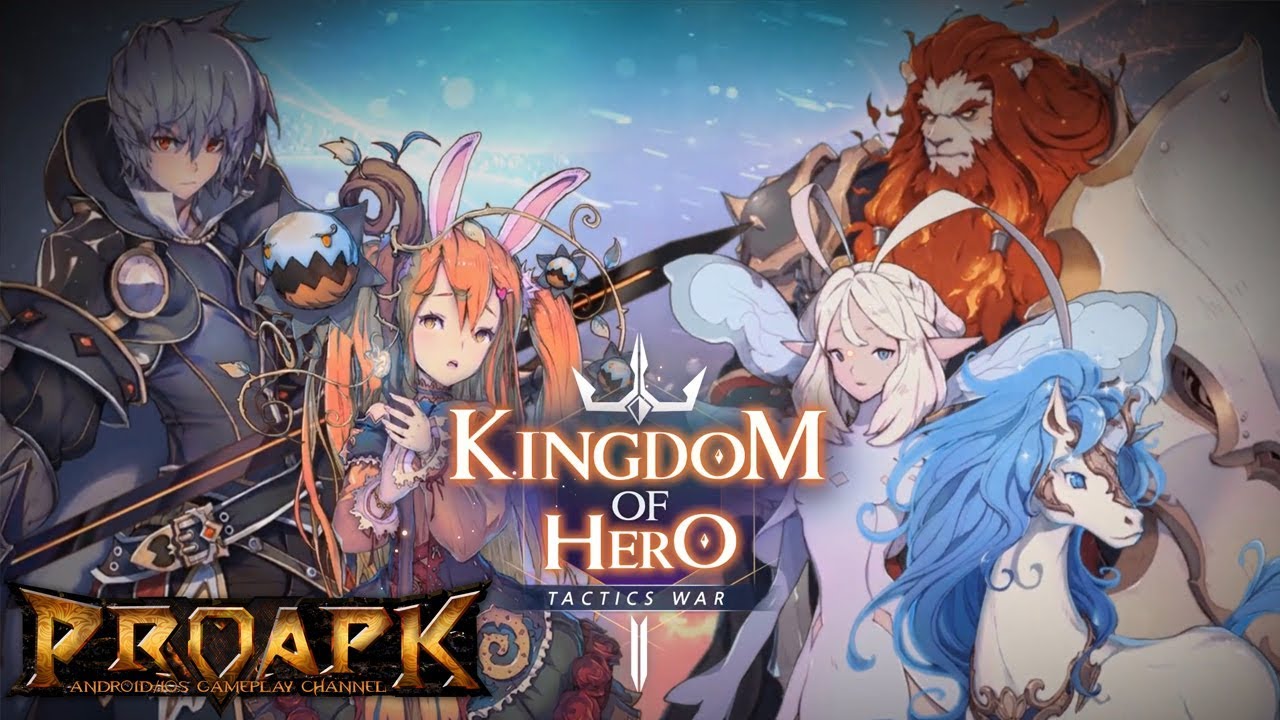 Kingdom of Hero : Tactics War by NEOWIZ
►►► SUBSCRIBE PROAPK FOR MORE GAMES : http://goo.gl/dlfmS0 ◄◄◄
An RPG that preserves the RPG tradition!
Even the map preserves the essence of tactic strategy games!
Enjoy the turn based Strategy RPG on a hexagon battlefield!
If you've ever played RPG games before, you will definitely enjoy this one!
Protect the fate of the Kingdom with Arthur and his Powerful Hero allies.
Unique attributed skills for every different Hero.

Battles that vary with different skill tactics.
Exploit the opponent's weaknesses and strengths as much as possible
Relish the fun of growing Hero characters with your own methods!
Even the same hero can become different with personalized Rune Settings.
5 different Elemental Types; Fire, Water, Tree, Light, Darkness
Different classes of SRPG characters; Guardian, Fighter, Archer, Wizard, Priest.
Each Hero possess different unique attributes – Raphael has Light, Arthur has Fire, Freyja has Darkness!
Beautiful Hero illustrations and graphics.
Each and every illustration and art design is one you want to cherish!
The quality of illustrations in this game do justice to RPG genre
Savor the charming illustrations and skills of every different Hero available.
Different modes to raise the entertainment value of Turn-based RPG
Join Arthur and his journey to guard his Kingdom.
Challenge yourself to varying difficulties and stages of journey scenarios.
Defeat the Bosses! Collect your Heroes!
Awaken a new Hero by collecting items in the Dungeon of Awakening!
Discover new Runes in the Rune Dungeon to strengthen your Heroes!
Difficultly drawing Heroes? Don't miss the Rift where you can obtain new Hero Pieces.
DOWNLOAD
Play Store: https://play.google.com/store/apps/details?id=com.neowiz.game.koh
Total Size : 443 MB
Online/Offline? : Online
✔ LOOKING FOR MORE RPG GAMES? ►►► https://goo.gl/wqCfuv ◄◄◄
►►► Open World MMORPG Playlist : https://goo.gl/nky4Vl ◄◄◄
►►► Offline Android / iOS Games : https://goo.gl/Q7ouAo ◄◄◄
—————————————————-
SUBSCRIBE PROAPK TO DISCOVER MORE NEW ANDROID/iOS GAMES : http://goo.gl/dlfmS0
TWITTER: http://twitter.com/Apkno1
FACEBOOK: https://www.facebook.com/proapk4u
G+ : https://plus.google.com/+proapk
IF YOU LIKE OUR WORKS, PLEASE SUPPORT AND LIKE/ SHARE/ COMMENT ON OUR VIDEOS, THANK YOU!