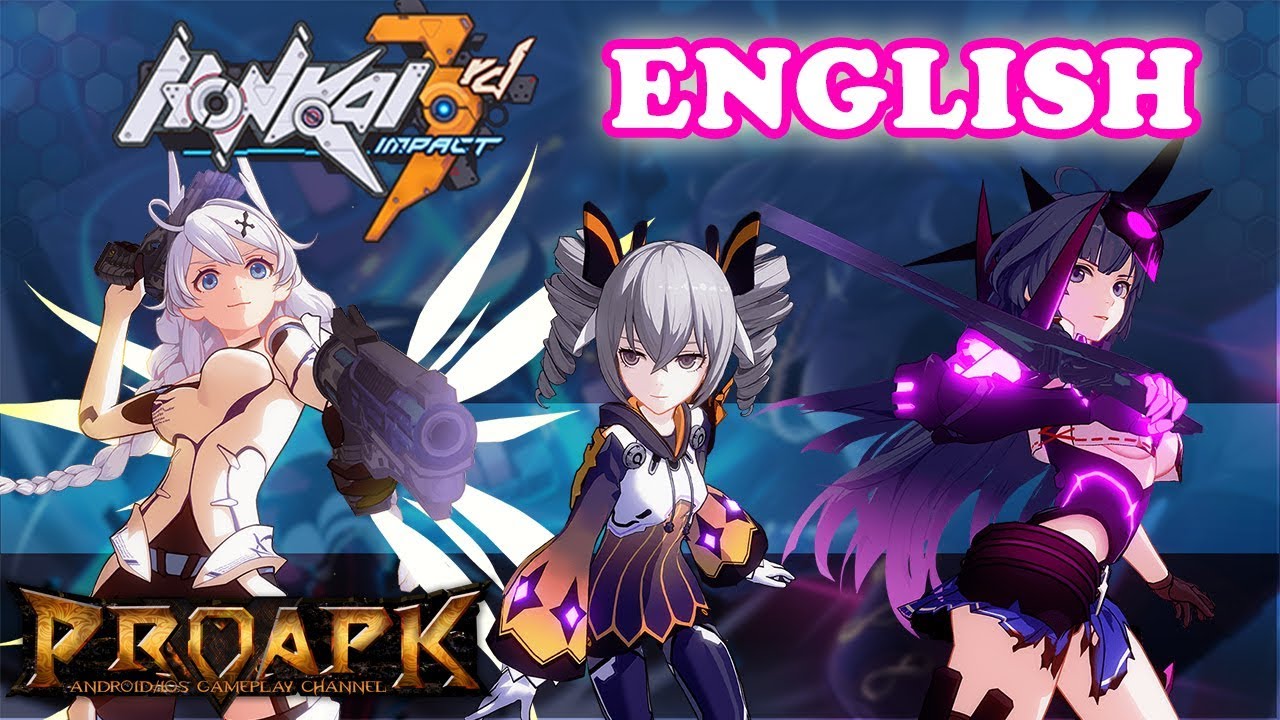 Honkai Impact 3 by miHoYo Limited (ANDROID/iOS/iphone/ipad)
►►► SUBSCRIBE PROAPK FOR MORE GAMES : http://goo.gl/dlfmS0 ◄◄◄
"Honkai, the mysterious power responsible for destroying human civilization countless times, has descended upon this beautiful world once again…" With the lands now flooded with deadwalkers and Honkai beasts, a group of girls bearing the burdens of despair continue their fight onward. Will there be any hope of clinging to survival?"
Three years ago, the third Honkai descended upon Vastsky City in the far east… Under the glow of sunset, Valkyrie Kiana leapt out from the Hyperion, plummeting through the clouds like a falling meteor towards a warship. Her relentless Valkyrie determination represented a glimmer of hope. With this breathtaking scene, the story of the Captain and the Hyperion begins and the stage is set for the battle with the Honkai. Fight for all that is beautiful in this world!

[GAME INTRODUCTION]
Honkai Impact 3 follows the story of Kiana and her team's resistance against the Honkai. In an epic adventure of saving the world, the experiences of the Valkyries—Kiana, Mei, and Bronya gradually unfold. Players will play as Captain of the warship Hyperion, commanding each of the unique Valkries in their fight against deadwalkers and Honkai beast around the globe. Players will progress through various stages, experience different storylines, and fight together for all that is beautiful in the world!
DOWNLOAD
App Store: https://itunes.apple.com/ph/app/honkai-impact-3/id1299582178?mt=8
Play Store: https://play.google.com/store/apps/details?id=com.miHoYo.bh3oversea
Total Size : 1.1 GB
✔ LOOKING FOR MORE RPG GAMES? ►►► https://goo.gl/wqCfuv ◄◄◄
►►► Open World MMORPG Playlist : https://goo.gl/nky4Vl ◄◄◄
►►► Offline Android / iOS Games : https://goo.gl/Q7ouAo ◄◄◄
—————————————————-
SUBSCRIBE PROAPK TO DISCOVER MORE NEW ANDROID/iOS GAMES : http://goo.gl/dlfmS0
TWITTER: http://twitter.com/Apkno1
FACEBOOK: https://www.facebook.com/proapk4u
G+ : https://plus.google.com/+proapk
IF YOU LIKE OUR WORKS, PLEASE SUPPORT AND LIKE/ SHARE/ COMMENT ON OUR VIDEOS, THANK YOU!