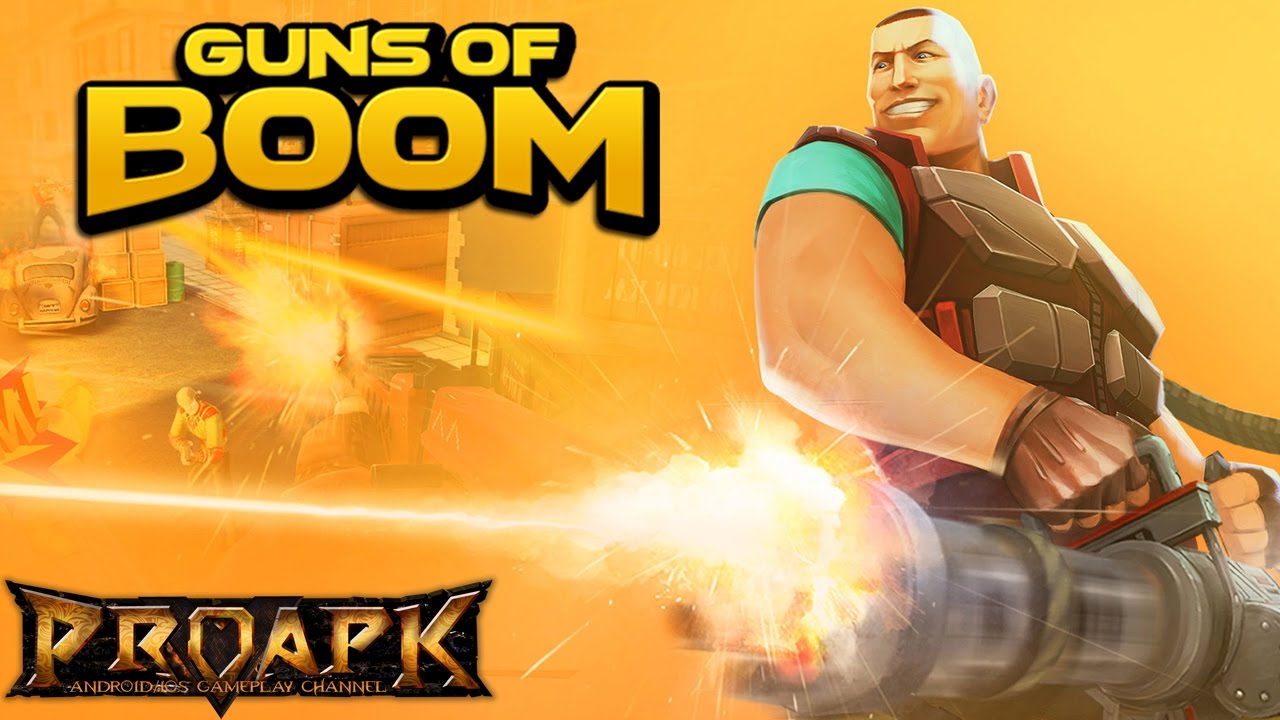 Guns of Boom – Online Shooter by Game Insight (ANDROID/iOS/iphone/ipad)
►►► SUBSCRIBE PROAPK FOR MORE GAMES : http://goo.gl/dlfmS0 ◄◄◄
"A brilliant multiplayer FPS that you should just go and play right now. 9/10" — PocketGamer
• Easy and intuitive controls: pump your opponents full of lead from the get-go!
• Awesome graphics for immersive gameplay: stylish levels and cool animation will keep you glued to the screen!
• Autofire: all you need to do is get the enemy into your crosshairs.
• Dynamic battles: play on a team and rip your enemies to shreds! The more active you are in battle, the better your reward will be!
• Various guns: 48 weapons to choose from, including machine guns, assault and sniper rifles, shotguns, and more. Each has its own unique ability: increased headshot damage, slowing down enemies, and even health leeching. Find a gun that fits your style of play!
• Explosive fun: free mobile shoot-outs that will leave your heart pounding! Gear up, soldiers!

Soldier!
You are one step away from action-packed combat! Can you keep steady aim under heavy fire and gun down enemies while grenades are exploding all around you? Can you handle that kind of fun?! Welcome to the game then!
This ain't no regular army, though. No one will tell you what to do or where to shoot. You have to make your own decisions and choose your own battles. Team up with other soldiers, get good at killing opponents and dominate the battlefield. Make a blitz attack, spraying lead in all directions, or try and shoot your opponent from a safe distance, taking your time to aim directly for the head. It's always your call. Now, these wars won't fight themselves! Get to the armory, gear up, and start making a BOOM! On the double!
Guns of Boom is a hardcore multiplayer shooter with eye-popping 3D graphics and blood-boiling gameplay. It's so simple that your cat can learn the controls, but the skill-cap is high enough to make even hardened FPS veterans break a sweat. Engage in online PvP battles on a variety of maps, utilizing different deadly guns, as well as frag grenades and med kits. Experience the ultimate competitive tension without leaving your couch!
DOWNLOAD
App Store: https://itunes.apple.com/us/app/guns-of-boom/id1179715015?mt=8
Play Store: https://play.google.com/store/apps/details?id=com.gameinsight.gobandroid
Total Size : 315 Mb
✔ LOOKING FOR MORE RPG GAMES? ►►► https://goo.gl/wqCfuv ◄◄◄
—————————————————-
SUBSCRIBE PROAPK TO DISCOVER MORE NEW ANDROID/iOS GAMES : http://goo.gl/dlfmS0
TWITTER: http://twitter.com/Apkno1
FACEBOOK: https://www.facebook.com/proapk4u
G+ : https://plus.google.com/+proapk
IF YOU LIKE OUR WORKS, PLEASE SUPPORT AND LIKE/ SHARE/ COMMENT ON OUR VIDEOS, THANK YOU!