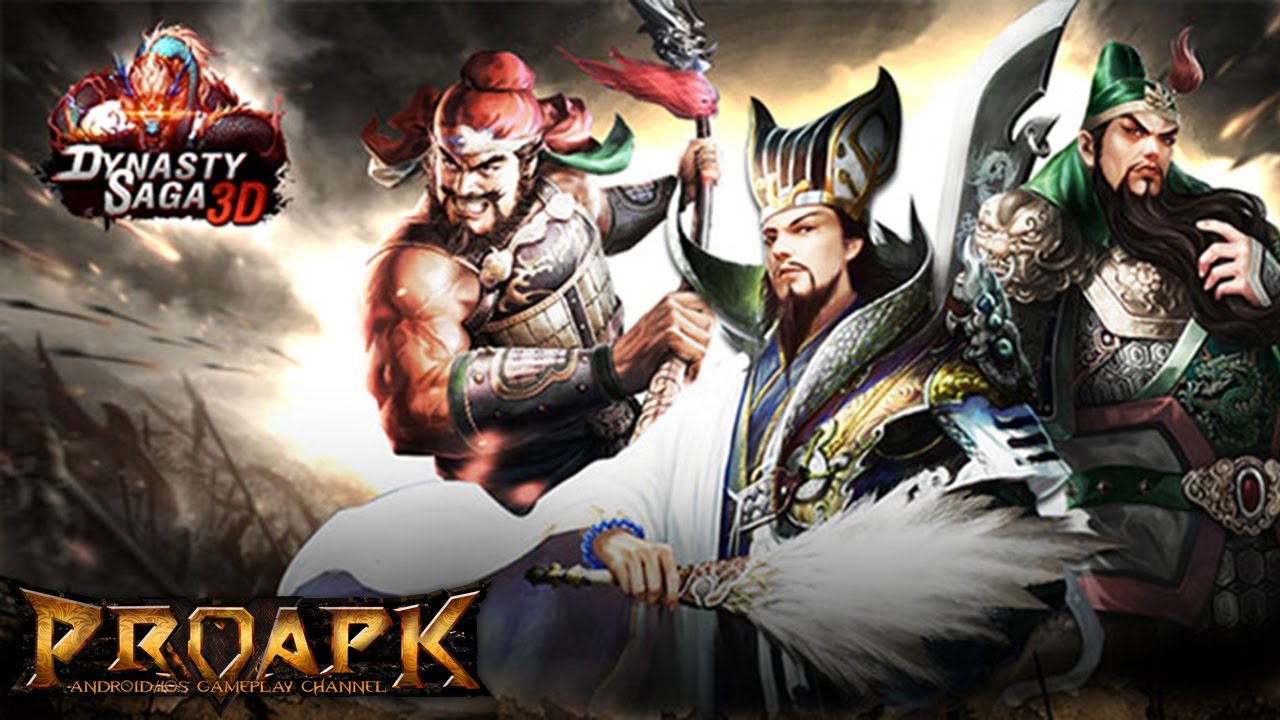 Dynasty Saga 3D-Three Kingdoms by MobGame Pte. Ltd. (ANDROID/iOS/iphone/ipad)
►►► SUBSCRIBE PROAPK FOR MORE GAMES : http://goo.gl/dlfmS0 ◄◄◄
Dynasty Saga 3D is mostly based on the ancient tripartite division of China between the states of Wei, Shu, and Wu, preceding the Jin dynasty and following the Han dynasty: Wei is also known as Cao Wei, Shu is also known as Shu Han, and Wu is also known as Dong (or Eastern) Wu. Join the game now to experience both the original events and a new storyline about the Nine Dragons – presence of great power.

UNIQUE FEATURES:
– ONE TOUCH TO RULE 'EM ALL: The game allows players to perform a unique action with just ONE click to cast your heroes' abilities to anywhere you want in the battlefield. You will totally feel free to manage your fighting style. Different positions to set out damages or to heal allies may bring about different results of battles. Those given power will allow you to conquest every land you set feet on.
– POWERFUL SKILL SET AND EXCLUSIVE COMBO SYSTEM: The game offers nearly 100 unique main heroes with exciting abilities and various effects (from stun, freeze, slow, burning, knock back, knock down… to even betrayal action and a lot more). Besides, each hero has a close relationship to some others, when fighting alongside ones, they will perform an extra skill with enormous damages or stunning recovery. Create unique strategies to win every head-on clash and all enemies will have to bend their knees in front of the legend.
– SPLENDID WARRIORS IN 3D GRAPHICS AND ANIMATIONS: Totally surpassing other 2D strategy Three Kingdoms games, Dynasty Saga 3D has beautiful 3D graphics in every aspect of the game, from a battle scene to a single structure and the most remarkable are Heroes' animations.
– UNLEASH ULTIMATE POWER OF THE NINE DRAGONS: This unique feature allows players to seek for the nine descendants of Dragons. You will be offered great opportunities to crouch powerful dragons which bestow upon a great power and serve you at ease to turn up your light of victory in every battle. It is the time to write your own romance of heroes amid scenes of utter chaos!
– DOMINATE 3K TOURNAMENT TO BECOME THE SUPREME CONQUEROR: Join in the Tournaments, the Arenas, the Conquests… to test your power with other players. Lay your indomitable courage and reputation upon the whole world of Three Kingdoms. A great emperor is waiting ahead!
Let's join Dynasty Saga 3D now!
DOWNLOAD
App Store: https://itunes.apple.com/us/app/dynasty-saga-3d-kingdom-warriors/id1137913369?ls=1&mt=8
Play Store: https://play.google.com/store/apps/details?id=com.game.nlvsen
APK : http://m16encdn.smogame.com/apk/DynastySaga3D_V1.5.apk
✔ LOOKING FOR MORE RPG GAMES? ►►► https://goo.gl/wqCfuv ◄◄◄
—————————————————-
SUBSCRIBE PROAPK TO DISCOVER MORE NEW ANDROID/iOS GAMES : http://goo.gl/dlfmS0
TWITTER: http://twitter.com/Apkno1
FACEBOOK: https://www.facebook.com/proapk4u
G+ : https://plus.google.com/+proapk
PLEASE SUPPORT PROAPK BY LIKE/ SHARE/ COMMENT , THANK YOU!