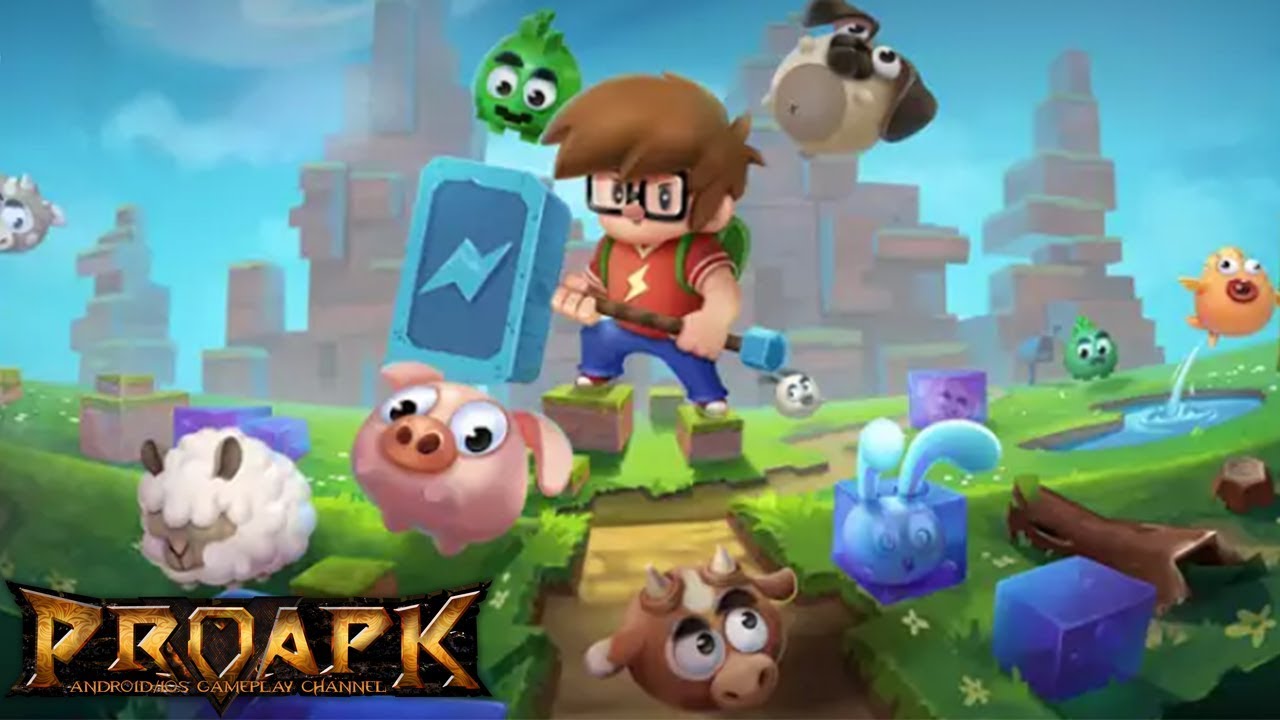 Craft Away! – Idle Mining Game by Futureplay (ANDROID/iOS/iphone/ipad)
►►► SUBSCRIBE PROAPK FOR MORE GAMES : http://goo.gl/dlfmS0 ◄◄◄
In Craft Away you'll explore a beautiful world and mine thousands of blocks with one swipe of your finger. Befriend mobs and animals to mine by your side and craft awesome gear like potions, enchanted books, furnaces and pickaxes to enhance your journey. This is the world's best incremental idle mining and crafting game!

7 REASONS TO CRAFT AWAY!
~~~~~~~~~~
* SWIPE TO MINE – Tap n' swipe to mine thousands of blocks and resources instantly.
* BEFRIEND MOBS – Save animals and mobs trapped in jelly to mine for you while you're away!
* CRAFT AWESOME GEAR – Use your resources to craft everything from Nether Bricks to Eyes of Ender.
* EXPLORE A WORLD – Explore and discover beautiful scenic biomes as your adventure develops.
* FRENZIED MINING – Tornados, TNT, and a giant golden hammer harvest entire chunks in an instant!
* INVEST WISELY – Prove your RPG strategy with smart decisions on which gear and mobs to befriend, craft and upgrade.
* PLAY ANYWHERE! – The world's best idle mining and crafting game is free to play online or offline!
DOWNLOAD
App Store: Not Available Now
Play Store: https://play.google.com/store/apps/details?id=com.futureplay.minecraft&hl=en
Total Size : 97 MB
✔ LOOKING FOR MORE RPG GAMES? ►►► https://goo.gl/wqCfuv ◄◄◄
►►► Open World MMORPG Playlist : https://goo.gl/nky4Vl ◄◄◄
►►► Offline Android / iOS Games : https://goo.gl/Q7ouAo ◄◄◄
—————————————————-
SUBSCRIBE PROAPK TO DISCOVER MORE NEW ANDROID/iOS GAMES : http://goo.gl/dlfmS0
TWITTER: http://twitter.com/Apkno1
FACEBOOK: https://www.facebook.com/proapk4u
G+ : https://plus.google.com/+proapk
IF YOU LIKE OUR WORKS, PLEASE SUPPORT AND LIKE/ SHARE/ COMMENT ON OUR VIDEOS, THANK YOU!