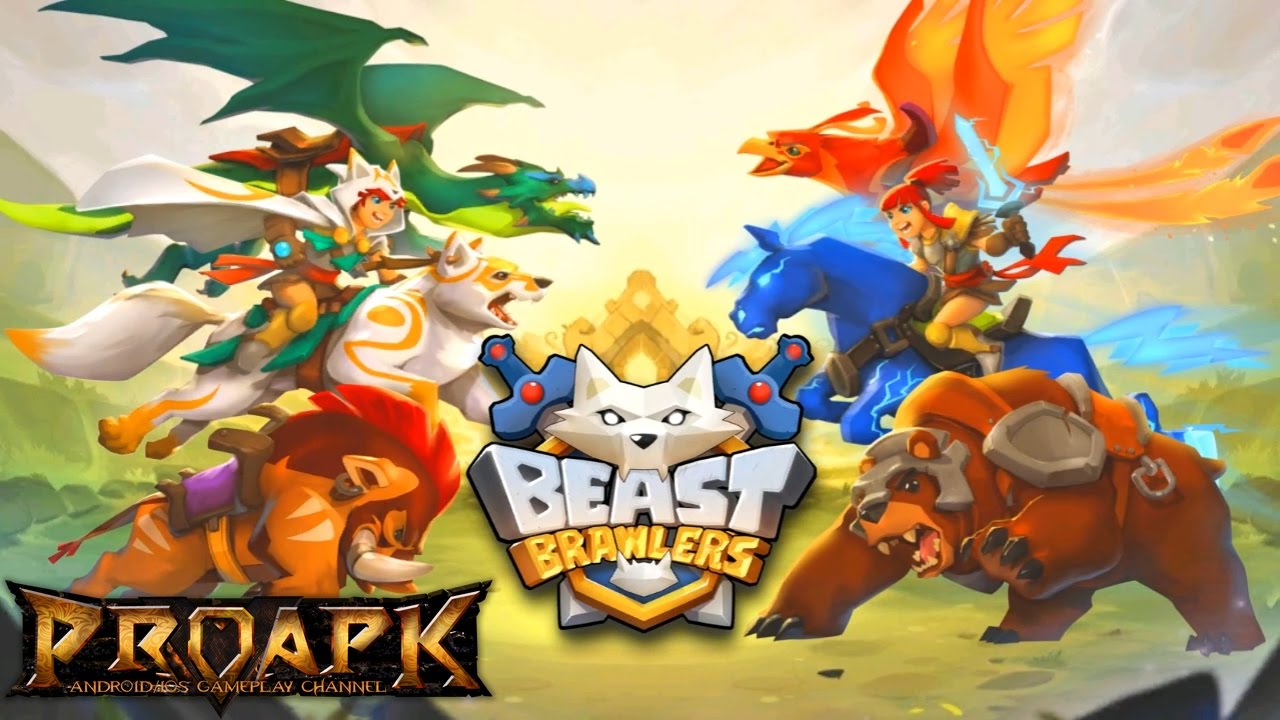 Beast Brawlers by V2 Games Inc. (ANDROID/iOS/iphone/ipad)
►►► SUBSCRIBE PROAPK FOR MORE GAMES : http://goo.gl/dlfmS0 ◄◄◄
Choose your Beast, pick your potions, and get ready to fight the ultimate real-time online battle arena. Dive right into a 4-player brawl and survive as you chase, poison, snipe, and explode!
In this compelling fantasy multiplayer game, each Beast Rider controls their own destiny and battles for fans in a highly charged Arena. All in 2 minutes! Not your traditional MOBA, and definitely a clash of royal proportions!
REAL-TIME MULTIPLAYER ACTION
Prepare for a fast paced & exhilarating 2-minute battle against 3 opponents. Who knows what strategy they may bring? Jump into an intense brawl with your Beasts and out-battle your enemies to showboat and win fans! Gain fans to unlock new Arenas and become the ultimate champion of 5 different Arenas! The higher up you go, the greater rewards that await you…

COLLECT MAGNIFICENT BEAST
Collect and build your own magnificent collection of Brawlin' Beasts to take to battle, some more rare than others! Learn each Beast's strengths and weaknesses to craft your unique playstyle. Master their Active and Passive abilities and choose your Beast carefully as each battle requires a different strategy. Choose from the Dire Hog, Lightning Steed, Emerald Dragon, Colossal Spider, Molten Phoenix, and many more!
SIMPLE CONTROLS – DEEP FUN
With its intuitive and simple controls, players will be in the thick of the action in seconds! It's simple to clash with opponents, unleash your powerful abilities, use magical potions, and pick up game-changing power-ups. While it's not easy to avoid getting KO-ed, it just feels so good when they call you the King Slayer.
BOAST YOUR TOP REPLAYS
Share videos of your best moves and recent battles with your friends! Brag about how you just did a Triple Kill using the War Bear's Charge ability or how you sniped everyone else using the Radiant Unicorn's Rainbow Beam. View Top replays on BrawlTV during queue time to discover new strategies or to get a sneak peak of Beasts you haven't found yet!
An internet connection is required to play.
DOWNLOAD
App Store: Not Available Now
Play Store: https://play.google.com/store/apps/details?id=io.v2g.beastbrawlers&hl=en
Total Size : 94 Mb
✔ LOOKING FOR MORE RPG GAMES? ►►► https://goo.gl/wqCfuv ◄◄◄
—————————————————-
SUBSCRIBE PROAPK TO DISCOVER MORE NEW ANDROID/iOS GAMES : http://goo.gl/dlfmS0
TWITTER: http://twitter.com/Apkno1
FACEBOOK: https://www.facebook.com/proapk4u
G+ : https://plus.google.com/+proapk
IF YOU LIKE OUR WORKS, PLEASE SUPPORT AND LIKE/ SHARE/ COMMENT ON OUR VIDEOS, THANK YOU!