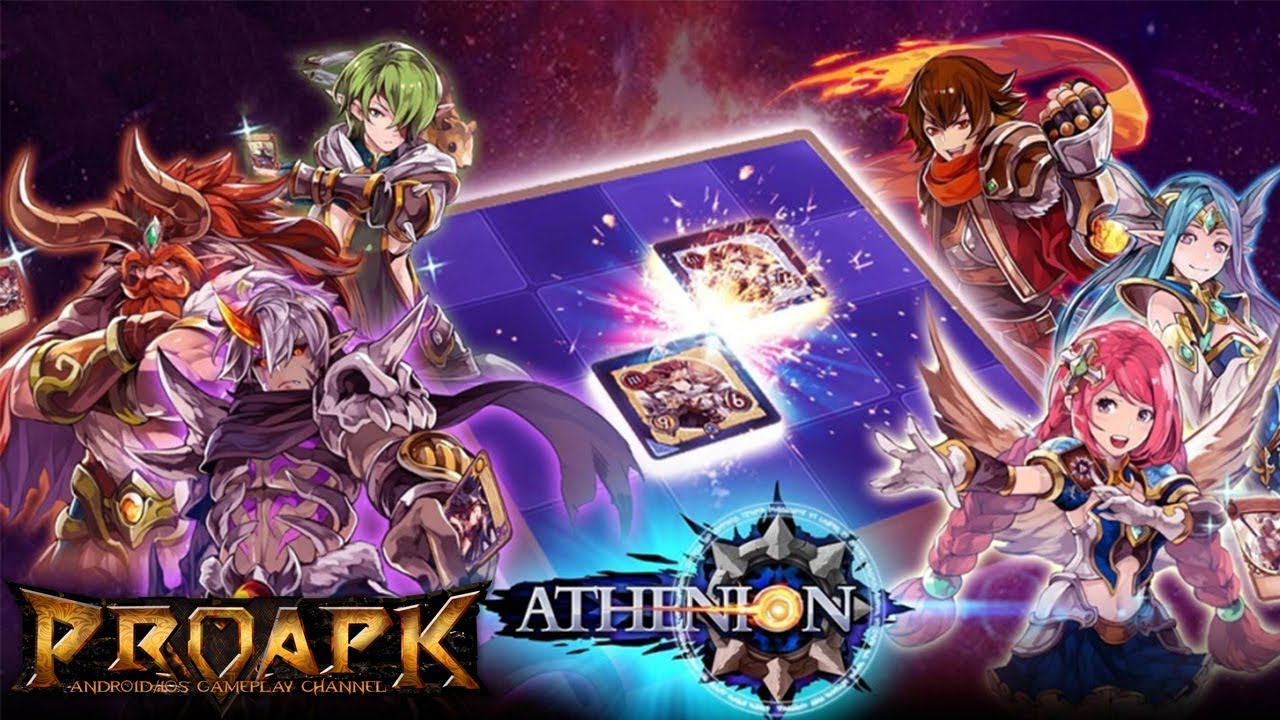 Athenion: Tactical CCG by ZERO-bit
►►► SUBSCRIBE PROAPK FOR MORE GAMES : http://goo.gl/dlfmS0 ◄◄◄
Athenion, the new tactical card game which you can set up your deck and bring it to the battle on 4×4 board. Find and collect cards which have unique ability to support your play styles. Prove your skill in the battle against other players from all over the world. Using a variety of strategies to take control of the battlefield and achieve victory. A fateful battle is waiting for you!

***FEATURES***
⋆Player Versus Player: Play against players around the world in multiplayer mode!
Battle stage of Athenion is the world! Your opponents may sit beside you or maybe living overseas. Improve your skill to be the best and become the champion of the world!
______________________________
⋆6 factions 6 styles: Countless number of strategies
There are six factions in Athenion. Each faction has a different unique play style, and each style can be played in several ways depending on your strategy. Join the battle! Creating your own play styles and defeat your opponents!
______________________________
⋆Unique Ability: abilities of cards effect your strategy
Each card has different ability, to conquer the field, to survive the battle or to trick opponent players. Choose the cards that suit your style and make the strongest deck!
______________________________
⋆Decks Collection: Cards is Art!
Athenion has hundreds of cards. Each one has beautiful artwork which worth collecting. You can enjoy playing game and also appreciate the beauty of art at the same time!
______________________________
⋆Full of tactics, but not complicated
The battle of Athenion is full of tactics and strategies. However, it is easy to understand. Not only experienced player but player who is new to strategic card game can also easily enjoy it too!
______________________________
⋆Daily Quest: Challenging Everyday!
Daily quest of Athenion will challenge your skill and give you a ton of rewards!
DOWNLOAD
Play Store: https://play.google.com/store/apps/details?id=com.zerobit.athenion
Total Size : 347 MB
Online/Offline? : Online
✔ LOOKING FOR MORE RPG GAMES? ►►► https://goo.gl/wqCfuv ◄◄◄
►►► Open World MMORPG Playlist : https://goo.gl/nky4Vl ◄◄◄
►►► Offline Android / iOS Games : https://goo.gl/Q7ouAo ◄◄◄
—————————————————-
SUBSCRIBE PROAPK TO DISCOVER MORE NEW ANDROID/iOS GAMES : http://goo.gl/dlfmS0
TWITTER: http://twitter.com/Apkno1
FACEBOOK: https://www.facebook.com/proapk4u
G+ : https://plus.google.com/+proapk
IF YOU LIKE OUR WORKS, PLEASE SUPPORT AND LIKE/ SHARE/ COMMENT ON OUR VIDEOS, THANK YOU!