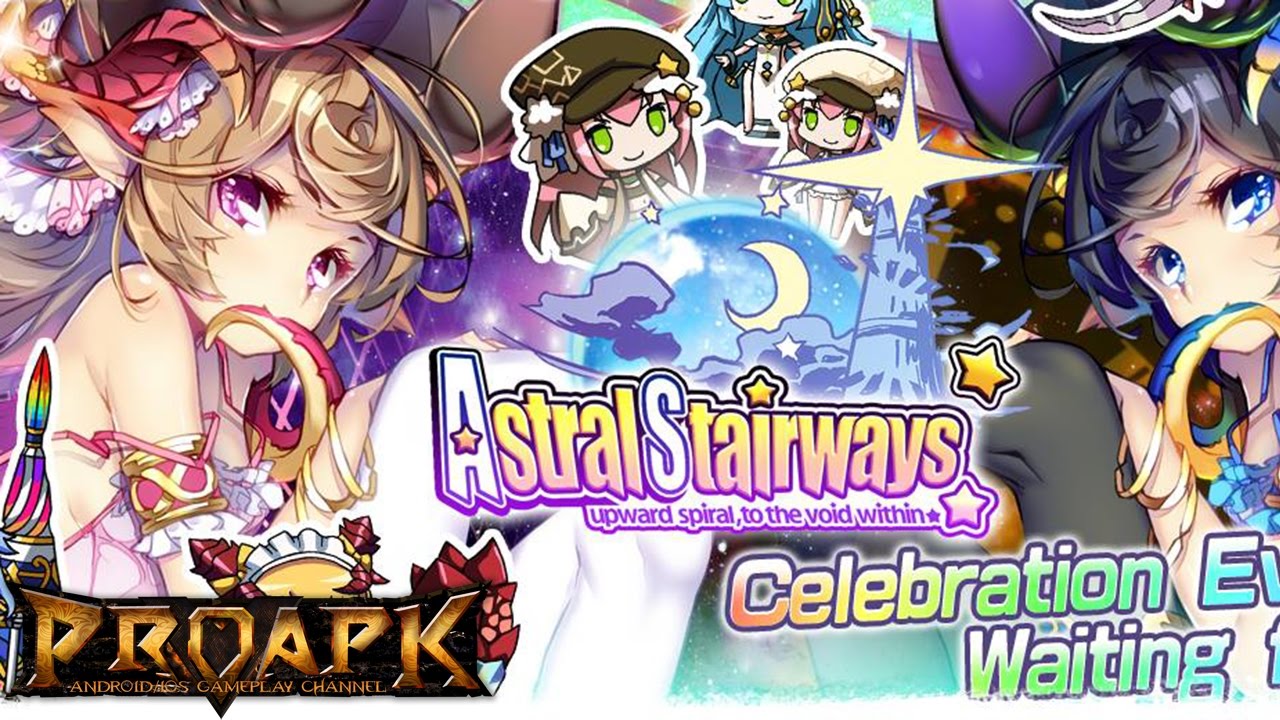 Astral Stairways by Firedog Creative Company Limited (ANDROID/iOS/iphone/ipad)
►►► SUBSCRIBE PROAPK FOR MORE GAMES : http://goo.gl/dlfmS0 ◄◄◄
◆1100+ Unique characters waiting for you summon◆
Firedog Studio's newest game! Perfect for anime fans!
From the creators of Cupid Bistro!!, NeveRossa series!
Save the 800 worlds, rediscover the excitement of RPG!

◆Story◆
Travel through the rift of time! Save the 800 worlds! With the power of summoning mighty followers, the hero will save the 800 worlds! Under the guidance of Goddess Kala, explore the worlds and defeat the greatest evil force!
◆Stunning Characters! Epic Battles!◆
Over 1100+ unique characters drawn by our incredible team of illustrators!
Position characters in battle for maximum efficiency!
Coordinate characters to cast ultimate skill combos!
◆Ultimate Skills! Terrain Advantage! Unleash Your Inner Strength!◆
Strategic game-play! Every character has their own powers, abilities and terrain skills.
Carefully position them on the 3×3 formation to turn the tide of the battle!
Exploit enemy weaknesses to maximize damage!
Combine everything to defeat the toughest enemy!
◆Overkill & Fusion!◆
When facing tough enemies, focus them down with maximum firepower!
Strike together to Fusion! Fusion recovers health and mana, necessary for defeating strong opponents!
OVERKILL!! Strike with massive firepower to overkill an enemy! Rumor says over-killing an enemy has a chance to receive rare items…
◆About Firedog◆
Back in 1993, Firedog Studio was a well-known doujin group based in Hong Kong.
We were passionate in ACG creations.
In 1999, Firedog Computer Entertainment Ltd was founded. Games developed by the company include Cupid Bistro!!, NeveRossa and Tiara Concerto.
Forged from years of experience, our first mobile game the Astral Stairways debuted in 2014.
DOWNLOAD
App Store: https://itunes.apple.com/us/app/astral-stairways/id1166908851?mt=8
Play Store: https://play.google.com/store/apps/details?id=com.firedogstudio.asprojecten
✔ LOOKING FOR MORE RPG GAMES? ►►► https://goo.gl/wqCfuv ◄◄◄
—————————————————-
SUBSCRIBE PROAPK TO DISCOVER MORE NEW ANDROID/iOS GAMES : http://goo.gl/dlfmS0
TWITTER: http://twitter.com/Apkno1
FACEBOOK: https://www.facebook.com/proapk4u
G+ : https://plus.google.com/+proapk
IF YOU LIKE OUR WORKS, PLEASE SUPPORT AND LIKE/ SHARE/ COMMENT ON OUR VIDEOS, THANK YOU!