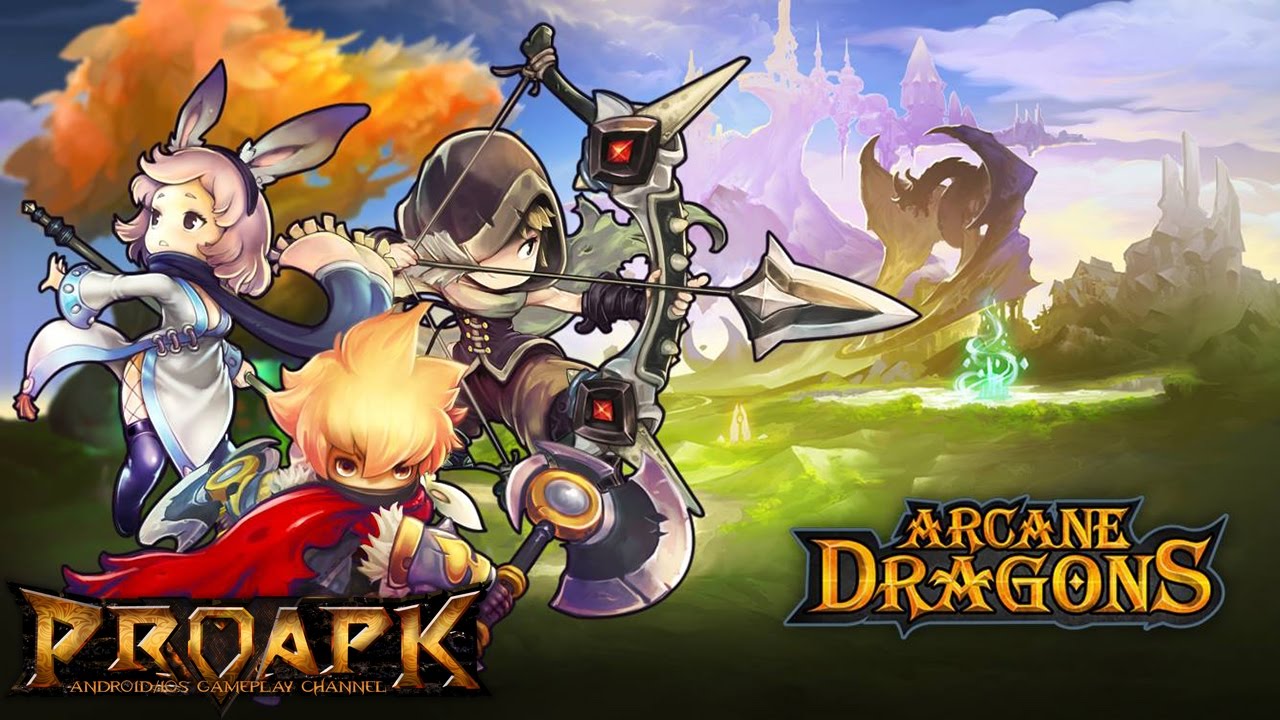 Arcane Dragons by Redbana Us Corp (ANDROID/iOS/iphone/ipad)
►►► SUBSCRIBE PROAPK FOR MORE GAMES : http://goo.gl/dlfmS0 ◄◄◄
Arcane Dragons is a fast-paced, arcade-style fantasy, free action RPG with exciting real time PvP and Co-op modes.
Relive the story in this free action RPG as you choose from three different characters (Warrior, Archer and Wizard), each with a different play style. Save your village from the formidable Dragons, that once lived in harmony with humans, and monsters.

Arcane Dragons Classes to choose from:
Warrior – Melee typed hero, physically trained to its limit. Specializes in wide ranged attack and exciting combat that uses Dual swords.
Archer – Ranged attacker hero with swift movements. Specializes in speedy battles that use a finely crafted bow.
Wizard – Ranged attacker hero, who mastered the ancient knowledge. Specializes in tactical combat with elemental magic attacks.
ARCANE DRAGONS FEATURES
*Real Time Co-op Gameplay
Strategize your way through challenges with a unique Party Play system. Defeat dungeon bosses in real-time, three-person, tag team co-op gameplay in this exhilarating, free action RPG.
*Real Time PvP Duels
Push your skills to the limit in friendly matches with players from different parts of the world in the real time PvP Arena.
*Engaging Story
In this thrilling action RPG, you and your allies unearth the mysteries in the Kingdom of Allensia.
*Stunning Graphics
Be amazed by the astounding visuals and action at the touch of your fingertips with beautiful lush environments and awesome animations of Arcane Dragons!
*Stylish Costumes
Loads of costumes to choose from at your own choice, even the Fashionista could enjoy the dress up for the Legendary Costume from Raid Dragon. Master your combat skills, in true dungeon crawling, fantasy, free action RPG, and unlock hundreds of equipment pieces.
* Pet System
Need a partner for your daily adventures? Summon your favorite pet and level them up.
*Character Customization
Equip armors and weapons to gear up your character for challenging dungeons, real time co-op raids, bosses and adversaries in real time PvP Arena.
Double the Excitement by engaging in real time PvP battles!
Double the Fun by playing real time co-op with friends!
Download today and unearth the mysteries while braving through challenging dungeons with your comrades in this non-stop free action RPG!
For more information, latest news and announcements please visit us on Facebook
www.facebook.com/arcanedragons
*** Arcane Dragons – Official Global Launch: November 30, 2016 (EST) ***
DOWNLOAD
App Store: https://itunes.apple.com/nz/app/arcane-dragons/id1161667197?ls=1&mt=8
Play Store: https://play.google.com/store/apps/details?id=com.redbana.arcanedragons
✔ LOOKING FOR MORE RPG GAMES? ►►► https://goo.gl/wqCfuv ◄◄◄
—————————————————-
SUBSCRIBE PROAPK TO DISCOVER MORE NEW ANDROID/iOS GAMES : http://goo.gl/dlfmS0
TWITTER: http://twitter.com/Apkno1
FACEBOOK: https://www.facebook.com/proapk4u
G+ : https://plus.google.com/+proapk
PLEASE SUPPORT PROAPK BY LIKE/ SHARE/ COMMENT , THANK YOU!