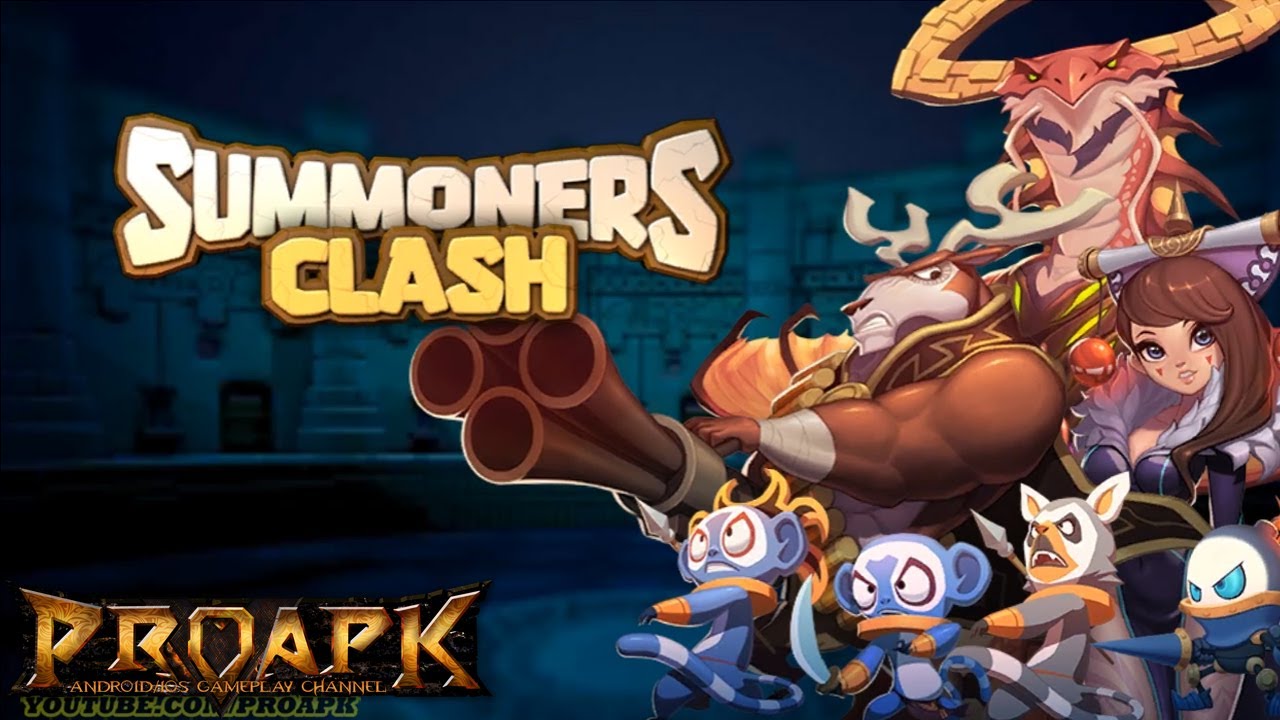 Summoners Clash by NHN Entertainment Corp. (ANDROID/iOS/iphone/ipad)
►►► SUBSCRIBE PROAPK FOR MORE GAMES : http://goo.gl/dlfmS0 ◄◄◄
Summoners Clash is the one to one real time strategic PvP game.
Compose Decks with individual heroes and defeat an opponent's dragon by using distinguishing skills featly.
A strategic brain to compose strong decks and an ability to use skills at the right time are necessary to win.

[Main Feature]
▶ Real time PvP Game that doesn't allow players' any inattention Summoners Clash is real time strategic PvP game.
You must not be off your guard for a moment to destroy opponent's tower and kill dragons.
▶The outcome of the game is decided by how skills are used quickly at the right time.
Stop just arranging heroes and watching tediously!
Each Hero of Summoners Clash has distinguishing skills.
Arrange heroes into the battlefield and use skills with perfect timing after targeting an enemy.
How you control heroes is the key to victory.
▶ There is no given way! Arrange heroes freely and fight!
There is no any appointed way to fight in Summoners Clash.
Where you deploy heroes and use skills is the battlefield.
Don't follow rules, but create rules on your own.
▶ Compose your deck which can overpower an opponent!
You can compose your deck by collecting more than 40 kinds of various heroes.
Make your own deck with characterful heroes with individual abilities and skills.
▶ Level up faster by exchanging cards with clan members!
Make Clan and enjoy the game with friends.
You can level up faster and improve your skills by trading cards or testing deck each other through friendly match.
DOWNLOAD
App Store: Not Available Now
Play Store: https://play.google.com/store/apps/details?id=com.nhnent.SMCLASH
Total Size : 251 Mb
✔ LOOKING FOR MORE RPG GAMES? ►►► https://goo.gl/wqCfuv ◄◄◄
►►► MMORPG Playlist : https://goo.gl/nky4Vl ◄◄◄
—————————————————-
SUBSCRIBE PROAPK TO DISCOVER MORE NEW ANDROID/iOS GAMES : http://goo.gl/dlfmS0
TWITTER: http://twitter.com/Apkno1
FACEBOOK: https://www.facebook.com/proapk4u
G+ : https://plus.google.com/+proapk
IF YOU LIKE OUR WORKS, PLEASE SUPPORT AND LIKE/ SHARE/ COMMENT ON OUR VIDEOS, THANK YOU!