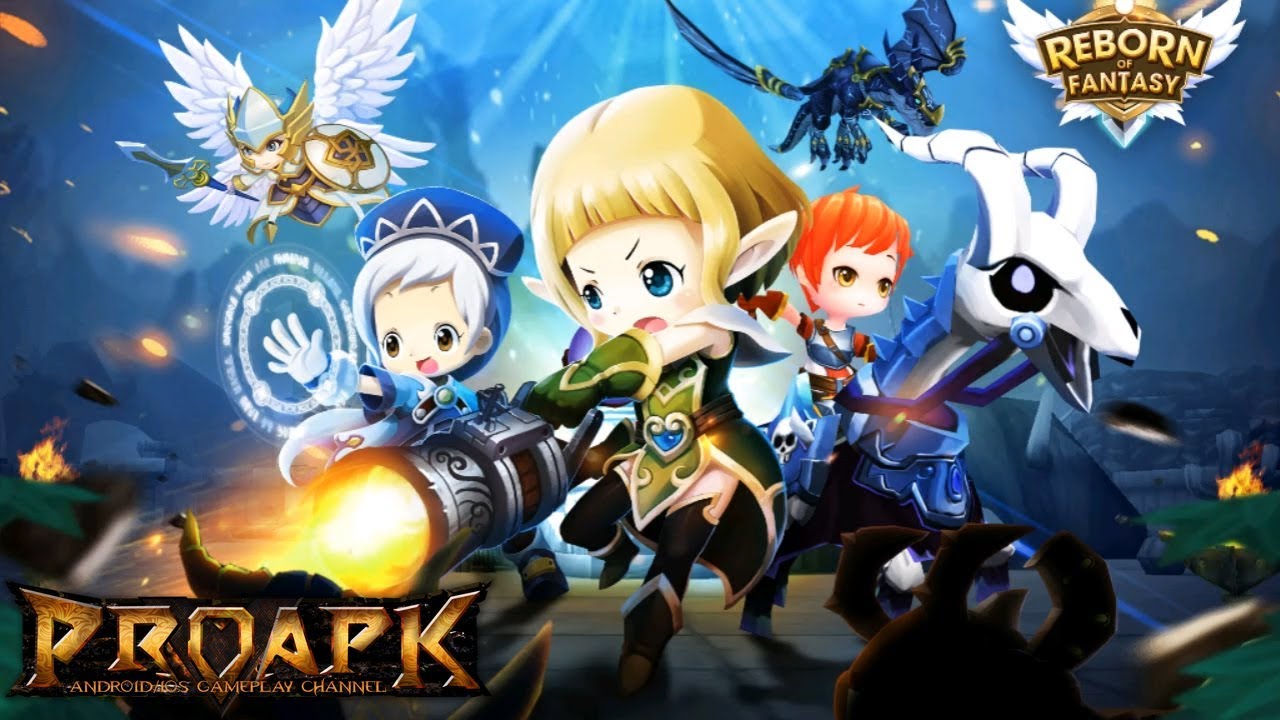 Reborn of Fantasy by AppFame (ANDROID/iOS/iphone/ipad)
►►► SUBSCRIBE PROAPK FOR MORE GAMES : http://goo.gl/dlfmS0 ◄◄◄
Take action, Savior! Start your journey immediately and open your 3D fantasy adventure. The world will be saved by you!
is a combination of ARPG instant combat, using the top engine to build the ultimate 3D fantasy adventure mobile games! High quality pictures show the best, multi strategy, free collocation, character movement is really smooth, bring you different game experience! In the game, you will undertake the task of reviving the continent of Tyrande, and your partner will embark on a magical adventure against the dark forces!

Ultra high quality picture, the whole 3D ultimate quality display!
ALL super clear 3D picture, sky city, desert, ice, lava and other multiple scenes challenge you, gorgeous cool fighting skill effects, bring you a new visual enjoyment!
Three major jobs, all-round build the strongest king!
Powerful warriors, magic mages, agile gunners, three jobs are chosen by you. Each profession has its unique personality and skills!
Fierce battle on your fingertip, Free strategy!
Multi Strategy collocation, control the war situation at any time, seize the opportunity, release kill, the strongest brave is you!
Beyond imagination, changing fashions go hand in hand!
Creative fashion game unique, gorgeous wings, personalized fashion, cool hairstyle arbitrary collocation, and super bonuses, the focus is on you!
Cuteness turn over the whole scene, lovely ride pet accompany you adventure!
A variety of adorable pet mounts! Different types of pet mounts have their unique combat bonuses. Upgrade them and make them your right-hand man!
Firepower, and work together to build the strongest team!
You and I will be the best companions! The original game team mode, allowing you to find like-minded partners, the team can also get a copy of the challenge super god equipment, come and join, the formation of the strongest team belongs to you!
DOWNLOAD
App Store: https://itunes.apple.com/id/app/reborn-of-fantasy/id1258488299?mt=8
Play Store: https://play.google.com/store/apps/details?id=com.rof.sea.google
Total Size : 1.04 GB
✔ LOOKING FOR MORE RPG GAMES? ►►► https://goo.gl/wqCfuv ◄◄◄
►►► Open World MMORPG Playlist : https://goo.gl/nky4Vl ◄◄◄
►►► Offline Android / iOS Games : https://goo.gl/Q7ouAo ◄◄◄
—————————————————-
SUBSCRIBE PROAPK TO DISCOVER MORE NEW ANDROID/iOS GAMES : http://goo.gl/dlfmS0
TWITTER: http://twitter.com/Apkno1
FACEBOOK: https://www.facebook.com/proapk4u
G+ : https://plus.google.com/+proapk
IF YOU LIKE OUR WORKS, PLEASE SUPPORT AND LIKE/ SHARE/ COMMENT ON OUR VIDEOS, THANK YOU!