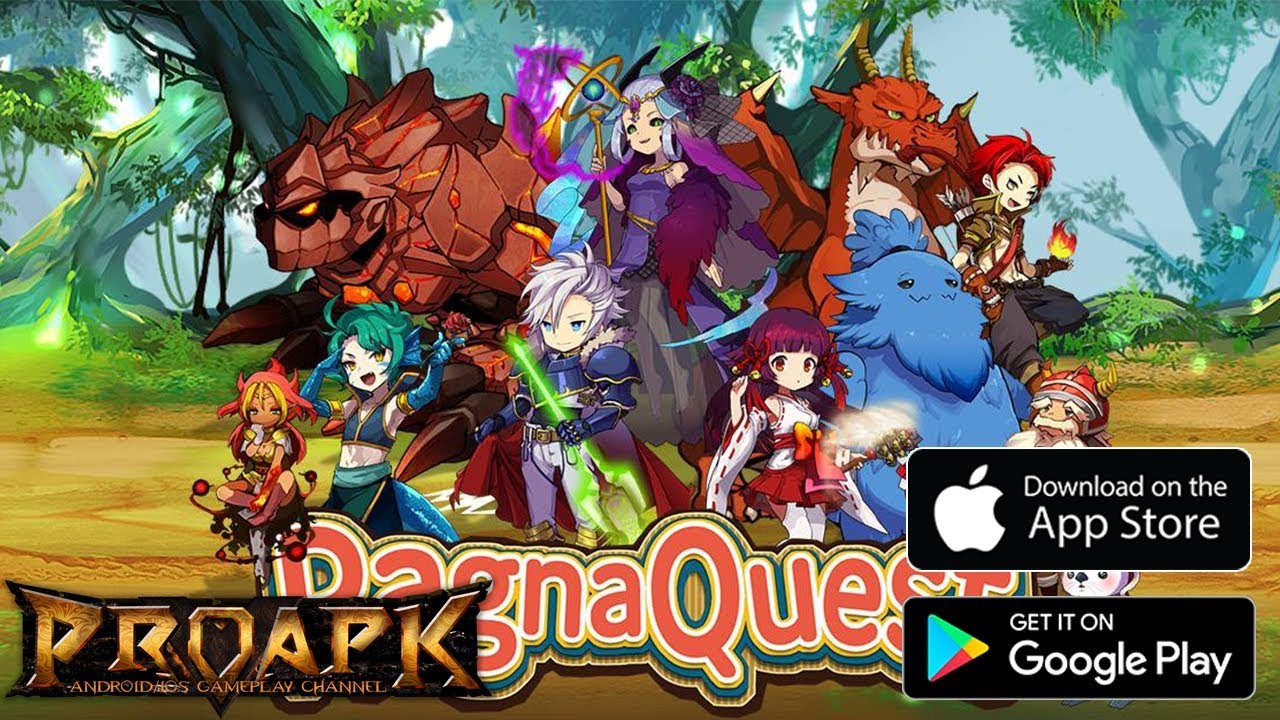 RagnaQuest by NTT Resonant Inc. (ANDROID/iOS/iphone/ipad)
►►► SUBSCRIBE PROAPK FOR MORE GAMES : http://goo.gl/dlfmS0 ◄◄◄
After 6 million downloads in Japan, the immensely popular JRPG has finally arrived in the West! Build your team and battle enemies in a mythic tale like you've never seen before!
RagnaQuest is an addictive strategy RPG with legendary battles between powerful Norse gods, epic heroes, and more. Build a party and crush your opponents by combining hundreds of abilities in unique real-time battles! Make your party even stronger by leveling and evolving units, then equip mythical weapons and armor to create the ultimate fighting force. Complete hundreds of quests along the main storyline, and claim your online ranking with PvP events! Are you ready to take on the challenge?

▶ Features:
● Build a Mythical Party
✔ Assemble hundreds of almighty gods, fearsome warriors, and deadly demons!
✔ Utilize tactical leader skills to bring out your party's potent potential.
✔ Combine units and materials together to make them even more powerful!
● Smite Those Who Oppose You
✔ Use hundreds of skills and abilities to crush your enemies in epic real-time battles!
✔ Tired of strategy? Turn on auto-battle to sit back and reap the rewards.
✔ Integrate defeated units into your party, or combine them to create an even greater power!
● Forge Ultimate Equipment
✔ Outfit your party with powerful weapons and mighty armor!
✔ Forge legendary artifacts by collecting and combining materials.
✔ Add fabled accessories to create the ultimate warrior!
● Battle Enemies Worldwide
✔ Complete hundreds of exciting quests and perilous dungeons.
✔ Duel teams from around the world in ranked PvP events!
✔ Take on extra limited-time events to unlock big rewards.
● Delve into Legend
✔ Explore the world of Norse mythology, with a hilarious comedic twist!
✔ Experience famous gods and heroes in a whole new light.
✔ Fight against fate to thwart Ragnarok, the battle that will end the world!
DOWNLOAD
App Store: https://itunes.apple.com/ca/app/id1308110535
Play Store: https://play.google.com/store/apps/details?id=com.ragnaquest.zigzagame
Total Size : 421 MB
✔ LOOKING FOR MORE RPG GAMES? ►►► https://goo.gl/wqCfuv ◄◄◄
►►► Open World MMORPG Playlist : https://goo.gl/nky4Vl ◄◄◄
►►► Offline Android / iOS Games : https://goo.gl/Q7ouAo ◄◄◄
—————————————————-
SUBSCRIBE PROAPK TO DISCOVER MORE NEW ANDROID/iOS GAMES : http://goo.gl/dlfmS0
TWITTER: http://twitter.com/Apkno1
FACEBOOK: https://www.facebook.com/proapk4u
G+ : https://plus.google.com/+proapk
IF YOU LIKE OUR WORKS, PLEASE SUPPORT AND LIKE/ SHARE/ COMMENT ON OUR VIDEOS, THANK YOU!