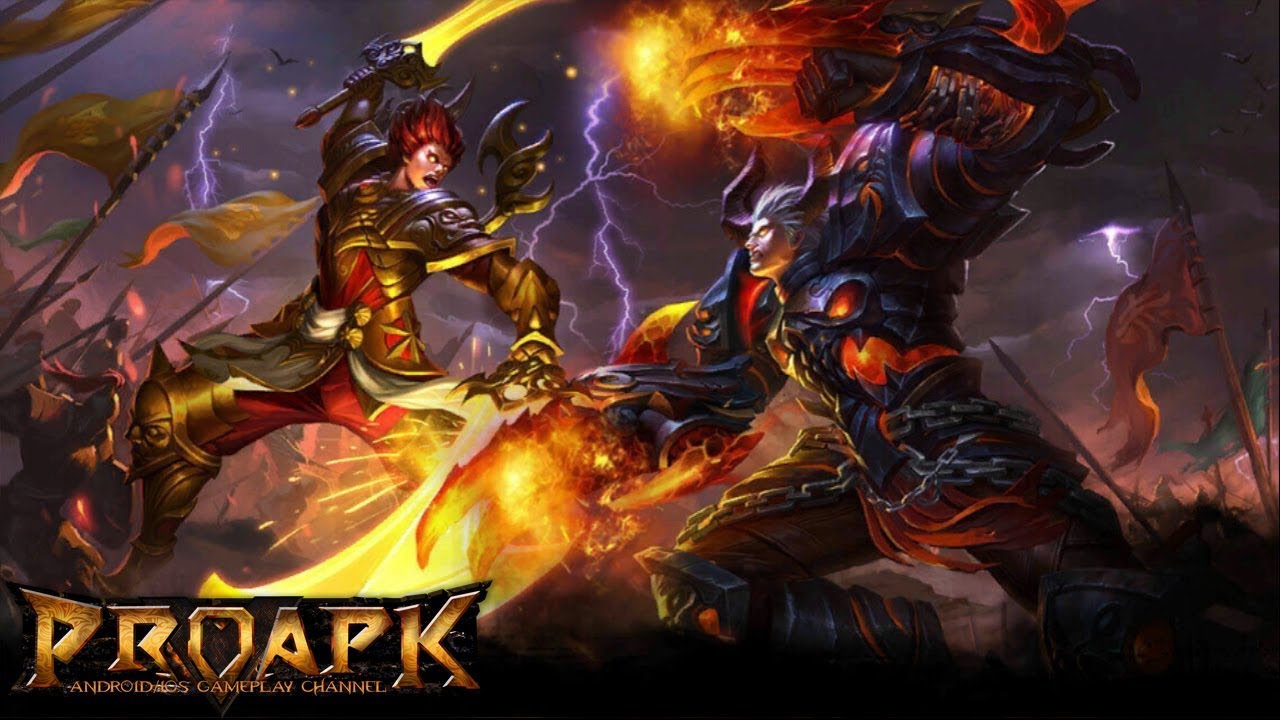 Rage of the Righteous by EZfun (ANDROID/iOS/iphone/ipad)
►►► SUBSCRIBE PROAPK FOR MORE GAMES : http://goo.gl/dlfmS0 ◄◄◄
Welcome to Rage of the Righteous, an exciting action-combat MMO game inspired by the legendary tale of a journey to the west and the Monkey King.
Assume the role of a new hero, and join classic characters such as Wukong as you fight your way across the continent in search of true power. On your path, you'll discover an expansive and enthralling story, participate in dungeons and open world PvP events, hunt monsters and Bosses, collect and upgrade gear, and much more! Choose two weapon styles, and mix and match them as you see fit during combat, creating a fighting style that's just the way you like it. Blades, bows, spears and more can all be paired together as you like.

Join one of 3 distinct nation states, and represent your people in multiple ways. Raise your sword in battle, waging war on your opponents in real-time online PvP; Or, run for government, and get elected emperor of the State, appointing other players to positions of power at your side, ready to lead your nation to victory. Together, hunt down Legendary World Bosses across the map, but be careful for players from other nation states – It's all out war!
Become a Legend – Play Rage of the Righteous today!
***Features***
– Solo Campaign – 45+ unique challenge levels telling an epic adventure over 6 chapters.
– Flexible Combat System – Swap weapons on the fly in a polished Hack and Slash fighting experience!
– Team Formation – Choose and call powerful allies to your side in combat!
– Gear Upgrade – Enhance and maintain your existing gear by upgrading it to much higher levels.
– Open World PvP – Roam the border zone and engage enemies of your nation in real-time live online battles. Bring your friends!
– Player Politics – Run for government, and get elected leader of the Empire Nation. Rule with might and justice, or betray your people!
DOWNLOAD
App Store: https://itunes.apple.com/us/app/rage-of-the-righteous/id1255865413
Play Store: https://play.google.com/store/apps/details?id=com.ezfun.xyen
Total Size : 804 MB
✔ LOOKING FOR MORE RPG GAMES? ►►► https://goo.gl/wqCfuv ◄◄◄
►►► Open World MMORPG Playlist : https://goo.gl/nky4Vl ◄◄◄
►►► Offline Android / iOS Games : https://goo.gl/Q7ouAo ◄◄◄
—————————————————-
SUBSCRIBE PROAPK TO DISCOVER MORE NEW ANDROID/iOS GAMES : http://goo.gl/dlfmS0
TWITTER: http://twitter.com/Apkno1
FACEBOOK: https://www.facebook.com/proapk4u
G+ : https://plus.google.com/+proapk
IF YOU LIKE OUR WORKS, PLEASE SUPPORT AND LIKE/ SHARE/ COMMENT ON OUR VIDEOS, THANK YOU!