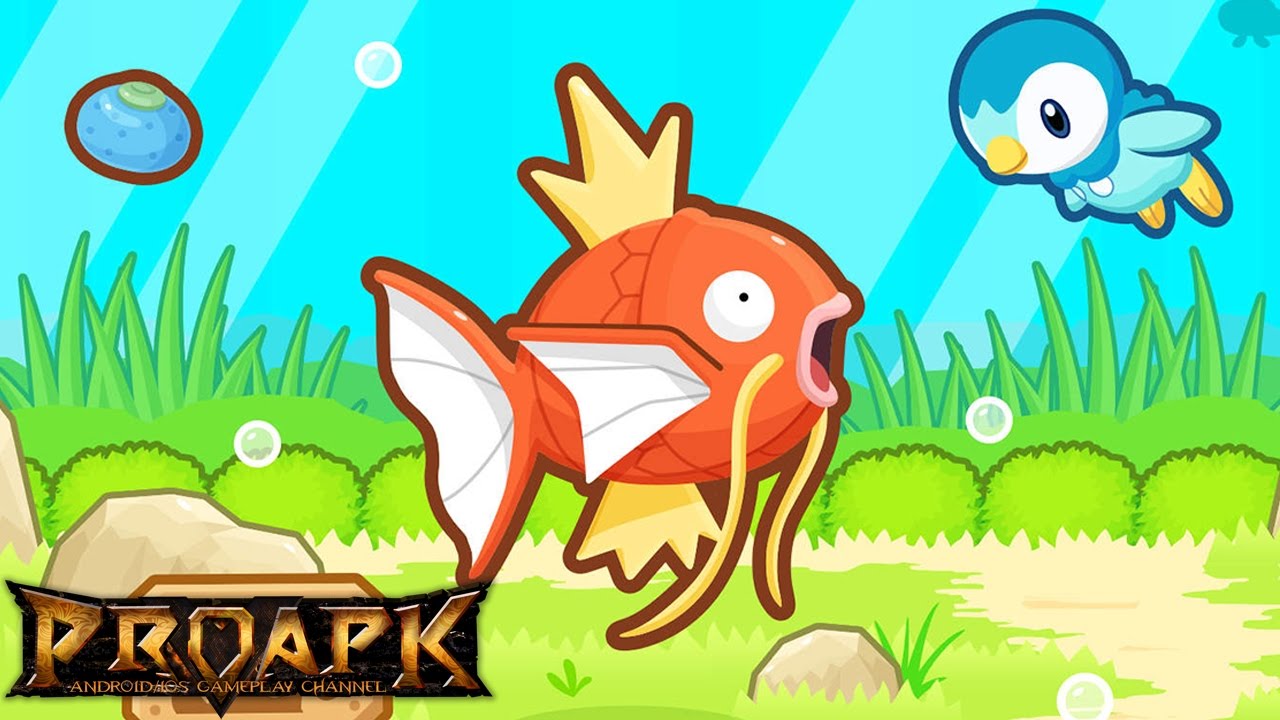 Pokémon: Magikarp Jump by The Pokemon Company (ANDROID/iOS/iphone/ipad)
►►► SUBSCRIBE PROAPK FOR MORE GAMES : http://goo.gl/dlfmS0 ◄◄◄
Allena il Pokémon perfetto!
Chi l'avrebbe mai detto? Un gioco sul Pokémon più debole che ci sia: Magikarp! Con questa app ufficiale Pokémon, semplice e adatta a tutti, puoi giocare nel tempo libero per crescere il Magikarp più maestoso che esista!
Che Pokémon è Magikarp?
・ È famoso… ma per la sua debolezza, inaffidabilità, e inutilità in generale.
・ Non è in grado di imparare mosse potenti: non fa altro che saltare!
・ Quando salta troppo in alto, può succedere che venga acchiappato dal Pokémon Uccello Pidgeotto, che lo porta via!
Il destino ha in serbo tante sorprese per questo Pokémon patetico, ma niente paura: guarda che salti che fa!

Che tipo di gioco è?
● Grazie ai comandi semplici, allenare generazioni di Magikarp è alla portata di tutti
Tocca il cibo che appare sullo schermo per dar da mangiare al tuo Magikarp, o fallo allenare per aumentare la sua potenza di salto! È facile, e ogni generazione cresce più in fretta della precedente!
● Scopri tanti Magikarp diversi da mostrare ai tuoi amici
In questa app puoi pescare svariati Magikarp con dei motivi insoliti, come tricolore o a pois! Quando incontri un Magikarp raro, mostralo ai tuoi amici attraverso i social media!
● Pikachu, Piplup e altri Pokémon ti aiutano
Alcuni Pokémon famosi possono apparire per aiutare il tuo Magikarp a crescere. Gioca e scopri con quali Pokémon potrai fare amicizia!
● Ravviva il tuo acquario con le decorazioni!
Dai un tocco personale alla vasca in cui alleni Magikarp. Crea l'acquario dei tuoi sogni e, allo stesso tempo, aiuta Magikarp a crescere più velocemente!
■ Avvertenze
・ Termini di utilizzo
Prima di usare quest'applicazione è necessario leggere i termini di utilizzo.
DOWNLOAD
App Store: https://itunes.apple.com/it/app/pok%C3%A9mon-magikarp-jump/id1162679453?mt=8
Play Store: Not Available Now
Total Size : 123 Mb
✔ LOOKING FOR MORE RPG GAMES? ►►► https://goo.gl/wqCfuv ◄◄◄
—————————————————-
SUBSCRIBE PROAPK TO DISCOVER MORE NEW ANDROID/iOS GAMES : http://goo.gl/dlfmS0
TWITTER: http://twitter.com/Apkno1
FACEBOOK: https://www.facebook.com/proapk4u
G+ : https://plus.google.com/+proapk
IF YOU LIKE OUR WORKS, PLEASE SUPPORT AND LIKE/ SHARE/ COMMENT ON OUR VIDEOS, THANK YOU!