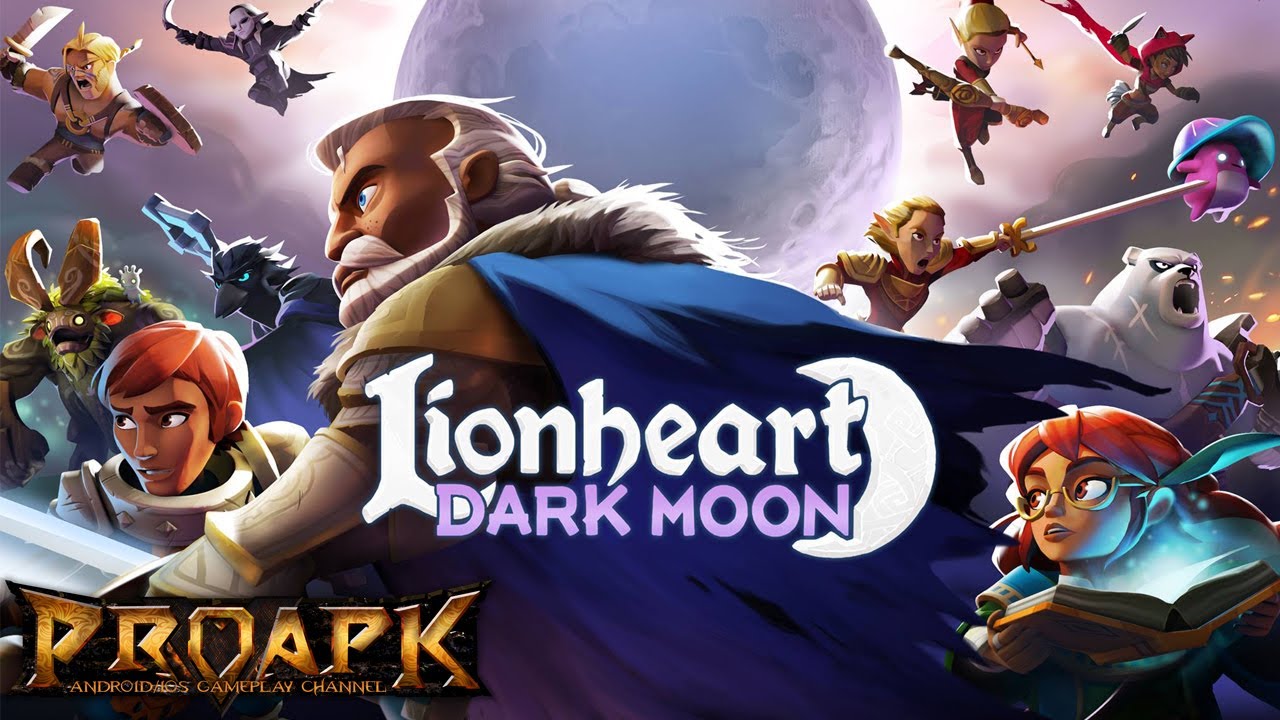 Lionheart: Dark Moon by Emerald City Games (ANDROID/iOS/iphone/ipad)
►►► SUBSCRIBE PROAPK FOR MORE GAMES : http://goo.gl/dlfmS0 ◄◄◄
Pick up and play this brand new mobile RPG with stunning graphics and animation! Build your powerful army of heroes from a wide variety of amazing characters and beasts! Fight through strategic and story-driven battles as you collect pets, gems and potions to defeat the Shard of Whispers and drive away the Darkness!
Return to the beautiful, fascinating and dangerous world of Lionheart in Dark Moon!
Every hero has their story.
Collect them all and unleash their power as you fight your way to victory!
The Vaultkeeper has fallen and the Darkness is returning. It's time for his grandchildren, Timothy and Natalia, to embark on an epic journey to collect Keys and free legendary heroes to join you in battle. Return to worlds encountered in Lionheart Tactics and explore new ones, from the mystic forests of the Tumbledowns to the blistering sands of Ibrim. Take on fearsome bosses, like Koscha the Deathless and the terrible Frog King, as you fight not only to survive but to save the very fabric of the world!

A network connection is required to play.
************************************************************************************
▶ [OVER 100 AWESOME HEROES TO COLLECT!]
Beautifully animated 3D heroes fill this gorgeous world. Collect Rose Elf archers, Human mages, Centaur Warriors, Bears, Bugs, Birds and many more awesome and varied races!
▶ [ENGAGING AND FUN BATTLE SYSTEM]
Unleash friendship combos and charge-up skills. Freeze enemies, wrap them in vines or light them on fire! Fight up to 4 vs 4 heroes in thrilling turn-based battles!
▶ [POWER UP WITH PETS, SKILLS AND POTIONS]
Find rare and legendary pets which assist your heroes in battle. Collect gems to unlock new and powerful skills. Gather Hero Tokens to rank up your level up and become stronger!
▶ [BATTLE THE WORLD IN THE ARENA]
Fight through weekly tournaments to take on your friends and rivals as you aim for the top spot in the world! Weekly prizes based on your rank!
▶ [AND MUCH MORE!]
Complete daily quests, build your collection and dive into the epic backstory of
LIONHEART: DARK MOON.
DOWNLOAD
App Store: https://itunes.apple.com/ph/app/lionheart-dark-moon/id997490707
Play Store: https://play.google.com/store/apps/details?id=ca.emeraldcitygames.erpg
Total Size : 501 Mb
✔ LOOKING FOR MORE RPG GAMES? ►►► https://goo.gl/wqCfuv ◄◄◄
►►► MMORPG Playlist : https://goo.gl/nky4Vl ◄◄◄
—————————————————-
SUBSCRIBE PROAPK TO DISCOVER MORE NEW ANDROID/iOS GAMES : http://goo.gl/dlfmS0
TWITTER: http://twitter.com/Apkno1
FACEBOOK: https://www.facebook.com/proapk4u
G+ : https://plus.google.com/+proapk
IF YOU LIKE OUR WORKS, PLEASE SUPPORT AND LIKE/ SHARE/ COMMENT ON OUR VIDEOS, THANK YOU!