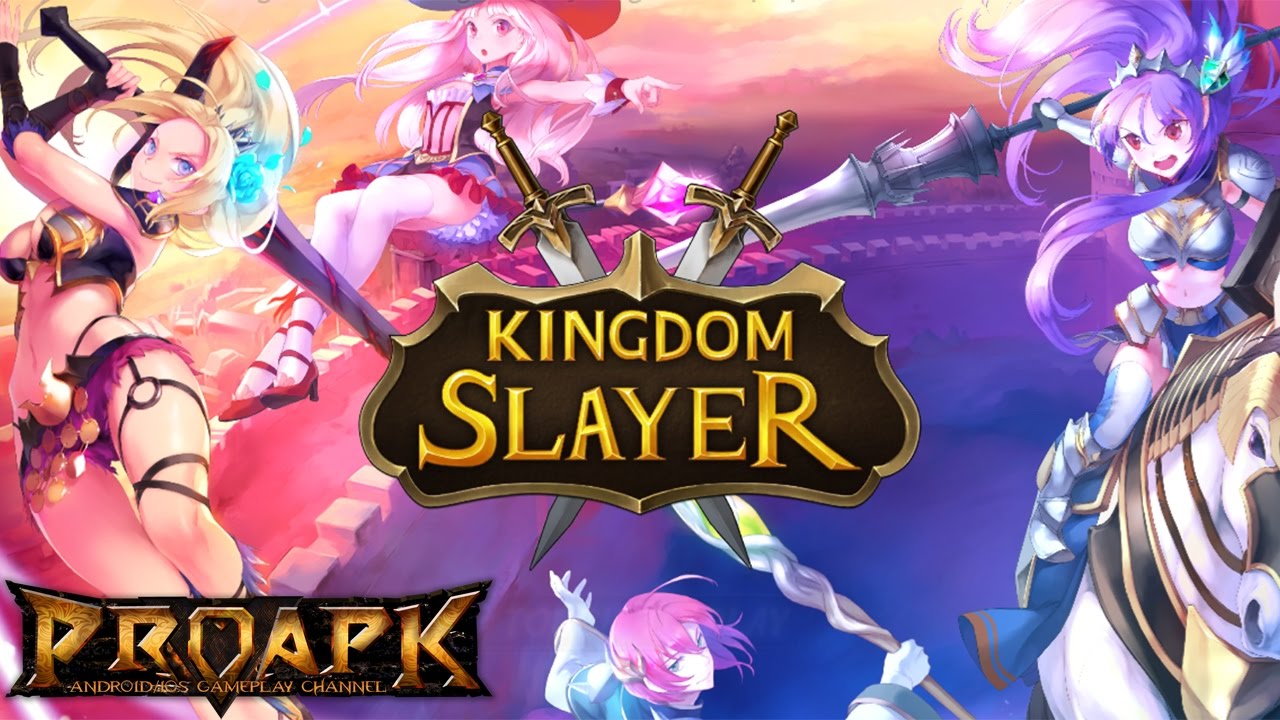 Kingdom Slayer by Amati Games (ANDROID/iOS/iphone/ipad)
►►► SUBSCRIBE PROAPK FOR MORE GAMES : http://goo.gl/dlfmS0 ◄◄◄
Ever since the howl of the evil black dragon was heard, countless wars swept across the empire and its people in dreadful pain and distress. And now the time has come for you to make a choice. What will you choose to be, a beacon of hope that would save the world or a warlord who would summon more chaos into the entire continent? Everything is in your hands.

o Enjoy the real-time battle
– Large-scale real time battle on a mobile device
– Control fully 3D engineered characters
– 1 on 1 real-time battle between players via network
– Massive battle contents with high replay value
o Develop your dominion into flashy, modern city
– Gather resources and upgrade buildings
– Defend your dominion against the enemies from all 4 corners
– Full 3D structures you can relocate
– Build your own unique dominion
o Collect unique powerful heroes
– Collect your heroes from numerous full 3D heroes
– Heroes have unique abilities so place your heroes strategically for the battle
– Level-up your heroes
– You can develop your heroes in a unique way
o Get more powerful weapons
– Choose from hundreds of full 3D weapons and armors
– Each item has its own unique design and heroes never look the same
– Random stats are generated on items
– Create/upgrade/enhance your hero's items at your dominion
o Restoration of game data
– When you start the game, go to settings and capture your user ID
– You can restore game data on any mobile devices with your user ID or Facebook account. Keep your user ID private.
– To restore your game data when playing on a different device, log in to the game using any ID first. Then go to settings and enter your user ID or Facebook account.
DOWNLOAD
App Store: https://itunes.apple.com/us/app/kingdom-slayer/id1120015099?mt=8
Play Store: https://play.google.com/store/apps/details?id=com.amati.kingdomslayer
✔ LOOKING FOR MORE RPG GAMES? ►►► https://goo.gl/wqCfuv ◄◄◄
—————————————————-
SUBSCRIBE PROAPK TO DISCOVER MORE NEW ANDROID/iOS GAMES : http://goo.gl/dlfmS0
TWITTER: http://twitter.com/Apkno1
FACEBOOK: https://www.facebook.com/proapk4u
G+ : https://plus.google.com/+proapk
PLEASE SUPPORT PROAPK BY LIKE/ SHARE/ COMMENT , THANK YOU!