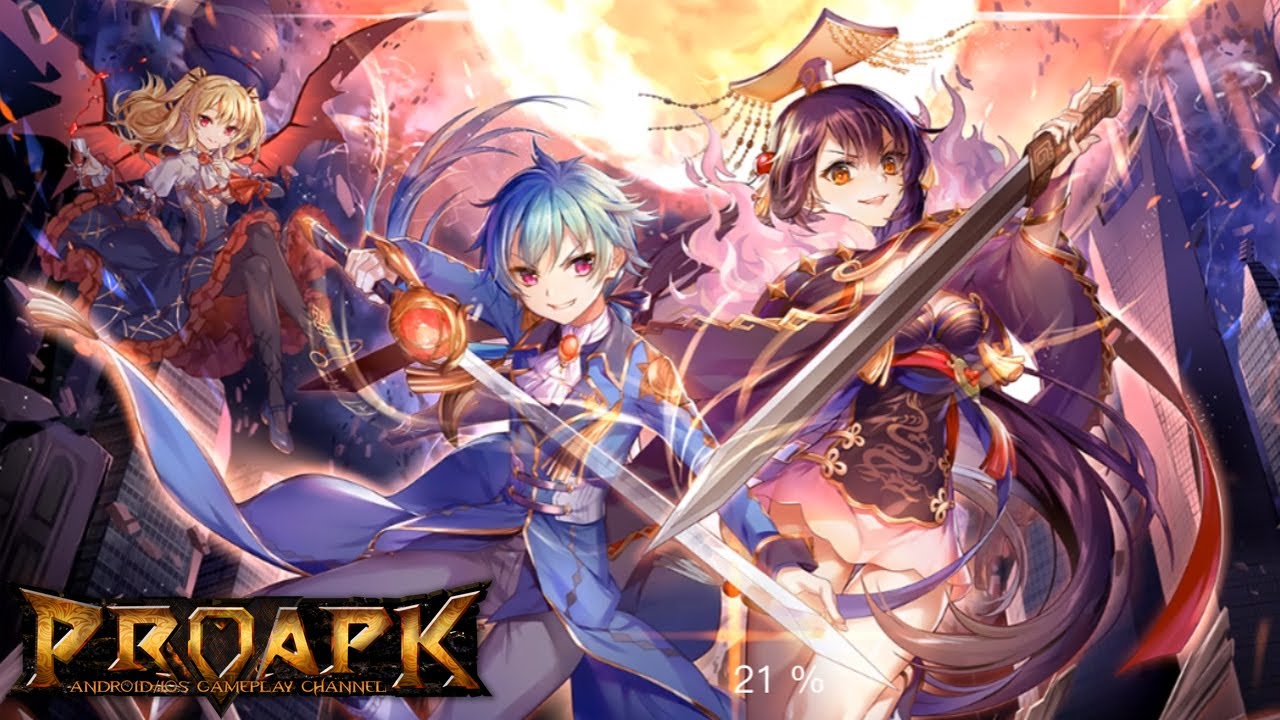 KawaiiStrike: Cute to Kill by Elex (ANDROID/iOS/iphone/ipad)
►►► SUBSCRIBE PROAPK FOR MORE GAMES : http://goo.gl/dlfmS0 ◄◄◄
Open fire! Conquer the battlefield of Mordu! Kawaii Strike is a 3D anime game that combines action battle and strategic development. Battle as reverse-gender versions of historical rulers: cougars, coquettes, maidservants, girls-next-door… dozens of unique empresses are waiting to go to war for you!
In the year 2056 A.D., people once again found the philosopher's stone which had been lost for thousands of years. At the instant the stone made contact with the elixir of immortality, there was an unexpected shift in the timeline. Those mighty former conquerors of humanity have heeded the call of the philosopher's stone and descended on Mordu. A turning point in 8,000 years of human civilization: the War for Mordu is about to begin!

Features:
1. Opposite gender versions of historical rulers. When did my emperor get so cute!
Based on the popular novella "The 80 Days Conquest of Mordu", historical sovereigns in opposite gender forms have descended to battle in Mordu. The kitten-loving pharaoh Ramses, the bloodthirsty Vlad, the cannon-loving little Napoleon, the war goddess Caesar. Varied and fresh designs and off-the-charts looks. Don't you wanna do battle with empresses like these?
2. Classic MOBA gameplay. Take royal heads in epic battles!
Real-time battles against real opponents. Lane, Jungle, topple Towers, and win victory! Experience classic MOBA gameplay! Anticipate, position yourself, make hit & runs, and tower dive. Every second requires ultimate control!
3. Troop tactic combinations. Outplay the world, starting today!
A unique combination of MOBA and RTS gameplay, requiring both strategy and skill. Summon troops to help you in battle. Heroes may fight alone, but a sovereign never has to!
4. Multiple modes to play. A battle game of empresses!
Unique 1v1 mode, as well as 2v2 and 3v3 PvP modes. Who knows? You might also find your soulmate on the battlefield!
PLEASE NOTE! KawaiiStrike is free to download and play, however some game items can also be purchased for real money. If you do not want to use this feature, please disable in-app purchases in your device's settings. Also, under our Terms of Service and Privacy Policy, you must be at least 13 years of age to play or download KawaiiStrike.
DOWNLOAD
App Store: Not Available Now
Play Store: https://play.google.com/store/apps/details?id=com.elex.kawaiistrike.ks
Total Size : 794 Mb
✔ LOOKING FOR MORE RPG GAMES? ►►► https://goo.gl/wqCfuv ◄◄◄
►►► MMORPG Playlist : https://goo.gl/nky4Vl ◄◄◄
—————————————————-
SUBSCRIBE PROAPK TO DISCOVER MORE NEW ANDROID/iOS GAMES : http://goo.gl/dlfmS0
TWITTER: http://twitter.com/Apkno1
FACEBOOK: https://www.facebook.com/proapk4u
G+ : https://plus.google.com/+proapk
IF YOU LIKE OUR WORKS, PLEASE SUPPORT AND LIKE/ SHARE/ COMMENT ON OUR VIDEOS, THANK YOU!