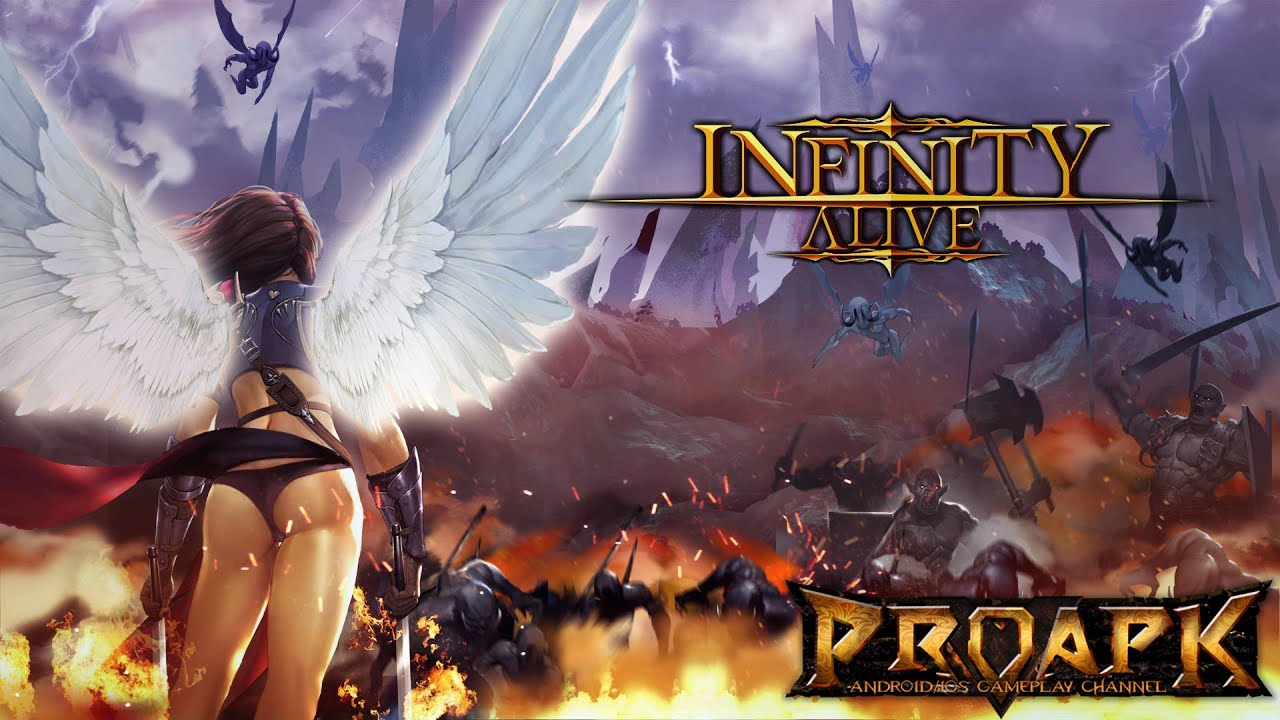 Infinity Alive by onehandgames (ANDROID/iOS/iphone/ipad)
►►► SUBSCRIBE PROAPK FOR MORE GAMES : http://goo.gl/dlfmS0 ◄◄◄
"Infinite alive" is an incremental action RPG game.
It can be played even without network service.
We ask for your interest and feedback. Your valuable opinion is what makes the game better.
Thank you.
◆ When you are Walking, Running or even doing tough movement, the infinity Alive with you!
◆ When you are working or sleeping the Infinity Alive waits for you!
◆ Even though your communication is cut off or cell phone is dead, infinity Alive grows up by itself for you!
◆ Action RPG in one hand, men and woman of all age (anyone) can enjoy easily!

▣▣▣ Characteristic of game ▣▣▣
– Idle action RPG with simple control
– Tremendous Action! It gives you thrilling hit feeling
– Confirm the best visual quality among idle games!
– Get the best equipment and find new ability!
– Wipe out enemies, knock boss down, Grow up with acuqired gold! Too easy!
– Don't get stress. Even you pause the game, you can develop!
– The places are no matter to enjoy the game, you don't need internet connection!
▣▣▣ Game contents ▣▣▣
◆ Ever-growing reincarnation system for survivor!
Through reincarnation, your hero can grow with endless possibility.
◆ Gear item collection and upgrade!
Collect and upgrade 6 types of gear pieces including weapon and wings.
Change the sub-ability of the gear and compose your own set.
◆ Skill, rune, compose
Learn and combine skills with over 30 different abilities to play a strategic battle.
◆ Strong ability sealed items
Learn and compose skills with various abilities, and enjoy the strategic battles.
◆ Antique items sealing a strong ability
Collect diverse antiques. Antiques make your hero stronger while developing unique features.
◆ Title
Through various plays, your hero accumulates experiences.
Accumulated experiences acts as hint to find Titles, and earned titles have passive skills.
◆ Timeslip
Can freely travel to past and to the future.
More survival results in more future to travel, and hero can enjoy fun farming traveling back and forth into the future and the past because the hero's stats does not change.
◆ Mini-game
Earn more wealth needed for hero's development through simple mini-games.
DOWNLOAD
App Store: https://itunes.apple.com/us/app/infinity-alive/id1216997102?mt=8
Play Store: https://play.google.com/store/apps/details?id=com.onehandgames.infinityaliver4
Total Size : 171 Mb
✔ LOOKING FOR MORE RPG GAMES? ►►► https://goo.gl/wqCfuv ◄◄◄
►►► MMORPG Playlist : https://goo.gl/nky4Vl ◄◄◄
—————————————————-
SUBSCRIBE PROAPK TO DISCOVER MORE NEW ANDROID/iOS GAMES : http://goo.gl/dlfmS0
TWITTER: http://twitter.com/Apkno1
FACEBOOK: https://www.facebook.com/proapk4u
G+ : https://plus.google.com/+proapk
IF YOU LIKE OUR WORKS, PLEASE SUPPORT AND LIKE/ SHARE/ COMMENT ON OUR VIDEOS, THANK YOU!