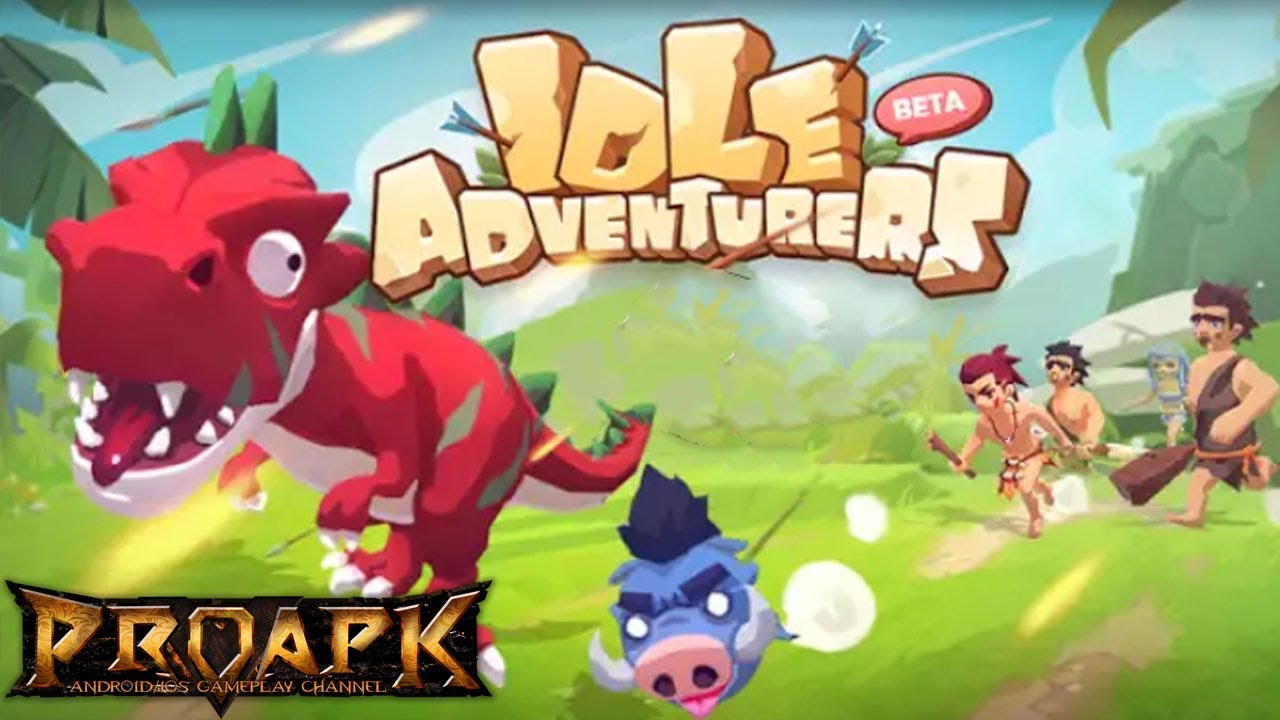 Idle Adventurers by GOODO工作室 (ANDROID/iOS/iphone/ipad)
►►► SUBSCRIBE PROAPK FOR MORE GAMES : http://goo.gl/dlfmS0 ◄◄◄
(Our game is still at the stage of close beta test)
Idle Adventurers is a stone age as the background of the team social hand tour. In the game, you will be the incarnation of the original people who hold the stone spear with the skins, and your good friends team up in the crisis of the original world to start an exciting adventure.

Automatic placement of the fighting, all-weather uninterrupted harvest, so you are no longer tied by Daguai tied, enjoy the small partners with the hunting side by side, to capture the fun of pets it!
Game features
[Colorful social games]
You can fight with your friends in the same team side by side, command the team against the ferocious savage giant beast, but also with the new partner to join the original world. On the road, you will be strong from different adventurers around the world, and they become friends, together group adventure, catch pets, build their own homes … …
Easy casual game
Get rid of repeated boring map of the boring experience, easy to wait for access to massive experience and rare equipment, even offline will not miss any gains! Worry-free, want to play to play, only a small amount of debris time, you can experience the full fun of the game
Back to the original Stone Age
The game will make you feel like being in the wild, you will experience the most primitive hunting life. Explore the original forest, collect resources to create equipment, defend themselves and partners to prevent beast attacks, domesticated animals to help them fight, your original adventure is about to begin!
DOWNLOAD
App Store: Coming soon
Play Store: https://play.google.com/store/apps/details?id=com.SoFunny.TeamPlace
Total Size : 117 MB
✔ LOOKING FOR MORE RPG GAMES? ►►► https://goo.gl/wqCfuv ◄◄◄
►►► Open World MMORPG Playlist : https://goo.gl/nky4Vl ◄◄◄
►►► Offline Android / iOS Games : https://goo.gl/Q7ouAo ◄◄◄
—————————————————-
SUBSCRIBE PROAPK TO DISCOVER MORE NEW ANDROID/iOS GAMES : http://goo.gl/dlfmS0
TWITTER: http://twitter.com/Apkno1
FACEBOOK: https://www.facebook.com/proapk4u
G+ : https://plus.google.com/+proapk
IF YOU LIKE OUR WORKS, PLEASE SUPPORT AND LIKE/ SHARE/ COMMENT ON OUR VIDEOS, THANK YOU!