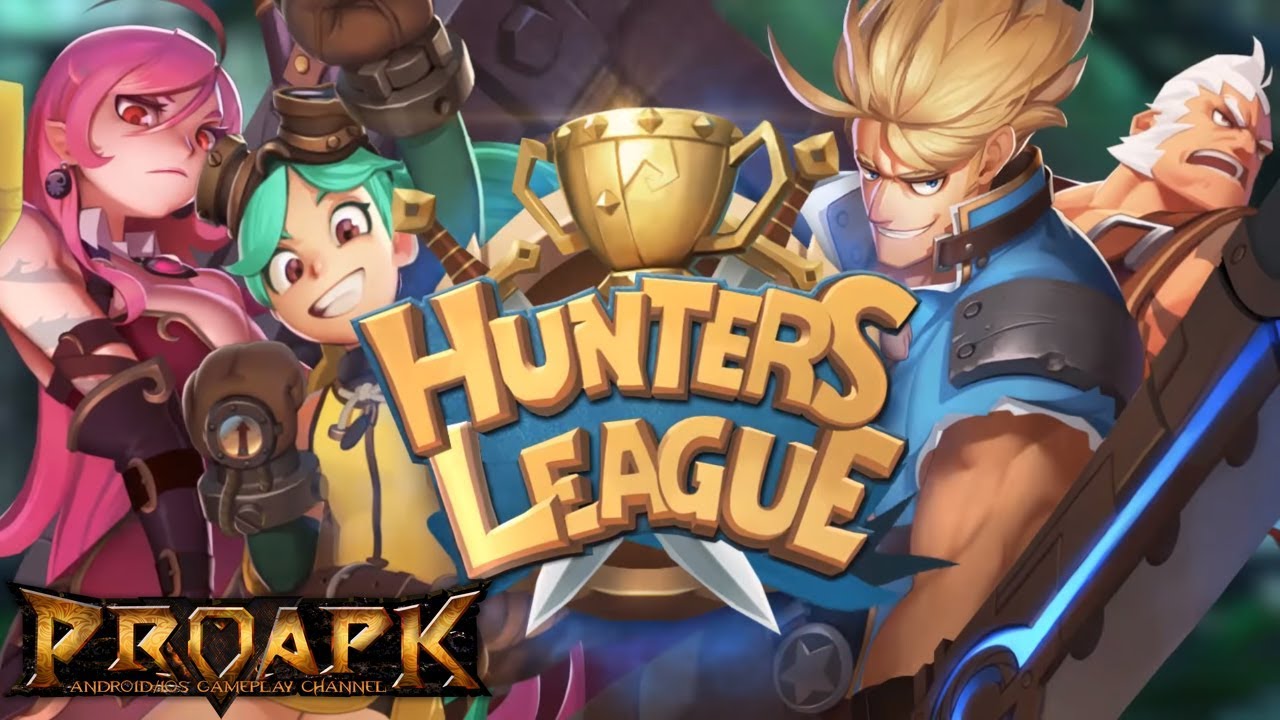 Hunters League : Weapon Masters' Art of Battle War by O'olblue (ANDROID/iOS/iphone/ipad)
►►► SUBSCRIBE PROAPK FOR MORE GAMES : http://goo.gl/dlfmS0 ◄◄◄
Become the Hunter Master and lead the Hunter Team to be the best!
Depending on which Hunter is equipped with which weapon, the Hunter changes the role and characteristics in the team of three hunters as a real-time battle goes on.
Using a couple of simple finger gestures of the master(you), the fun of actively controlling three hunters' actions at once or separately is right in front of you. The fun of intuitive action that dodges before hit and hurts when hit, begins directly at your fingertips.
◈ The adventure and challenge to lead your hunter team to the best! ◈

▶The best Hunter team led by you, the master!
Increase your honor and wealth at the same time as you fight monsters widespread throughout the continent.
▶ Race to race the best Hunter team!
Win a race of honor and fortune by hunting powerful monsters, including wanted monsters.
▶ 26 weapons, what weapons to choose?
The most important thing for Hunter is the weapon! Hunter's characteristics and roles vary depending on which Hunter is equipped with which weapon. Win with your own weapon selection and strategy.
▶ Actions and roles that change according to weapon evolution
As well as weapon selection, each time you evolve your weapon, your Hunter's actions and combat features and roles are changed and enhanced. Please check the change and strength with your own eyes.
▶ Team! team! team!
As a master, choose which hunters to team with, and see how they fight with collective and individual intelligence into one team in a real-time battle. All of this is optimized through our own BlueBrain AI engine.
▶ Active team action / control with simple gestures
Masters can command action controls such as moving / enemy targeting / dodging / holding all the team or each hunter at any time with a simple finger gesture. The falling rock trap is difficult to dodge without the help of you, the master.
▶ Collabration is the best weapon!
The three Hunter characters in one team, when using 'Collabo Skill', perform an exhilarating collaborative attack that pierces together after the moment of the each consecutive deadly attack. Check out the Collabo Skill' with your eyes!
▶ Enjoy various PVP!
The battle between the Hunter teams led by the Hunter masters! Challenge the strongest players in the Arena and Resources War!
▶ Attack monsters with your own pool of tactics!
Monsters of the race(competition) / Dungeon / Boss Challenge change everyday and so should your tactics according to that change.
▶ Low-spec High-quality 3D hand-drawing graphics into well-made Hunter Team Action RPG!
Depending on various skins, Hunter character's appearance change as well!
Meet unrivaled 3D hand-drawing art graphics right now~!
DOWNLOAD
App Store: https://itunes.apple.com/us/app/hunters-league-weapon-masters-art-of-battle-war/id1198833150?mt=8
Play Store: https://play.google.com/store/apps/details?id=com.oolblue.hunters
Total Size : 366 MB
✔ LOOKING FOR MORE RPG GAMES? ►►► https://goo.gl/wqCfuv ◄◄◄
►►► Open World MMORPG Playlist : https://goo.gl/nky4Vl ◄◄◄
►►► Offline Android / iOS Games : https://goo.gl/Q7ouAo ◄◄◄
—————————————————-
SUBSCRIBE PROAPK TO DISCOVER MORE NEW ANDROID/iOS GAMES : http://goo.gl/dlfmS0
TWITTER: http://twitter.com/Apkno1
FACEBOOK: https://www.facebook.com/proapk4u
G+ : https://plus.google.com/+proapk
IF YOU LIKE OUR WORKS, PLEASE SUPPORT AND LIKE/ SHARE/ COMMENT ON OUR VIDEOS, THANK YOU!