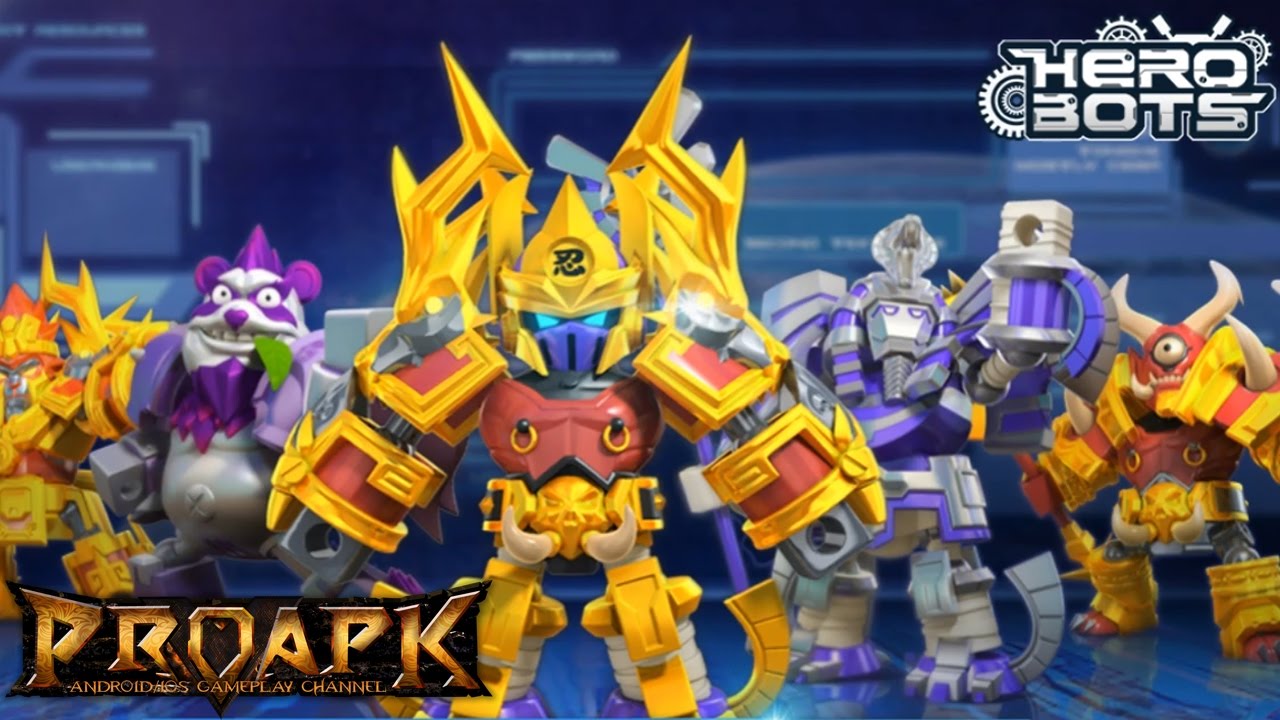 Herobots – Build to Battle by RULES GAMES (ANDROID/iOS/iphone/ipad)
►►► SUBSCRIBE PROAPK FOR MORE GAMES : http://goo.gl/dlfmS0 ◄◄◄
UNIQUE ASSEMBLY SYSTEM:
Thousands of different shapes, different materials parts. Ninja, Pharaoh,Spartan, boxer, Sun Wukong, Panda, demons, etc. and so on. Coupled with personalized coloring, you can easily create the world's only robot!

UNIQUE ACTION GAME:
From the core of the action game, the "attack" and "dodge" play to the limit, concentrate on the players to create a true action game! At the same time, we optimize the operation is extremely simple and easy to use: only click and swiping screen two operations!
ANYTIME TO CHALLENGE THE GLOBAL PLAYERS:
Not only to enhance their global rankings, but also to win the opponent's players parts, money, chips, crystal and experience blocks. These are all to strengthen their robots most useful items, the more the better!
EXTREMELY RICH SYSTEM AND GAMEPLAY:
A variety of different weapons, with their different combos rhythm, dodge time, Charge attack and super kill, fighting is a completely different experience, you can according to their own preferences and the characteristics of BOSS, select the appropriate weapons
EXTREMELY RICH GAME CONTENT:
More than 300 different levels, there are a lot of copies, activities, tasks, etc.,so that the game is very resistant to play, fighting is always full of freshness!
GUILD WAR IS FULL OF STRATEGIC:
All members through donation, together to develop their own super giant of Guild! Select the player, select opponents, a reasonable attack, etc., so that the battle is full of strategic
DOWNLOAD
App Store: Coming soon
Play Store: https://play.google.com/store/apps/details?id=com.rulesgames.herobots
Total Size : 235 Mb
✔ LOOKING FOR MORE RPG GAMES? ►►► https://goo.gl/wqCfuv ◄◄◄
—————————————————-
SUBSCRIBE PROAPK TO DISCOVER MORE NEW ANDROID/iOS GAMES : http://goo.gl/dlfmS0
TWITTER: http://twitter.com/Apkno1
FACEBOOK: https://www.facebook.com/proapk4u
G+ : https://plus.google.com/+proapk
IF YOU LIKE OUR WORKS, PLEASE SUPPORT AND LIKE/ SHARE/ COMMENT ON OUR VIDEOS, THANK YOU!