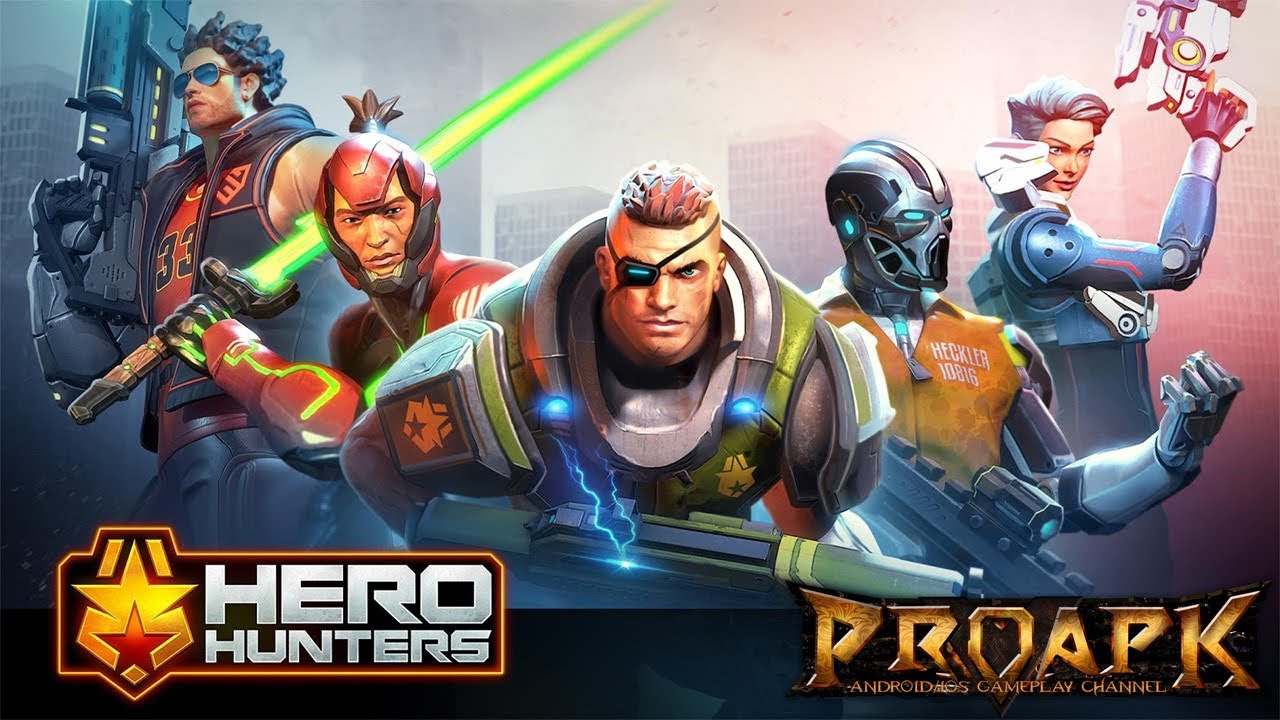 Hero Hunters by Hothead Games (ANDROID/iOS/iphone/ipad)
►►► SUBSCRIBE PROAPK FOR MORE GAMES : http://goo.gl/dlfmS0 ◄◄◄
Play the #1 Real-Time PVP Shooter on Mobile!
Build a team, join an alliance and compete online!
Recruit a team of survivors as you travel across the city, searching for those responsible for the "zero day" crisis.

REAL-TIME PvP TACTICAL BATTLE MODE
– Challenge your skills against other players in real-time synchronous action-packed tactical PvP combat
– Craft a tactical squad of heroes and dominate the leaderboards
– Join forces with your friends to build an unstoppable alliance
– Beat your rivals in intense time-based event competitions focused on both solo and strategic group play.

WORLD CLASS GUNPLAY
– Cover-based, third person shooter perfected for mobile.
– Real-time, team-based combat – Quickly swap between Heroes on the fly.
– Modern and futuristic weaponry makes playing each hero a distinct experience.
– Deploy jaw-dropping special abilities that can quickly turn the tide of battle.
– A variety of different enemies and scenarios that will test your skills.
COMMAND YOUR HEROES
– Collect exclusive heroes, each with a unique combination of skills and abilities
– Assemble the right team to take on the enemy. Mix up your roster to find the perfect combination.
– Play as your favorite hero and dynamically switch between heroes at any time during gameplay.
– Plunder loot after each battle, level up your heroes, upgrade your abilities and perfect your loadout.
– Immerse yourself in the single-player campaign as you fight against raiders, bandits and worse in a post-apocalyptic cityscape.
Play Now for FREE – The ultimate Shooter on mobile.
DOWNLOAD
App Store: https://itunes.apple.com/ca/app/hero-hunters/id1110217724?mt=8
Play Store: https://play.google.com/store/apps/details?id=com.hotheadgames.google.free.survivors
Total Size : 100 MB
✔ LOOKING FOR MORE RPG GAMES? ►►► https://goo.gl/wqCfuv ◄◄◄
►►► Open World MMORPG Playlist : https://goo.gl/nky4Vl ◄◄◄
►►► Offline Android / iOS Games : https://goo.gl/Q7ouAo ◄◄◄
—————————————————-
SUBSCRIBE PROAPK TO DISCOVER MORE NEW ANDROID/iOS GAMES : http://goo.gl/dlfmS0
TWITTER: http://twitter.com/Apkno1
FACEBOOK: https://www.facebook.com/proapk4u
G+ : https://plus.google.com/+proapk
IF YOU LIKE OUR WORKS, PLEASE SUPPORT AND LIKE/ SHARE/ COMMENT ON OUR VIDEOS, THANK YOU!