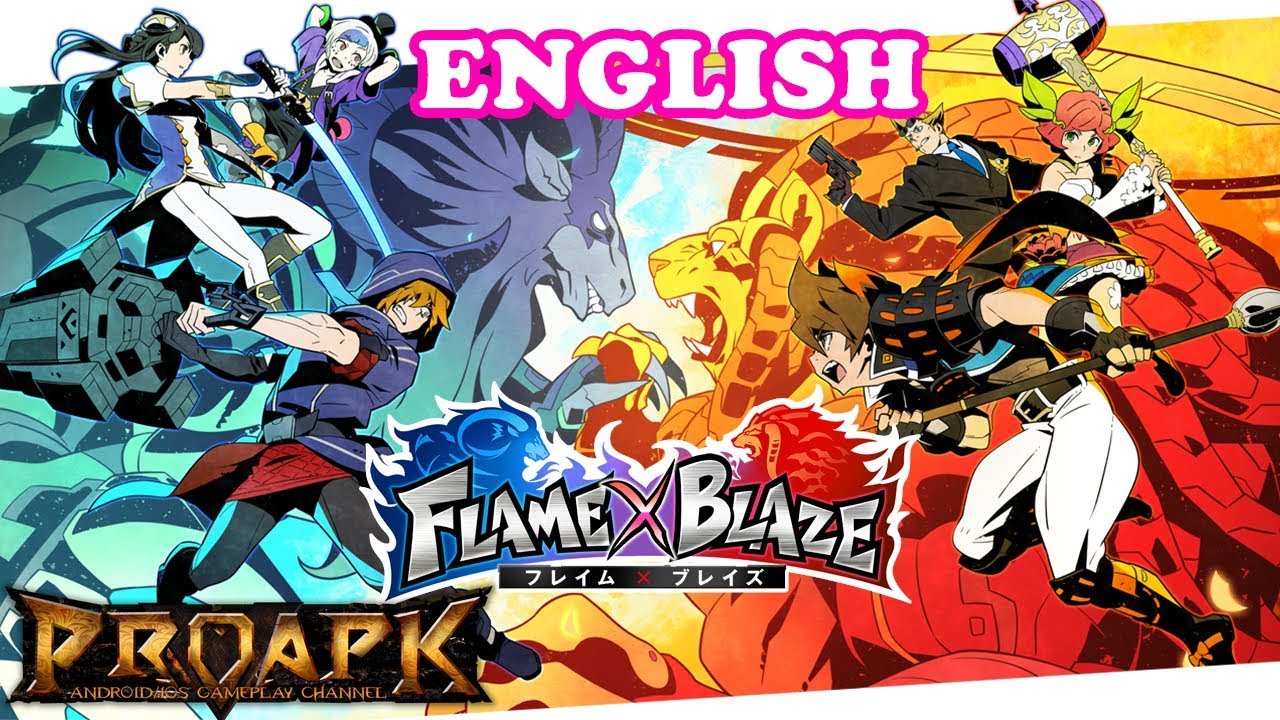 FLAME VERSUS BLAZE by SQUARE ENIX INC (ANDROID/iOS/iphone/ipad)
►►► SUBSCRIBE PROAPK FOR MORE GAMES : http://goo.gl/dlfmS0 ◄◄◄
Square Enix's fast-paced 3-on-3 action MOBA (Multiplayer Online Battle Arena), "FLAME vs BLAZE"!

【Game Description】
3-on-3 action for up to 6 players on smartphones and tablets!
Take control of unique "agents" in this spectacular 3D team-based action game!
—————————–
◆Simple Controls!
—————————–
Easy to pick up with simple and intuitive tap-based controls to move, attack, and use flashy skills!
—————————–
◆Giant Boss-on-Boss Battles!
—————————–
Giant bosses known as "Reactors" join the fight in the second half of the match!
In the first half of the match, you'll power up your sleeping Reactor by collecting "Mana" throughout the battlefield by defeating enemy players!
—————————–
◆Make Monsters your Allies!
—————————–
Defeat monsters in the field to tame them and make them fight alongside you!
If you prefer to avoid confronting enemy players, you can still contribute to your team by taming specialized support monsters!
—————————–
◆Free-to-Play Friendly! Just Battle!
—————————–
After each match you'll earn "Scratch-off Tickets" and "Midas" currency, regardless of if you win or lose!
Scratch-Off Tickets contain equipment "Cards" that you equip to your agents to strengthen them in battle! With many different card effects to choose from, the possibilities for strategizing are endless!
The more you play, the stronger you'll become!
—————————–
◆Clear Missions for Rewards!
—————————–
Fulfill mission objectives to earn rewards, such as the premium "Topaz" currency to buy cards or agents in the Shop!
You can also obtain agent stories and agent-specific equipment cards by clearing Agent Missions!
DOWNLOAD
App Store: https://itunes.apple.com/us/app/flame-versus-blaze/id1255454258?mt=8
Play Store: Early November
Total Size : 339 MB
✔ LOOKING FOR MORE RPG GAMES? ►►► https://goo.gl/wqCfuv ◄◄◄
►►► Open World MMORPG Playlist : https://goo.gl/nky4Vl ◄◄◄
►►► Offline Android / iOS Games : https://goo.gl/Q7ouAo ◄◄◄
—————————————————-
SUBSCRIBE PROAPK TO DISCOVER MORE NEW ANDROID/iOS GAMES : http://goo.gl/dlfmS0
TWITTER: http://twitter.com/Apkno1
FACEBOOK: https://www.facebook.com/proapk4u
G+ : https://plus.google.com/+proapk
IF YOU LIKE OUR WORKS, PLEASE SUPPORT AND LIKE/ SHARE/ COMMENT ON OUR VIDEOS, THANK YOU!