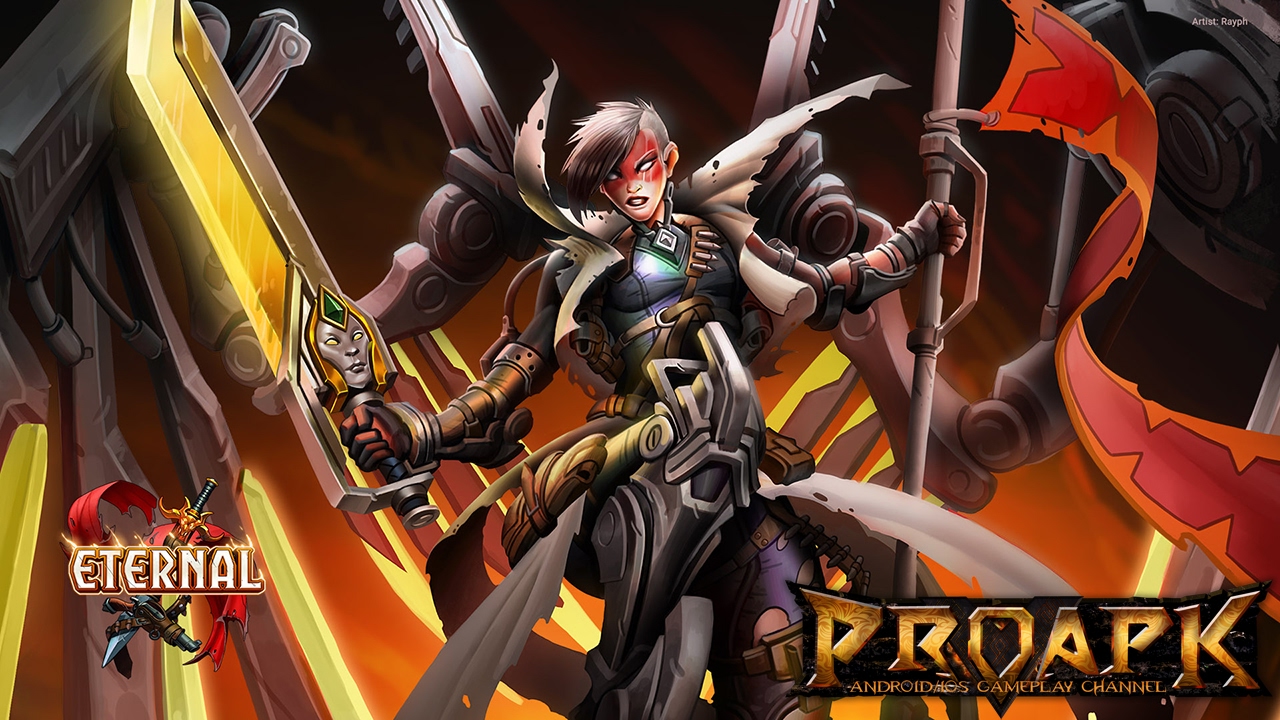 Eternal Card Game by Dire Wolf Digital (ANDROID/iOS/iphone/ipad)
►►► SUBSCRIBE PROAPK FOR MORE GAMES : http://goo.gl/dlfmS0 ◄◄◄
RAISE THE BANNER
With spells and swords, six-guns and subterfuge, heroes collide in the struggle for the Eternal Throne. Where will you stand? Join the battle in Eternal, the new strategy card game of unlimited choices and unbelievable fun.

THE BEST OF BOTH WORLDS
Eternal combines the infinite possibilities of a deep strategy card game with the pace and polish of a modern video game. Build any deck you can imagine by freely mixing cards from an expanding collection, and plunge into lightning-fast battles. The only limits are your own creativity.
A GAME THAT GROWS WITH ITS PLAYERS
In Eternal, there's always something new. Frequent new cards release between set launches to guarantee that the meta-game never gets stale. A steady influx of unexplored content keeps even the most experienced players on their toes. What will you create?
TEST YOUR WITS NOT YOUR WALLET
Looking for a white hat that fits? Here you go. All gameplay — every card and every game mode — in Eternal can be earned or unlocked without ever paying a dime. It's truly free to play.
ENEMIES AT EVERY TURN
Eternal's tactical AI was hand-crafted by some of the best professional TCG players in the world. With dozens of enemy decks, wild "boss level" environments, and unique card mechanics, Eternal stands ready to challenge players at any hour of the day or night.
DOWNLOAD
App Store : https://itunes.apple.com/ca/app/eternal-card-game/id1077866163?mt=8
Play Store: https://play.google.com/store/apps/details?id=com.direwolfdigital.Phoenix
✔ LOOKING FOR MORE RPG GAMES? ►►► https://goo.gl/wqCfuv ◄◄◄
—————————————————-
SUBSCRIBE PROAPK TO DISCOVER MORE NEW ANDROID/iOS GAMES : http://goo.gl/dlfmS0
TWITTER: http://twitter.com/Apkno1
FACEBOOK: https://www.facebook.com/proapk4u
G+ : https://plus.google.com/+proapk
IF YOU LIKE OUR WORKS, PLEASE SUPPORT AND LIKE/ SHARE/ COMMENT ON OUR VIDEOS, THANK YOU!