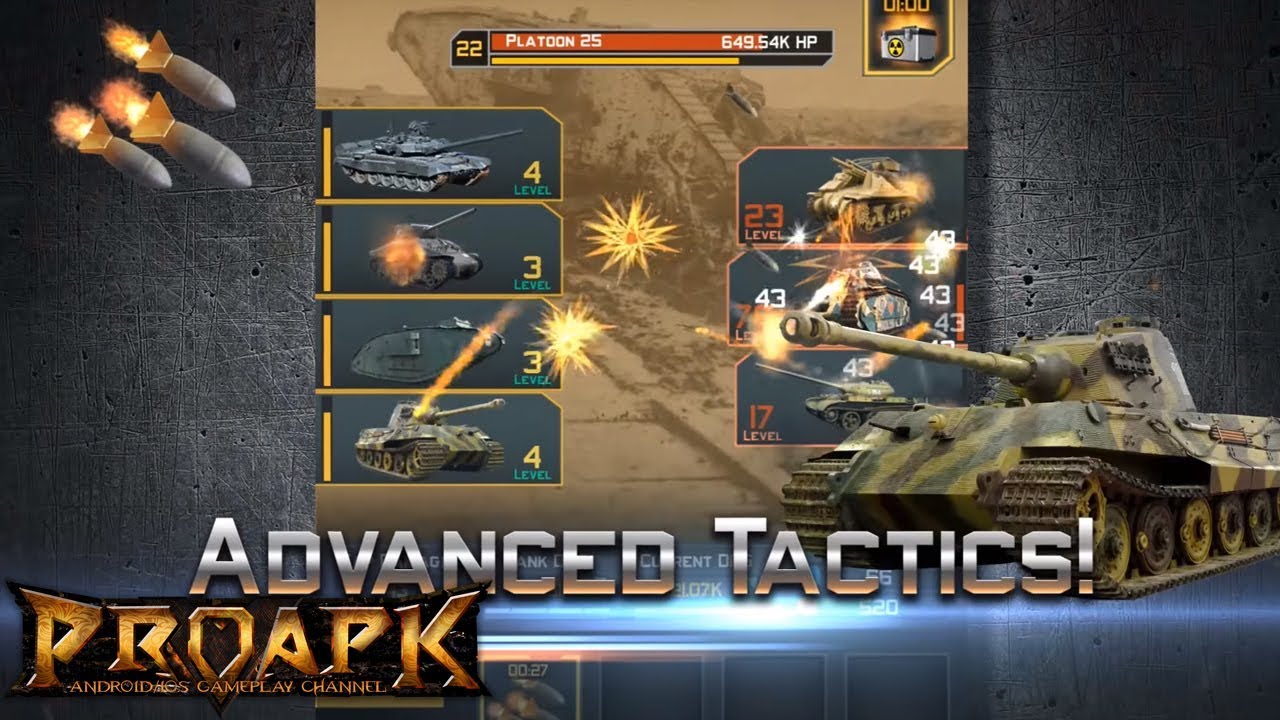 Epic Tank Battles in History by Animoca XL (ANDROID/iOS/iphone/ipad)
►►► SUBSCRIBE PROAPK FOR MORE GAMES : http://goo.gl/dlfmS0 ◄◄◄
Tanks of iron and steel. Prepare your army for world war! Command, upgrade and level up your tank battalion, and click them into place with advanced tactics, in a new take on tap warfare!
– Mighty Armour from the U.S.A! M4 Sherman, M1 Abrams, M1A2, and the M48 Patton
– The Best of British! Mark IV from World War I, Valentine, Matilda, Centurion and the Challenger 1 & 2
– Russia's Iron! T90 and T14 Armata
– Soviet Steel! T34-85 and T55, T72, and T80
– German Might! Panzer IV, Tiger 1 & 2, and Leopard 1 & 2
– China's Arsenal! Type 59 and Type 99
– A Global Blitz! AMX Leclerc from France, Italian C1 Ariete, the South Korean K2 Black Panther, Israeli Merkava, the Yugoslave M84, and the Polish PT-91 Twardy

Boots on the ground, fingers on the screen! You are Commander-in-Chief, with an army to build and solidiers to lead, in all-new idle clicker where tapping is modern warfare. Construct your forces by deploying tanks to the field, and tap away to unleash an unrelenting assault.
Use the spoils of war to armour up and enhance your combat prowess, and command your allies in tactical assaults: call in airstrikes, bombing runs and more!
When the time is right, time travel! Return to the beginning of battle, and use your previous won trophies and upgrades to become mightier than ever!
Enhance your real world knowlegde with detailed facts about all of the tanks that are available to recruit.
FEATURES
– Over 50 Tanks From History
– Unlock and Unleash Tide Turning Tactics
– 12 Historic Theatres of Battle
– Promote Your Commander
– Historical Trophies to Collect
– Open Supply Crates for Boosts
– Read Real-Life Facts About Your Tank Battalion
– Time Travel? Time Travel!
DOWNLOAD
App Store: https://itunes.apple.com/us/app/epic-tank-battles-in-history/id1251254772?mt=8
Play Store: https://play.google.com/store/apps/details?id=com.animocabrands.google.epictankbattlesinhistory
Total Size : 142 MB
✔ LOOKING FOR MORE RPG GAMES? ►►► https://goo.gl/wqCfuv ◄◄◄
►►► Open World MMORPG Playlist : https://goo.gl/nky4Vl ◄◄◄
►►► Offline Android / iOS Games : https://goo.gl/Q7ouAo ◄◄◄
—————————————————-
SUBSCRIBE PROAPK TO DISCOVER MORE NEW ANDROID/iOS GAMES : http://goo.gl/dlfmS0
TWITTER: http://twitter.com/Apkno1
FACEBOOK: https://www.facebook.com/proapk4u
G+ : https://plus.google.com/+proapk
IF YOU LIKE OUR WORKS, PLEASE SUPPORT AND LIKE/ SHARE/ COMMENT ON OUR VIDEOS, THANK YOU!