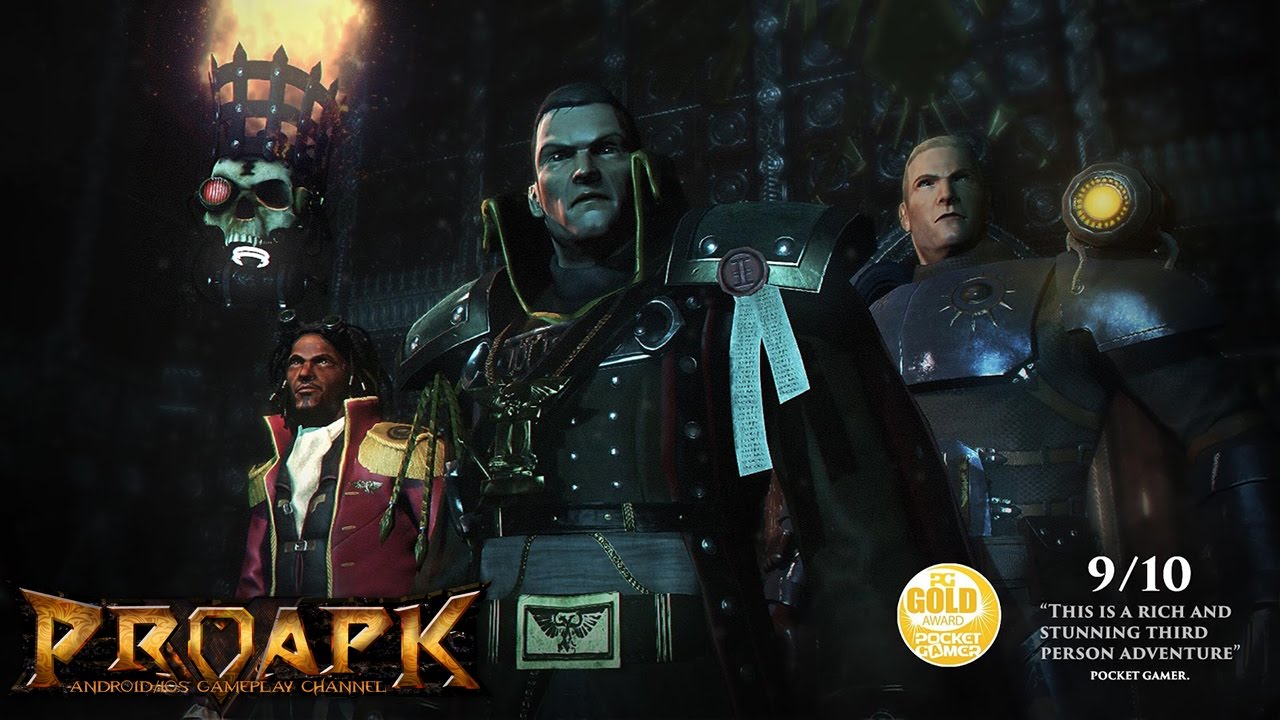 Eisenhorn: XENOS by Pixel Hero Games (ANDROID/iOS/iphone/ipad)
►►► SUBSCRIBE PROAPK FOR MORE GAMES : http://goo.gl/dlfmS0 ◄◄◄
** PLEASE NOTE THAT EISENHORN: XENOS IS A VERY GRAPHICALLY INTENSIVE GAME, AND WILL ONLY RUN OPTIMALLY ON THE LATEST HIGH-END ANDROID DEVICES**
POCKET GAMER – 9/10 – "This is a rich and stunning third person adventure"
APPLENAPPS – 4/5 – "Simply one of the most deluxe experiences you can find in the App Store"

'Eisenhorn: XENOS' is an immersive, fully 3D adventure game, adapted from 'Xenos', the first book in Games Workshop's best-selling 'Eisenhorn' trilogy, written by award winning author Dan Abnett.
Set in the grim, dark future of Warhammer 40,000 'Eisenhorn: XENOS' lets you experience firsthand the story of Gregor Eisenhorn, an Inquisitor and member of the 'Ordo Xenos', sent out to fight and protect the Imperium of man from anything that may threaten it.
Players will get to play through and experience the events of 'Xenos' as Eisenhorn himself (as voiced by Mark Strong), exploring the vast expanse of the Warhammer 40k universe in ways never seen before.
Game Features:
– Fully 3D exploration using agility, tech scanners, and psychic powers.
– A party system where the player can choose which characters to accompany them on missions. Different characters will enhance varying aspects of Eisenhorn's skills.
– Unlock and utilise the Imperium's most iconic weaponry.
– Fully voiced acted, with Mark Strong providing the voice for Eisenhorn.
– Support for game controllers.
To OPTIMIZE your playing experience, you may want to turn off other apps before playing.
DOWNLOAD
App Store: https://itunes.apple.com/us/app/eisenhorn-xenos/id996948313?mt=8
Play Store: https://play.google.com/store/apps/details?id=com.pixelherogames.xenos
✔ LOOKING FOR MORE RPG GAMES? ►►► https://goo.gl/wqCfuv ◄◄◄
—————————————————-
SUBSCRIBE PROAPK TO DISCOVER MORE NEW ANDROID/iOS GAMES : http://goo.gl/dlfmS0
TWITTER: http://twitter.com/Apkno1
FACEBOOK: https://www.facebook.com/proapk4u
G+ : https://plus.google.com/+proapk
PLEASE SUPPORT PROAPK BY LIKE/ SHARE/ COMMENT , THANK YOU!