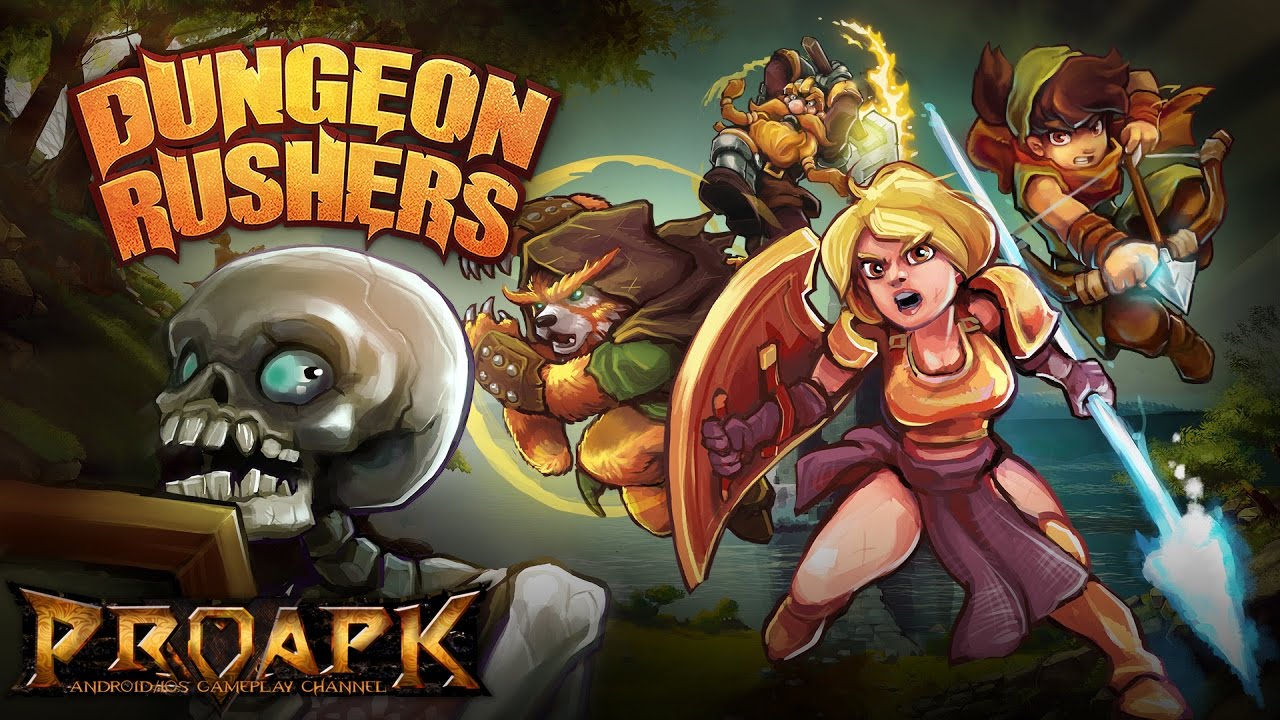 Dungeon Rushers by Mi-Clos Studio (ANDROID/iOS/iphone/ipad)
►►► SUBSCRIBE PROAPK FOR MORE GAMES : http://goo.gl/dlfmS0 ◄◄◄
*About IAPs: All of the IAPs in Dungeon Rushers are character skins — cosmetic and optional. And for a limited time, these IAPs are totally free of charge to celebrate our mobile launch!

Dungeon Rushers is a 2D tactical RPG combining dungeon crawler's gameplay and turn based fights. Manage your team, loot dusty dungeons, crush armies of monsters and craft mighty equipment. Be part of an epic adventure with a colorful cast of characters in an off-beat universe. Build your own dungeon and challenge other players!
The Game:
Over the course of an epic quest, explore many dungeons and loot their guarded treasures. Build your own team by choosing the best hero combination to overcome traps and monsters lurking in the shadows.
Upgrade the skills of your heroes to make them even more fearsome and place them strategically to achieve victory.
Craft your equipment on your own with components gathered during your journey thanks to an advanced system consisting of six different craftsmen.
Complete dungeons and their bonus challenges to unlock the Heroic difficulty, where only the best can make their way to the treasure!
Build your own dungeon in which you can spread traps and monsters to prevent other adventurers from looting your chest! Hire your « dream team » by exploring a world where dungeons and manors have been abandoned by men in favor of the worst creatures, then attack other players' dungeons to plunder their treasure!
Features:
• Campaign mode full of humor with various sound and graphic environments
• Interactive exploration system
• Revised turn based fights with a hint of nostalgia
• Advanced team management (equipment, skills upgrade, in-fight position, …)
• Wide range of skills to use (scout, heals, dodge, trap deactivation, monsters stalking)
• Crafting system featuring many recipes to unlock
• High replay value with a Heroic difficulty for each dungeon
• Online arena system with matchmaking and ranking
• Battles among friends, to die against people you love
• Epic custom-made soundtrack
DOWNLOAD
App Store: https://itunes.apple.com/us/app/dungeon-rushers/id1160308423?mt=8
Play Store: https://play.google.com/store/apps/details?id=com.miclos.dungeonrushers
✔ LOOKING FOR MORE RPG GAMES? ►►► https://goo.gl/wqCfuv ◄◄◄
—————————————————-
SUBSCRIBE PROAPK TO DISCOVER MORE NEW ANDROID/iOS GAMES : http://goo.gl/dlfmS0
TWITTER: http://twitter.com/Apkno1
FACEBOOK: https://www.facebook.com/proapk4u
G+ : https://plus.google.com/+proapk
IF YOU LIKE OUR WORKS, PLEASE SUPPORT AND LIKE/ SHARE/ COMMENT ON OUR VIDEOS, THANK YOU!