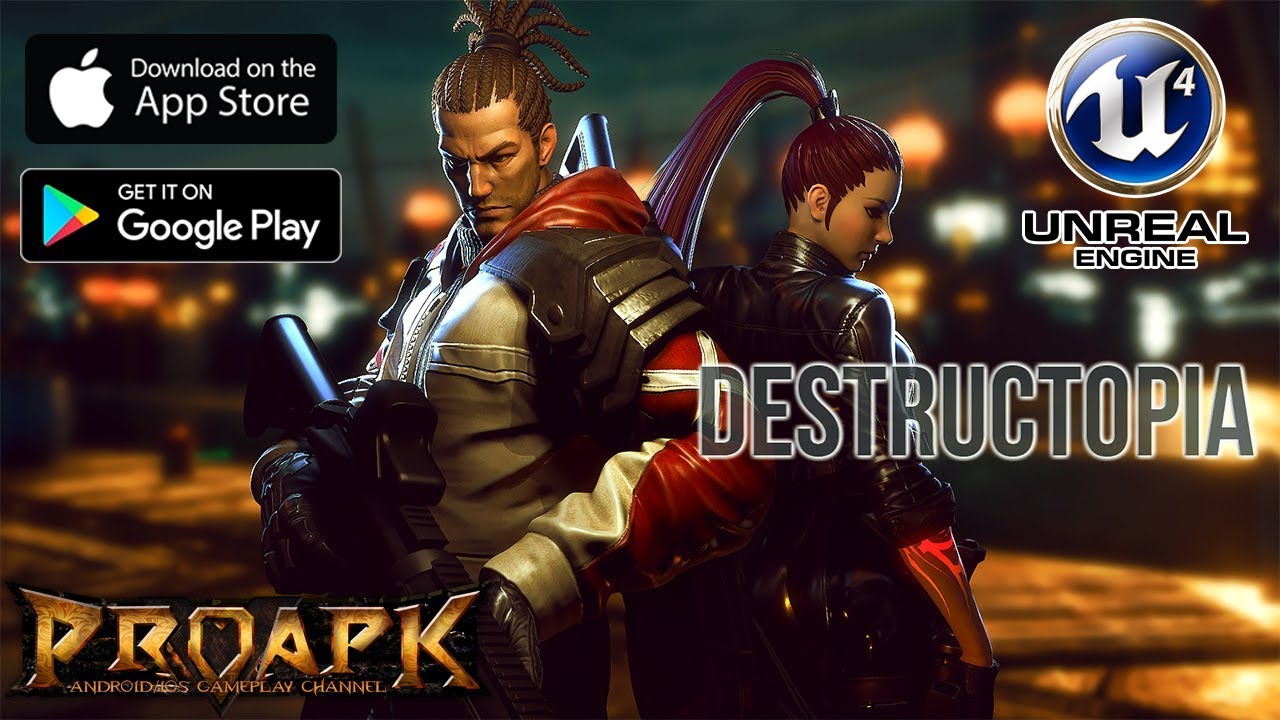 DestrucTopia : Heroes Battle by Trypot Studios Inc. (ANDROID/iOS/iphone/ipad)
►►► SUBSCRIBE PROAPK FOR MORE GAMES : http://goo.gl/dlfmS0 ◄◄◄
Destructopia: Hero Battles – a dynamic and intense new RPG where player uses Gadgets to annihilate their enemies.
This RPG delivers intense action, legendary heroes, and Gadgets wrapped in total chaos!
[Introduce]
▶ An all new RPG powered by Unreal® Engine 4 ◀
The world as you know it is falling apart around you. Only you and a few friends are all that stand in the way of total collapse. Experience the world of Destructopia as only Unreal® Engine 4 can deliver

▶ Action RPG with 8 heroes ◀
In a world where you can trust no one, these 8 heroes have to depend on each other to survive.
Pick the best hero for the mission and make your team even stronger!
Command, lead and select each hero for the missions!
▶ Deploy Gadgets to Step-Up Battle! ◀
Your heroes can only take you so far. You must know when the deploy your Gadgets to gain the upper hand.
Strategic deployment of gadgets that attack the enemies or heal your heroes can come in handy to get you out of a pinch.
▶ Attack Player Cities to Earn Resources! ◀
City building and upgrading is important. Attack other cities with your squad of aircrafts to earn extra resources to give you a competitive edge.
▶ Multiplayer Action in the Battle Ground! ◀
In the chaotic multiplayer battlegrounds you can only trust two things. You heroes and Gadgets. Outside of that, all bets are off!
Find other players to ally with and take down epic bosses, but don't get too friendly, eventually you will have to turn on all your friends!
DOWNLOAD
App Store: https://itunes.apple.com/ph/app/id1290112292
Play Store: https://play.google.com/store/apps/details?id=com.trypotstudios.destructopia
Total Size : 898 MB
✔ LOOKING FOR MORE RPG GAMES? ►►► https://goo.gl/wqCfuv ◄◄◄
►►► Open World MMORPG Playlist : https://goo.gl/nky4Vl ◄◄◄
►►► Offline Android / iOS Games : https://goo.gl/Q7ouAo ◄◄◄
—————————————————-
SUBSCRIBE PROAPK TO DISCOVER MORE NEW ANDROID/iOS GAMES : http://goo.gl/dlfmS0
TWITTER: http://twitter.com/Apkno1
FACEBOOK: https://www.facebook.com/proapk4u
G+ : https://plus.google.com/+proapk
IF YOU LIKE OUR WORKS, PLEASE SUPPORT AND LIKE/ SHARE/ COMMENT ON OUR VIDEOS, THANK YOU!