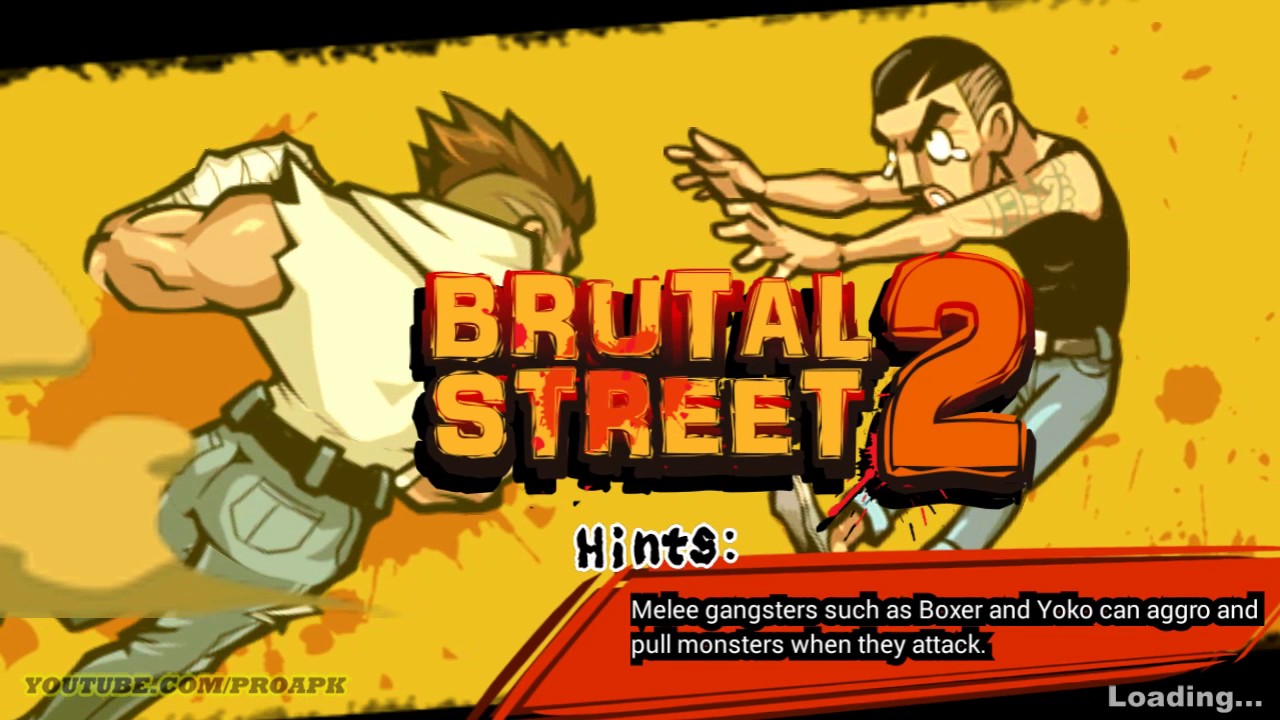 Brutal Street2 (Unreleased) by Black Pearl Games Ltd. (ANDROID/iOS/iphone/ipad)
►►► SUBSCRIBE PROAPK FOR MORE GAMES : http://goo.gl/dlfmS0 ◄◄◄
– Simple, classic controls have been made even better!
Move, dodge, and attack enemies via simple "tap-and-slides".
Using skills has also become more free, more agile, and more accurate—whether they affect a circle, straight line, or fan-shaped area!
– Classic arcade elements are back!
Thugs chillin' in corners will suddenly come out and kick you.
Enemies will arrive in vans, subways, or even from the sky! They'll jump you when you least expect it.
Remember to destroy obstacles on the battlefields and pick up HP potions and weapons.
Don't let the masked thief get away! He doesn't show up very often, but when he does, show him who's in charge! Plenty of great equipment awaits!

– 8 characters for you to choose from, dozens of active skills, and 100+ passive skills!
5 major blocks, 3 different difficulty levels, and 80+ stages!
Protect Hostages, Survival Mode, Limited-Time Missions—various game modes, unlimited fun!
– 2P Mode—collaborative teamwork where you fight the boss together! It's the kind of fun that brings you back to the good ol' 90s!
– Unique and original weapons' ultimate skill system!
Your character will have different ultimates when equipped with different weapons.
More powerful attack skills? More stalwart defense skills? AoE or single-target skills? Protecting allies or further enhancing your attack? Well, we'll leave the choice for you, the players, to decide!
– Another unique system: Dual-Weapon Setting
Each hero has 2 different kinds of weapons. Choosing different weapons will change your character's normal attacks, ultimates, and even their appearance!
Gloves or knuckles? Dual guns or a shotgun? Tachi or blades? They don't just look different, they come with whole different attack methods!
– Accumulate skill points to activate set skills.
There are a total of more than 50 sets, each with more than 3 varieties. Choose your own combinations freely and activate more than 100 different set skills!
– Evolved avatar system—change costumes from head to toe!
Gangster outfit, ninja suit… every kind you can think of!
– Tougher bosses & more distinguished enemies!
A grandpa who knows Wing Chun, a heavy-built local gangster, the leader of Bosozoku… More than 10 cunning bosses will stop you from conquering their streets!
– Smoother action and more breathtaking close-up shots of ultimate skills!
– The highly-acclaimed talent point allocation system with its high degree of freedom has returned, only even better!
DOWNLOAD
App Store: Coming soon
Play Store: https://play.google.com/store/apps/details?id=com.bpgames.bs2.and
Total Size : 200 Mb
✔ LOOKING FOR MORE RPG GAMES? ►►► https://goo.gl/wqCfuv ◄◄◄
►►► MMORPG Playlist : https://goo.gl/nky4Vl ◄◄◄
—————————————————-
SUBSCRIBE PROAPK TO DISCOVER MORE NEW ANDROID/iOS GAMES : http://goo.gl/dlfmS0
TWITTER: http://twitter.com/Apkno1
FACEBOOK: https://www.facebook.com/proapk4u
G+ : https://plus.google.com/+proapk
IF YOU LIKE OUR WORKS, PLEASE SUPPORT AND LIKE/ SHARE/ COMMENT ON OUR VIDEOS, THANK YOU!