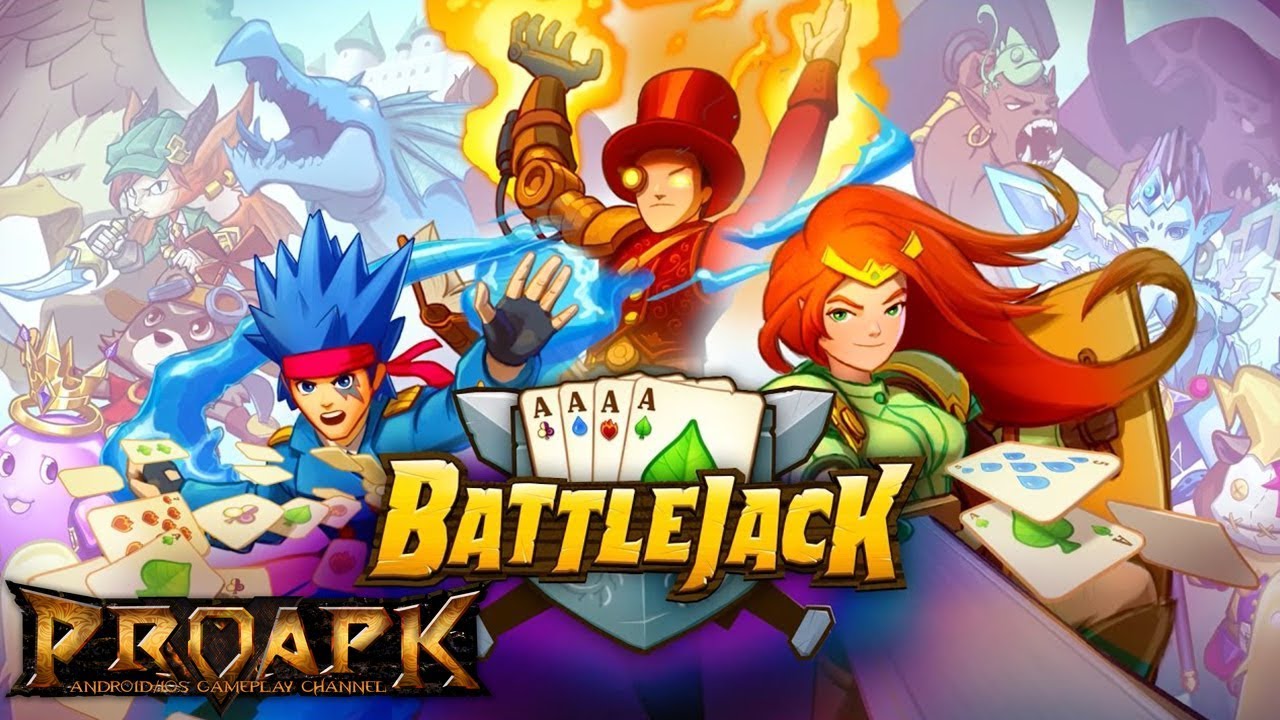 Battlejack by NEXON M Inc (ANDROID/iOS/iphone/ipad)
►►► SUBSCRIBE PROAPK FOR MORE GAMES : http://goo.gl/dlfmS0 ◄◄◄
Collect hundreds of legendary heroes. Slay epic Titans with your guild. Engage in high risk, high reward battles with a unique blackjack-inspired card battle system.
VICTORY OR NOTHING
All the exploring, collecting, customizing fun of a fast-paced RPG, with a blackjack twist!
Score a 21 to unlock a massive boost to all heroes. But be warned: the greedy will be punished! Will you play it safe, or will you defy the odds?

COLLECT LEGENDARY HEROES
Fight and collect hundreds of unique heroes from the enemies you slay! Mix and match to create the perfect team, from an unlikely troll-YAAAARRR!-pirate alliance to a cute unicorn- kitten squad: the possibilities are endless!
SLAY EPIC TITANS WITH YOUR GUILDS
Fight Titans with your guildmates, and help each other climb to the top of the leaderboard!
As the goblin proverb says: If you want to wipe fast, fight alone; if you want to wipe far, fight together. Or something like that.
EVOLVE AND EQUIP HUNDREDS OF HEROES
Why settle for a fire mecha when you could have a mega-powerful-lava-spitting-shredder-of-doom-and-death?! Go all-in: Fuse, upgrade and customize your heroes to make them even stronger and cooler!
With the right combinations, your newbish starting weaklings will become mighty gods of battle!
EXPLORE FANTASTIC WORLDS
Free the mythical tree Yggdrasil from the forces of chaos, in an epic adventure to restore elemental balance in the world of Midgard! All of this while killing time waiting for your bus or sitting on the toilet. Ain't modern gaming awesome?
DOWNLOAD
App Store: https://itunes.apple.com/ca/app/battlejack/id1064497671?mt=8
Play Store: https://play.google.com/store/apps/details?id=com.grandcru.battlejack&hl=en
Total Size : 200 MB
✔ LOOKING FOR MORE RPG GAMES? ►►► https://goo.gl/wqCfuv ◄◄◄
►►► Open World MMORPG Playlist : https://goo.gl/nky4Vl ◄◄◄
►►► Offline Android / iOS Games : https://goo.gl/Q7ouAo ◄◄◄
—————————————————-
SUBSCRIBE PROAPK TO DISCOVER MORE NEW ANDROID/iOS GAMES : http://goo.gl/dlfmS0
TWITTER: http://twitter.com/Apkno1
FACEBOOK: https://www.facebook.com/proapk4u
G+ : https://plus.google.com/+proapk
IF YOU LIKE OUR WORKS, PLEASE SUPPORT AND LIKE/ SHARE/ COMMENT ON OUR VIDEOS, THANK YOU!