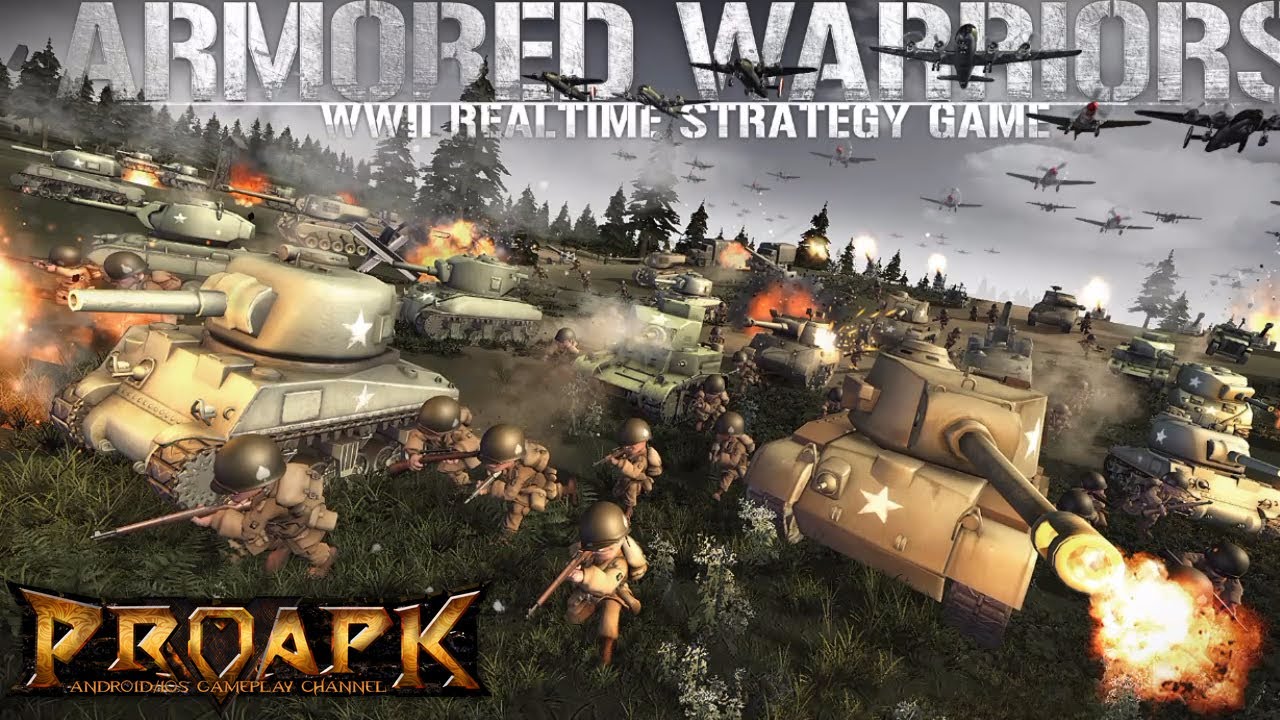 Armored Warriors – WWII RTS by Triniti Interactive Limited (ANDROID/iOS/iphone/ipad)
►►► SUBSCRIBE PROAPK FOR MORE GAMES : http://goo.gl/dlfmS0 ◄◄◄
In commemoration of the 73rd anniversary of D-Day, Triniti Interactivepresents the most immersive real-time strategy game on mobile devices: Armored Warriors uses proper real-time strategy to take you through the classic campaigns of World War II. You take the role of a fictional commander of a volunteer army, joining in famous battles and aiding nations in their resistance to the Nazi invasions.
Given the special nature of the units, you have complete control over the production of troops and equipment research. As the battles unfold, you will unlock equipment unique to specific countries, including advanced German weaponry, a wide array of prototypes and test equipment. We look forward to meeting your most powerful armored corps!
Stop the Nazis in their tracks, smash the Axis' plots and bring justice to world. Commander, we want YOU!

► ► ► ► ►
Game Features
※explosive special effects
You will engage the enemy by simultaneously commanding hundreds of soldiers, including heavy tanks, motorized infantry and armored vehicles. Tens of thousands of shells will fly across the battlefield in a cloud of dust, with realistic, shell-shock inducing special effects providing film-like battle scenes.
※authentic battlefield reproductions
A large amount of detail has been poured into recreating authentic battles, including realistic tank structure simulations, the ricochet of bullets when they hit slanted frontal armor, the collapse of troop morale causing the fleeing of panicked units from the battlefield and much more.
※proper RTS controls
Systematic unit management controls allow you to smoothly plan the trajectory of your entire army group. You can also assign specific attack routes and combat tasks for each unit. Before and during combat, you can micromanage your units to get each unit into optimal attack positions.
※abundant tactical options
In addition to assaulting the enemy frontally, you can launch critical strikes on their flank and rear, as well as execute tactics such as luring out the primary enemy firepower and attacking their command center.
※massive arsenal of WWII equipment
The military equipment in the game consists of realistic reproductions of WWII designs, with a massive amount of primary equipment from the production lines specific to individual nations, in addition to test equipment and prototypes, including firearms, armored units and air units.
DOWNLOAD
App Store: https://itunes.apple.com/ca/app/armored-warriors-wwii-rts/id1111139877?mt=8
Play Store: https://play.google.com/store/apps/details?id=com.trinitigame.android.armoredwarriors
Total Size : 729 Mb
✔ LOOKING FOR MORE RPG GAMES? ►►► https://goo.gl/wqCfuv ◄◄◄
►►► MMORPG Playlist : https://goo.gl/nky4Vl ◄◄◄
—————————————————-
SUBSCRIBE PROAPK TO DISCOVER MORE NEW ANDROID/iOS GAMES : http://goo.gl/dlfmS0
TWITTER: http://twitter.com/Apkno1
FACEBOOK: https://www.facebook.com/proapk4u
G+ : https://plus.google.com/+proapk
IF YOU LIKE OUR WORKS, PLEASE SUPPORT AND LIKE/ SHARE/ COMMENT ON OUR VIDEOS, THANK YOU!