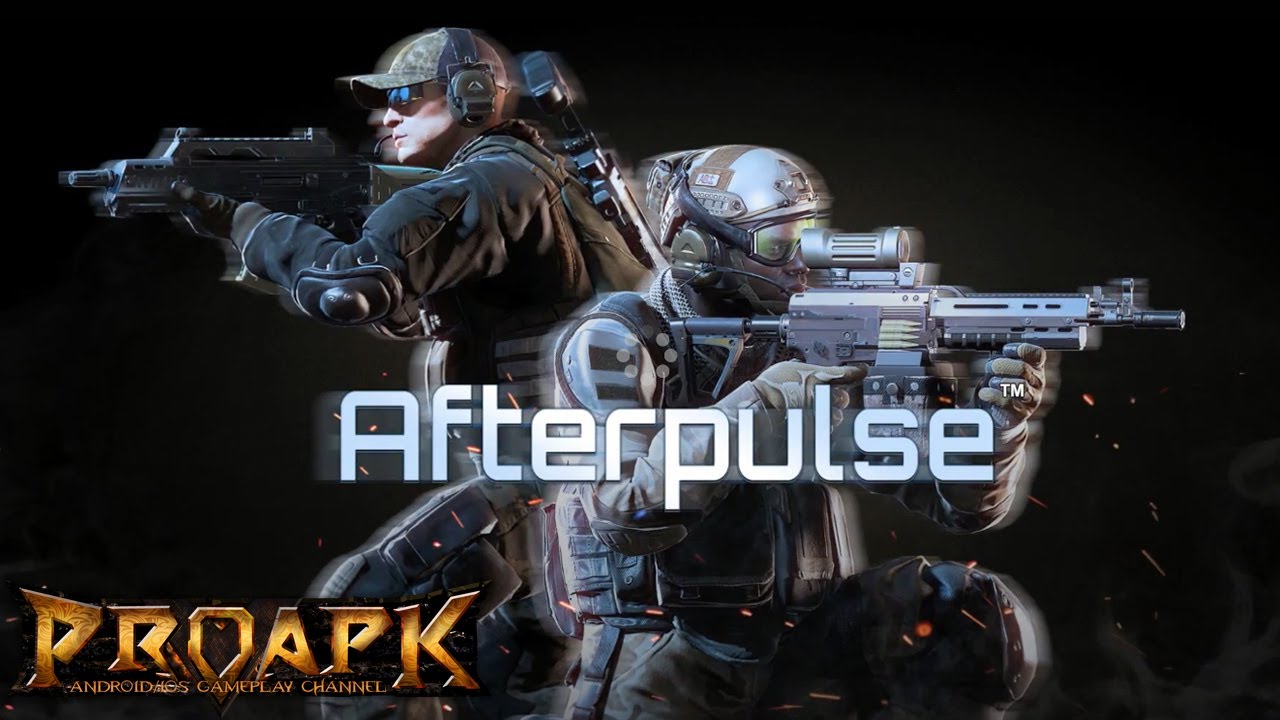 Afterpulse by GAMEVIL Inc. (ANDROID/iOS/iphone/ipad)
►►► SUBSCRIBE PROAPK FOR MORE GAMES : http://goo.gl/dlfmS0 ◄◄◄
The Pulse has changed everything. The balance of power is unstable. World leaders are deploying elite squads and the time has come for you to enter the fray. Will you restore peace or ignite the largest armed conflict in history?

THE SHOOTER
Every detail has been especially designed to take advantage of the mobile platform, capturing the essence of the console shooter. The result is over hundreds of hours of fun and intense gameplay powered by ultra-smooth and fully customizable touchscreen controls.
BECOME THE SOLDIER YOU WANT TO BE
⋆ Personalize your headgear, full body armor, equipment, and grenades or other advanced devices
⋆ Unleash your full potential. Power up, combine, and evolve more than 800 primary and secondary weapons with limitless possibilities
⋆ Choose your own battle style: Handgun, Shotgun, Assault, SMG, LMG, Sniper, Rockets
⋆ Show off your prestige and experience with Exclusive Series weapons like Veterans, Chrome, Nightcrawler, Dragon…
⋆ Master your tactics and skills in Training mode
TOP-NOTCH MULTIPLAYER
⋆ Enter the fray with players using enhanced online matchmaking
⋆ Dive into multiple game modes!
⋆ Jump into photorealistic urban environments with intense close quarters combat
⋆ Detect and destroy enemies on the field with tactical gadgets
CONSOLE-QUALITY FEATURES
⋆ AAA console-quality photorealistic third-person shooter
⋆ Full physically based deferred render, HDR post processing, real-time high quality shadows
⋆ Realistic skeletal animations and physics with ragdolls
⋆ PVP online matches with dedicated zone server technology for optimal player experience
ATTENTION
Internet connection is required to play
DOWNLOAD
App Store: https://itunes.apple.com/us/app/afterpulse/id917912662?mt=8
Play Store: https://play.google.com/store/apps/details?id=com.gamevilusa.afterpulse.android.google.global.normal
✔ LOOKING FOR MORE RPG GAMES? ►►► https://goo.gl/wqCfuv ◄◄◄
—————————————————-
SUBSCRIBE PROAPK TO DISCOVER MORE NEW ANDROID/iOS GAMES : http://goo.gl/dlfmS0
TWITTER: http://twitter.com/Apkno1
FACEBOOK: https://www.facebook.com/proapk4u
G+ : https://plus.google.com/+proapk
PLEASE SUPPORT PROAPK BY LIKE/ SHARE/ COMMENT , THANK YOU!